Dear Yogis..
ZOOM:  We did the last of the Sunday Gita Study yesterday (sunday).  Someone with the email SUNDANCE tried to get in after we had started.  They tried with the Sutra ID, then they tried with various other old ID's – sorry it didn't work.  It would have been problematic even if you were early,  because I did not know who was emailing me.  Zoom doesn't tell me.   If you are not a regular,  haven't received an ID from me on the day of the class, or you are confused, email me early to book, and please let me know who is emailing.  Just an email name will not get me.    I start yoga classes on time in the studio and shut the door, I do the same with zoom.  At my studio,  2 hour class is a 2 hour class…
Certainly I would love everyone to come to zoom or the studio – the cost to you is turning up early.  I get to the zoom class at least 10 minutes before class to make sure everyone can get in.    I am not going hunting and pecking after the start time,  keeping the other students waiting whilst I try to discover who you are…and how to get an email to you, although I would love to help.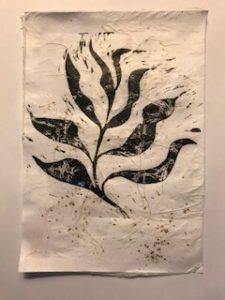 ART CLASSES
I am busy, busy (you too?).  Massages, Art work and getting ready for the year ahead.  No Zoom last nite, although we had our usual ZOOM TAROT CLASS (art class) Saturday at 2pm – our last for the year. Here is a picture of the linocut and the paper from the class (you can't see the bling).  At our classes you will get the directions on how to make the paper.  No pulping, no deckles no water… just easy peasy.  Anyone can do it.  Great to play with in the break and whilst you are waiting for your yoga class to go back.  Something – no mess – to do with the children.
I have also found the supplier of a natural rice paper paste to use instead of mod podge (although that is terrific too). Only Lincraft have the licence to sell ModPodge, but the Sunbury store only has tiny bottles, coloured, glitter, and high gloss.  Not suitable for this.  You may have to go on-line.  I checked they do have 250ml bottles on line.  The rice paper paste is Japanese and (apart from a little preservative) can be eaten.  It is natural.
The picture above I did a very simple lino cut and printed it on paper I had made myself using the techniques I will show you.  You can't see the glitter – but it is there, together with gold threads.
The picture to the right is of hand made paper with larger pieces of organic matter, spattered, watercolored.  Suitable for front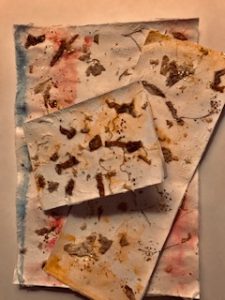 covers of journals, diaries, travel journals.  I like a less lumpy finish, but I know the chunkier finish is very popular.
This is a very simple, un-messy, quick way of making the paper for use in journals and other artistic endeavours.    Whilst you are waiting to come back to yoga, in the break, like me you can catch up with the arty things.  You could even do this with the children without coating the house with water, pulp and without using electric tools.  You could also get them out in the garden looking for small things to embed in the paper.
I am sure that you will have fun, do good things, and everyone will learn something and have something to frame…
Once we have a stock of paper – we can then learn how to make lino (or potato) prints.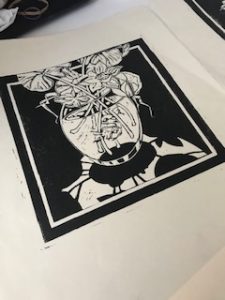 CHRISTMAS, is almost here.  Not many newsletters to go, although I will keep to the Monday, Wednesday, Friday schedule as much as possible.  Keep chanting, keep doing your japa, keep God in mind (rather than Kmart!).   Manifest wondrous things.  You could even manifest an image like my lino cut – the picture on the right hand side….  Come to ZOOM ART class – Register now!
SEE YOU IN CLASS ON ZOOM TUESDAY for the Sutras…?  
NAMASTE – JAHNE