CLASS TIMES.
WE HAVE  GRADUALLY MOVED BACK TO CLASSES – HOWEVER WE HAVE SCHOOL HOLIDAYS COMING UP.  I am working straight through the school holidays.
CLASS PASS MANDATORY..  To purchase, you will need to speak to Jahne to discuss whether there is a vacancy, and when confirmed, get the Direct Debit Number to pay for the pass.    Please bring a towel or your own mat/BLANKET AND NEEDED PROPS,  to every class.  If you have hand santitiser, you could bring that too.  We can't put the Genie back in the bottle!  The virus will now ALWAYS be with us.
STUDIO CLASSES:  If you have a cough, a cold, have met someone who has COVID, have recently returned from overseas, or have a friend or family member who has – please self isolate and visit your doctor.  If you have been to a large gathering of any kind, please Do not come to yoga, at least for 10 days….
During COVID,   bookings and CONSECUTIVE class passes are mandatory – no casuals/no cash.    I only take 4 persons to a class (UNTIL STAGE 3)  to comply with COVID guidelines.  If you don't believe in the virus, and come to class unprepared, or with a cold, or whatever, I will have to ask you to leave for the safety of others.
You won't be able to swap and change classes because there are only four (max) to a class.  The logistics if I started wrapping and changing the complications are daunting.  So I am not going there.  You book your spot, you pay for 10 weeks in that spot whether you are there or not.
CONSULTATIONS ON THE PHONE OR IN PERSON:  BOWEN/ZENTAI MASSAGE/ TAROT AND TEA LEAF READING  WILL STILL AVAILABLE OUTSIDE OF YOGA CLASS TIMES 
MASSAGE IS APPROVED as long as it like Bowen, clothed, no skin to skin contact.  ZenTai meets this requirement too.
YOGA CLASSES AT THE STUDIO: 37 Morris Road, Woodend. 
There are only three persons per class for the time being until we see how we manage with covid.  Bring all your own props please.
WAIT-LISTS ARE AVAILABLE FOR ALL CLASSES. If the class is not available today, email me and put your name down for when a vacancy exists.
*6.30 CLASSES FROM IST WEEK IN JULY – BOOKINGS REQUIRED.  PLEASE EMAIL yogafirst@netconnet.au  
MONDAY:                 1pm  RESTORATIVE/HATHA FULL
                                     *6.30 floor yoga with stretch bands.
TUESDAY:                Book for Tea&Tarot/ZenTai, Bowen Massage/Past Life consultations.
                                      Wait list for    *6.30 floor yoga with stretch bands.
WEDNESDAY:        12.30  RESTORATIVE YOGA FULL , 5.30 RESTORATIVE YOGA. FULL                           
THURSDAY:             No classes/no consults today – my day off!
FRIDAY:                     5.30 RESTORATIVE CLASS
                                        *6.30 floor yoga with stretch bands.  
SATURDAY:              12.30 RESTORATIVE YOGA. FULL   (2pm-4pm tarot Training)
                                      *10am floor yoga with stretch bands.
SUNDAY:                  *10am YOGA NIDRA followed by DHARMA TALK and shared lunch.  
                                      To begin on sunday 12th July.   Booking required.  
                                      Email:   yogafirst@netcon.net.au
YOGA CLASS COST: 
NO CASUALS UNTIL AT LEAST STAGE 3…
TEN CLASS PASS MANDATORY:  $185 for a 10 week pass for new students, and $155 for a 10 week pass for students who have been consistently  been our students for approximately 3 years or more.  Class passes means  10 consecutive classes (Transferable to other classes in the same week). For us to be here for you, you have to be here for us – you will need to be committed.  Pre-Covid unused class passes still valid until expired but remember, they are consecutive.  If you miss a booked class, you will still be docked on your card for that class.
PRIVATE YOGA SESSIONS $85 per session.
MASSAGE and ZEN TAI MASSAGE, Initial consultation and massage $125, after that $85
PAST LIFE PROCESS: $250 for one session 2 hours (approx) in length
TE&TAROT $85 per personal consult.  Email or phone consultation $65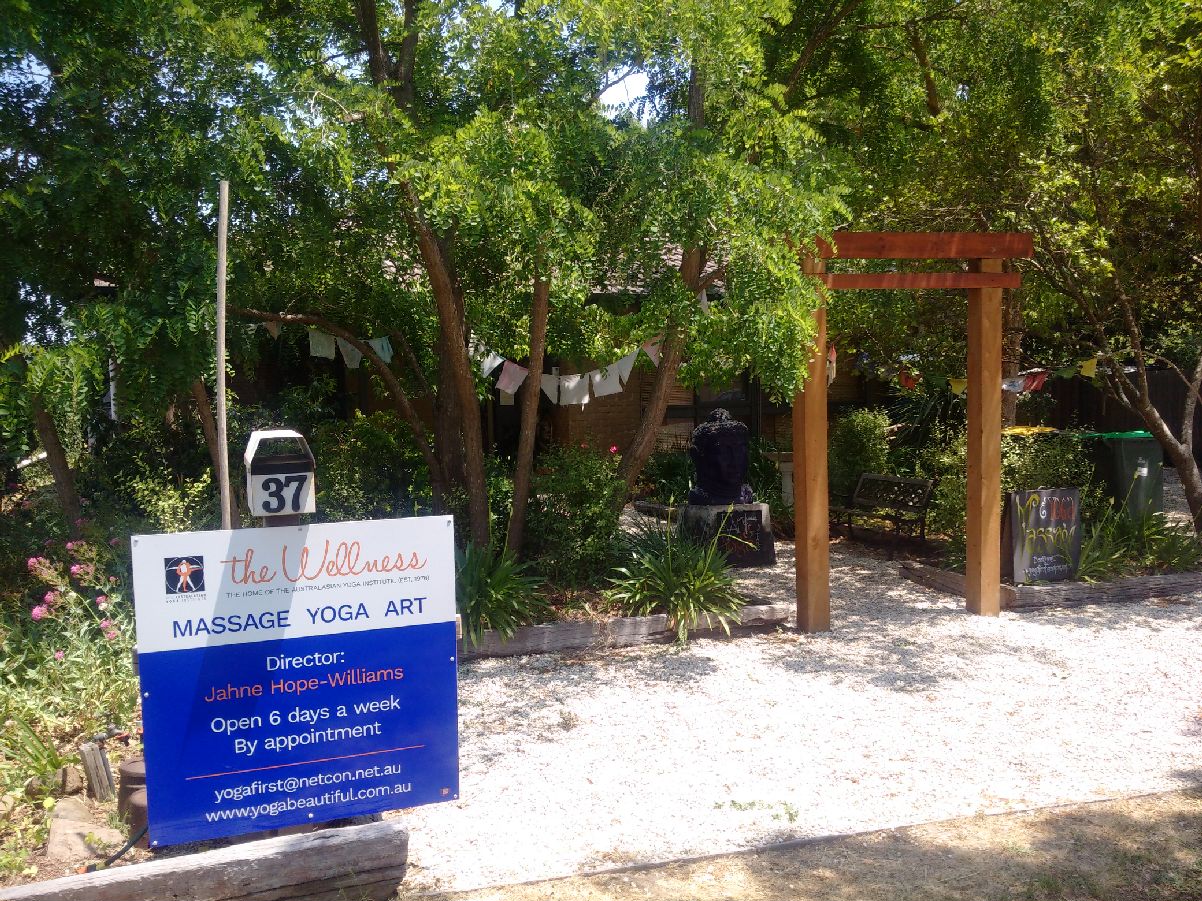 OTHER STUDIO CLASSES:  Teacher Training at our Studio  every 1st Sunday in the month at 2pm to 4pm. SUNDAY 5TH JULY.  (You may feel safer with a mask).
BENDIGO: Crusoeden Health (The Australasian Yoga Institute Affiliate), Church St. Kangaroo Flat. Director, Jayne Boyle.
SHEPPARTON:  Date to be decided