CLASS TIMES… THE SCHOOL HOLIDAYS HAVE STARTED EARLIER.  NO CLASSES IN THE SCHOOL HOLIDAYS, or during the crisis….we will keep you updated.  We have estimated the first week in May.
NOW WE HAVE THE CORONA VIRUS.  Treat it as though EVERYONE HAS THE FLU.
Because of this, we will not be holding HATHA until at least May. NO CLASSES IN THE SCHOOL HOLIDAYS.   All classes will be RESTORATIVE.  If you have a class pass you can use this for any yoga class held at this time.  Please bring a towel or your own mat to every class.  If you have hand santitiser, you could bring that too.
LOTS MORE RESTORATIVE (REMEDIAL) CLASSES at the Studio.  WE HAVE EXPANDED THE CLASS NUMBERS TO ALLOW YOU PLENTY OF OPPORTUNITIES TO COME TO CLASS…  however due to the small classes, bookings are essential if you are new to our studio – if you are a "first-timer".  I only take 4 – 5 TO A class to give personal,  dedicated teaching, and comply with corona guidelines.
If you have a cough, a cold, have met someone who has corona, have recently returned from overseas, or have a friend or family member who has – please self isolate and visit your doctor.  Do not come too yoga.
MASSAGE/PAST LIFE THERAPY IS STILL AVAILABLE OUTSIDE OF YOGA CLASS TIMES.
YOGA AT THE STUDIO: 37 Morris Road, Woodend.
CORONA VIRUS MEANS THERE WILL BE NO HATHA, ONLY RESTORATIVE CLASSES. AND NO CLASSES DURING THE SCHOOL HOLIDAYS…
MONDAY:  (FREE LUNCH Uniting Church 12 noon, Hatha 1pm at the Studio, not the church)
Studio 5.30 RESTORATIVE YOGA,  and 6.30pm HATHA.
TUESDAY:                No yoga today….12 to late –  Book your appointment at any time of the day for Tarot/Massage/Past
Life consultations.     CHAIR YOGA: 10.30 Woodend Neighbourhood Centre from 4th February,
WEDNESDAY:        12.30  RESTORATIVE YOGA , 5.30 RESTORATIVE YOGA, 6.30 HATHA BEGINNERS CLASS.
THURSDAY:             No classes/no consults today – my day off!
FRIDAY:                     5.30 RESTORATIVE CLASS   CHAIR YOGA: 10.30 Woodend Neighbourhood Centre
SATURDAY:              10 am RESTORATIVE (we will plan this class month by month) 12.30 RESTORATIVE YOGA.
SUNDAY:                   Master classes/ TAROT, PAST LIFE, MASSAGE  consulting time – please book.
YOGA CLASS COST:  Casual: $20 per class.  $165 for a 10 week pass for new students, and $135 for a 10 week pass for students who have been consistently  been our students for approximately 3 years or more.  Class passes means  10 consecutive classes (Transferable to other classes in the same week). For us to be here for you, you have to be here for us – you will need to be committed.
CHAIR YOGA:  $107.50 per term or $17.50 per class.  Woodend Neighbourhood Centre.  Forest Street.  Wheelies, Walkers and Wheelchairs welcome.
PRIVATE YOGA SESSIONS $85 per session.  The Yoga Studio will be closed  during the Christmas school holidays as above,   although PRIVATE CLASSES, and PRIVATE Consultations, PAST LIFE and MASSAGE will be available over the holidays.  Bookings essential for holiday dates.  Please subscribe to the newsletter to see any changes.
MASSAGE,Initial consultation and massage $125, after that $85
PAST LIFE PROCESS: $250 for one session 2 hours (approx) in length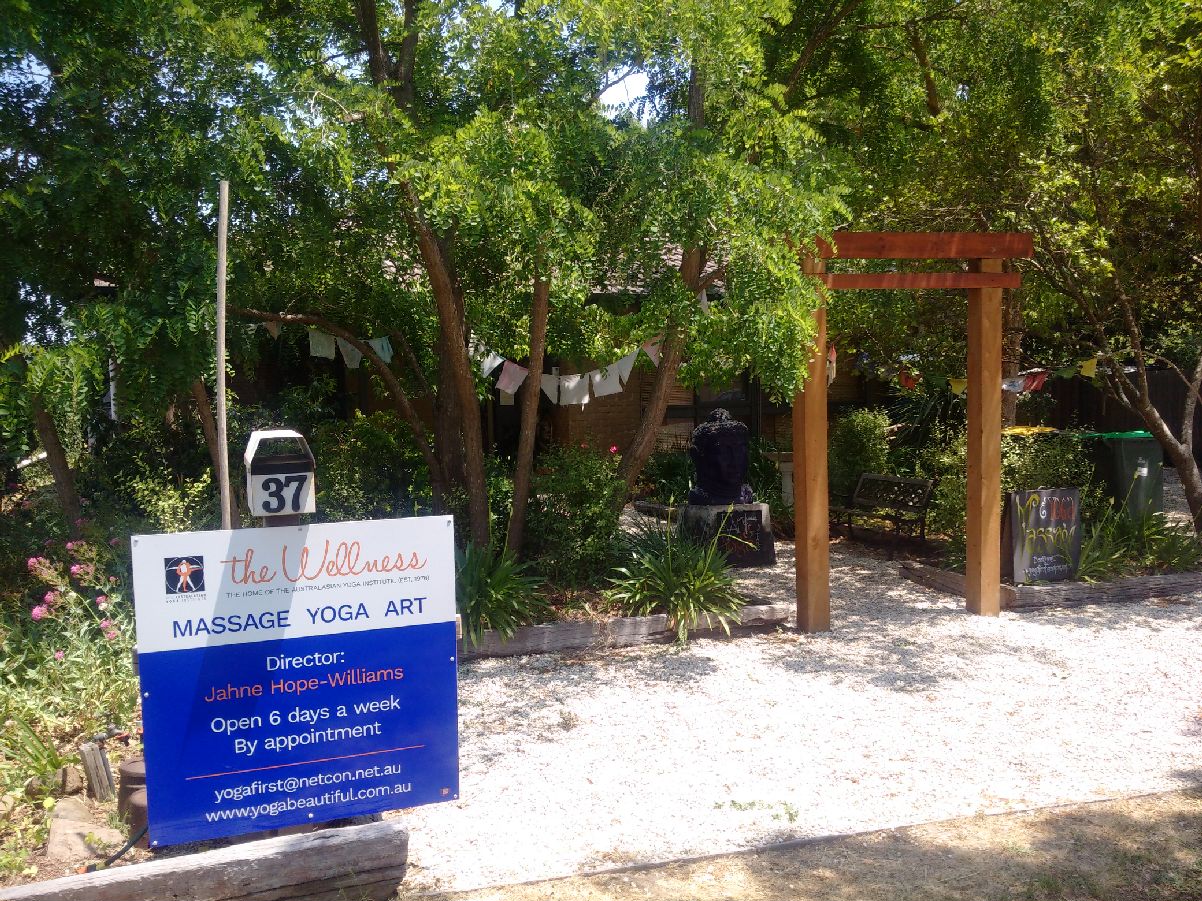 YOGA AT THE UNITING CHURCH:

Forest St. Woodend.  Next door to the Police Station. 
Lunch at 12 noon on Mondays FREE,  Plus we can access the FOOD BANK.  Food bank available on Monday at the church during or after lunch.  You can also email me to set up a time to access the Food bank. Think of it as a free supermarket if you are vulnerable and in a difficult place.   Please, please come and use the service.  We are here for you.  Perhaps you have experienced times like getting to the beginning of the week and pension day is a few days off, and there is little food and no money.  Those are times the food bank really can be there for you.
FREE LUNCH/By Donation YOGA –  MONDAYS:.    COMMUNITY LUNCH (free) at 12 noon, and then followed at 1.00 by Yoga in the Studio – not the church.  (The FOOD BANK can be accessed after lunch – if you are struggling to make ends meet, this is a great service provided by the Church)   NO CLASSES IN THE SCHOOL HOLIDAYS.
OTHER STUDIO CLASSES:  Teacher Training at our Studio  every 1st Sunday in the month at 2pm to 4pm.
BENDIGO: Crusoeden Health (The Australasian Yoga Institute Affiliate), Church St. Kangaroo Flat. Director, Jayne Boyle.
SHEPPARTON:  Date to be decided