CLASS TIMES. COVID CHANGES.  ZOOMING
ZOOM:
1.  Choose a class (Mondays, Wednesdays, Fridays, Saturdays… see below.)
2. Email me to find availability yogafirst@netcon.net.au
3. Pay the fee for the class by Direct Debit given in an email to you in reply, OR click DONATE on the front page of this web site.  You don't need a PayPal account..
4. You will be sent the ZOOM LINK.
5. For zoom yoga classes – please make sure you have props appropriate to the class.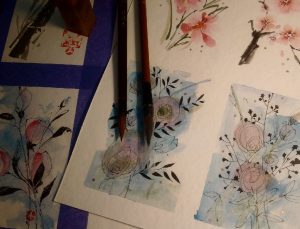 ART
ZOOM:  ZEN DOODLES – "Yoga and Art". Monday 6.45pm, Saturdays 10am  $50 for three classes.
No art experience required.  Materials: A4 Watercolour Pad, Watercolour paint, brushes (with a point), newspaper, two bowls of water and a white plate for mixing. If you are interested in mixed media bring pencils, wax crayons or what you like.  This can be part of our new ART&YOGA qualification.
ART&YOGA
This is a new qualification.  No art experience required, just enthusiastic doodles, passionate art.  Please Email me to register your interest and for further details.  yogafirst@netcon.net.au.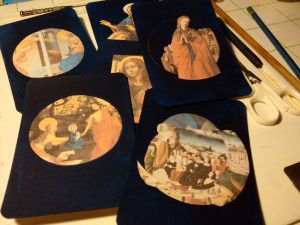 TAROT
ZOOM: Saturdays 2pm to 4pm TAROT TRAINING/MAKING.  Join the course (see the menu on the web site landing page "tarot").   Also available $50 to join in for three, two hour refresher sessions once you have completed the course and received your tarot cards which are included in the course cost. MAKE YOUR OWN TAROT CARDS Saturday  2pm to 4pm.  We have been making the backgrounds to the class using  – ZEN DOODLES.
YOGA
ZOOM: SUNDAYS: 10am, TEACHER TRAINING. $20 per session (Pay for 1st class get the repeat FREE) .  This used to be monthly at 2pm, but because of overseas students joining in, we had to change the time and everyone asked for more.
TUESDAYS 7.30 to 9pm.  THE YOGA LECTURES. $35 for 3.

GENTLE RESTORATIVE YOGA SESSIONS 
If you have a class pass you can use this, otherwise it is by the month.  Based on the current pass holders $75 per month (or 4 mixed classes) Wednesday 12.30 and Saturday at 12.30
RESTORATIVE YOGA WITH WEIGHTS AND STRAPS
Mondays at 1pm, and Wednesdays at 5.30,  Friday at 5.30 (price as Restorative Yoga Session above).
If you are interested in any of these.  Please email me at yogafirst@netcon.net.au, and I will give you the Direct Debit number, log you into the class, and give you the zoom link.
DONATE:
PLEASE TAKE ME OUT TO COFFEE AND CAKE:  We are still managing to do daily newsletter, take on more classes, do our lectures at a very economical price – but they don't do themselves.  I do them.  I don't have a  "staff" and in these "interesting" times it is difficult.  If now and again you can shout me to the equivalent of a cup of coffee and a cake, pop the equivalent amount in our "DONATE" box on the front page of our web site.. it would be hugely appreciated.  (patreon.com/TAROTART)
ZOOM CONSULTATIONS
PHONE CONSULTS/ PERSONAL CONSULTS : BOWEN/ZENTAI MASSAGE/ "TAROT AND TEA LEAF COUNSELLING"  WILL STILL AVAILABLE OUTSIDE OF YOGA CLASS TIMES .
STUDIO CLASSES.


NONE

–  UNTIL LIFTING OF STAGE 3 RESTRICTIONS.
After Stage 3:  CLASS PASS MANDATORY..  To purchase, you will need to speak to Jahne to discuss whether there is a vacancy, and when confirmed, get the Direct Debit Number to pay for the pass.    Please bring a towel and/or your own mat/BLANKET AND NEEDED PROPS,  to every class.  If you have hand santitiser, you could bring that too although one is provided.  We can't put the Genie back in the bottle!  The virus will now ALWAYS be with us.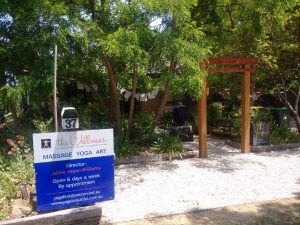 STUDIO CLASSES:  If you have a cough, a cold, have met someone who has COVID, have recently returned from overseas, or have a friend or family member who has – please self isolate and visit your doctor only returning after you have a negative covid result.  If you have been to a large gathering of any kind, please Do not come to yoga, at least for 10 days….
STAGE 3 FROM 11.59PM Wednesday 5th August.  No Studio classes.  Only zoo
YOGA CLASSES AT THE STUDIO: 37 Morris Road, Woodend.  … after stage 3 lifted.
There are only three persons per class for the time being until we see how we manage with covid.  Bring all your own props please.
WAIT-LISTS ARE AVAILABLE FOR ALL CLASSES. If the class is not available today, email me and put your name down for when a vacancy exists.
PLEASE NOTE:  We will not know until this time how many ZOOM classes will remain.
MONDAY:                 1pm  RESTORATIVE/HATHA  with weights
TUESDAY:                Book for Tea&Tarot/ZenTai, Bowen Massage/Past Life consultations.                           
WEDNESDAY:        12.30  RESTORATIVE YOGA 
                                      5.30 RESTORATIVE HATHA with WEIGHTS 
THURSDAY:             No classes today – my day off!
FRIDAY:                     5.30 RESTORATIVE CLASS with weights 
SATURDAY:              12.30 RESTORATIVE YOGA. 
SUNDAY:                   Zoom consults, classes, etc.
YOGA CLASS COST:  NO CASUALS AVAILABLE AT PRESENT.
TEN CLASS PASS MANDATORY:  $185 for a 10 week pass for new students, and $155 for a 10 week pass for students who have been consistently  been our students for approximately 3 years or more.  Class passes means  10 consecutive classes.    For us to be here for you, you have to be here for us – you will need to be committed.  Pre-Covid unused class passes still valid until expired but remember, they are consecutive.  If you miss a booked class, you will still be docked on your card for that class.