CLASS TIMES. COVID CHANGES.  ZOOMING/STUDIO
ZOOM:
1.  Choose a class (Mondays, Wednesdays, Fridays, Saturdays… see below.)
2. Email me to find availability yogafirst@netcon.net.au
3. Pay the fee for the class by Direct Debit given in an email to you in reply, OR click "DONATE" OR "PAY VIA PAYPAL" on the front page of this web site.  You don't need a PayPal account..
4. You will be sent the ZOOM LINK on the day of the class… I rarely forget.  
5. For zoom yoga classes – please make sure you have props appropriate to the class.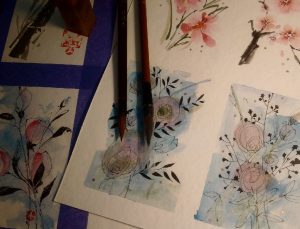 ART CLASSES

STUDIO:  MONTHLY Saturday 2pm.. "Making Tarot – Making Art". $25 per session
No art experience required.  Materials: A4 Watercolour Pad, Watercolour paint, brushes (with a point), newspaper, two bowls of water and a white plate for mixing. If you are interested in mixed media bring pencils, wax crayons or what you like.  This can be part of our new ART&YOGA qualification.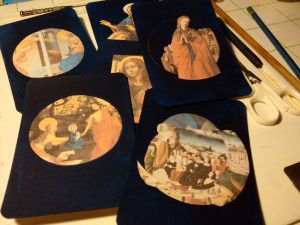 TAROT/ART CLASSES
*ZOOM: FREE TAROT/PENDULUM CLASS suspended
*STUDIO Saturdays 2pm to 4pm TAROT TRAINING/MAKING.  One Saturday per month  2pm to 4pm.  We have been making the backgrounds to the class using  – ZEN DOODLES. although anything goes.  Whatever you want to do is fine – even learning to knit or crochet.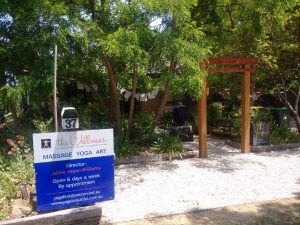 STUDIO CLASSES:  If you have a cough, a cold, have met someone who has COVID, have recently returned from overseas, or have a friend or family member who has – please self isolate and visit your doctor only returning after you have a negative covid result.  If you have been to a large gathering of any kind, please Do not come to yoga, at least for 10 days….
ZOOM AND YOGA CLASSES AT THE STUDIO:
37 Morris Road, Woodend. Booking Essential, no drop-ins.
Bring all your own props or protective towels etc please.
WAIT-LISTS ARE AVAILABLE FOR ALL CLASSES. If the class is not available today, email me and put your name down for when a vacancy exists.  All classes  – class pass or casuals prepaid, plus "No refund", although you can swap classes and do a catch-up.   
FRIDAY:  6.45 FREE TAROT/PENDULUM CLASS suspended
SATURDAY: Monthly 2pm TAROT/ART CLASS
SUNDAY: ZOOM 10am GITA STUDY GROUP
MONDAY: STUDIO 1PM HATHA YOGA CLASS.  
MONDAY: 6.30PM ZOOM FREE TEACHER TRAINING  (we examine breathing, eating and diet, moving, and living) .  If the group want to continue with this (there is lots more to learn) it could be moved to 6.45pm to accommodate the yoga class finishing at 6.30.
TUESDAY: 7.30 RUMI STUDY GROUP
WEDNESDAY: 1pm STUDIO RESTORATIVE YOGA CLASS (starting April)
YOGA CLASS COST:  CASUAL CLASS FEE from April – $25 PER CLASS.
FOUR CLASS PASS:EVERYONE THE SAME – NO CONCESSIONS:  $88 class pass for 4 CONSECUTIVE classes which is what I was charging in 2006!!!  Class passes means  consecutive classes.    For us to be here for you, you have to be here for us – you will need to be committed.  If you miss a booked class, you will still be docked on your card for that class – although you can now swap or do a catch up.
During the Covid Crisis I have supported you all…  now we get back to NEW NORMAL.
TEACHER TRAINING:  STUDIO CLASS Resuming 2pm to 4pm the first Sunday in every month from the 4th April.  $20 as usual.