THE YOGA OF HERBS
REMEDIES AVAILABLE IN THE SHOP – click on "Shop" above.
Covid has served me well.  Though I would not particularly care to repeat the past 2 years, I have made the most of my time, and have managed to pass the Certificate level and Advanced Diploma Level of BachFlower Essence Therapy.  I have done other courses in this therapy over the years, but this was a much more professional (lengthly) approach, and Covid gave me the space and time to achieve it.
I have been preparing essences made according to Dr.Bach's method using the flowers from my garden and immediate surrounds.  They don't sit on shelves for years, or get bounced around in transit.  I prepare them, care for them, and dispense them for you – all in the same locality.  It has to be the better way.
Our essences are especially useful during COVID, and I am sure we will experience the "Roaring 20's" at least on the stock market  as the isolation  rules are  being slowly lifted.  There are more people about, more cars on the road, and more optimism.   Now that daily life around us is coming back to normal – whatever that was – we all need a little help person to person to get back to "almost" normal.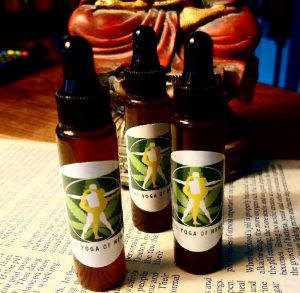 Our clients  report excellent results with the ease of use, and we have received feedback from customers with emotional difficulties getting through covid… they know our essences work.   Anxiety, stress, depression – general health and wellness
THE BACH FLOWER ESSENCES is a complete set of 38 remedies which balance emotions and treat negative states…Dr.Bach developed a unique approach to healing.  One of his dearest wishes was that we could learn how to take control of our own health.
THE BACH FLOWER REMEDIES (Yoga of Herbs), E-course is now available on Etsy for $55.75 www.myyogabooks.etsy.com  You will find it most useful in this time of herbal plenty.  Flowers we haven't seen for a long time are blooming which means we can stock up on remedies we haven't personally been able to make.   The course has everything you will need to start.
Now that restrictions are less strict, My Fees are as follows….
If you are double vaxxed and have your certificate you can come to the studio for a SHORT 10 minute consultation: $57.50 includes the remedy. The longer consultations are at the usual price of $85 plus $25 for the remedy.
Or you can see me on zoom: $85 includes a half hour consultation,  the remedy and postage
Or I can send you the remedy. $57.50 is the remedy including postage
PAYPAL:  We now have PAY VIA PAYPAL to pay quickly and easily through your credit card/debitcard/ OR YOUR PAYPAL ACCOUNT.  PayPal send the receipt to us right away.  As quick as.  Simple.
Disclaimer:     Although all the remedies are made from the energies of flowers plants, and one cannot be harmed or overdose, any statements made within this document  have not been evaluated by the Therapeutic Goods Administration (TGA). No products produced, manufactured, marketed, or distributed are intended to diagnose, treat, cure or prevent any disease. Consult your doctor before beginning any supplements or botanical extracts. If pregnant or breastfeeding, consult with your doctor before use. For use by adults 18+. Keep out of reach of children or pets.