TAROT FOR EVERYONE 
I believe that tarot throughout history has been the link between the esoteric and the exoteric. It takes the "magic" out of the hands of the few, and makes it accessible to everyone who will take the time to listen. And it does take time to learn, even when the tarot has been stripped bare as I have endeavoured to do..
In bringing this system together, I have tried to keep it simple. The cards are easy to read and to dream on. Each picture is merely a suggestion and invites the intuition to take part. This is not a deck for someone who works out of the head – astrology is for the academic.  This deck is about intuition.
The contemplations recommended in this system are easy, and you probably do a number of them already, and perhaps now you can see them in a new light – exploring the link to be made between your mind and their mind, your intuition and their confusion perhaps. With the drawings, I have just given you the beginning of a thought, and my own guidance on the "flow through". How you interpret that with your client in front of you is up to you. There is deliberately no colour. You add the colour in your head. So without changing anything, you are already on your way…..it is all about TRUST. Trusting yourself. It's so easy. If you have things we have not thought about, please contact us at yogafirst@netcon.net.au and we will put your suggestion on our website and in our next edition of this book.  To purchase a deck go to   www.jahnehopewilliams.net  or   www.myyogabooks.etsy.com
TEA & TAROT AFTERNOON
On Sunday June 28th we are going to have a TAROT-MEET-UP at the Studio.  Chocolates, nibbles, and all my favourite tarot things.  I will do short readings, and show you how you can.  REVELATION TAROT DECKS, plus the GATES AND GUARDIANS will be available for purchase.  The TEA-LEAF READING CARDS can be viewed in the original (and ordered). Tantra paintings can be viewed and ordered (and purchased).. or you can just wander around the garden.  There is a cost (these are interesting times!) of $20.
If you purchase a PAINTING this entry fee will be deducted from the price of the painting.. (this does not apply to the card decks which will be a special price for those who attend)
Please RSVP if you mean to attend: yogafirst@netcon.net.au – registration is a covid requirement.
TAROT READING CERTIFICATE CLASSES (STUDIO AND ZOOM) :

 
In spite of having been treated with suspicion by the Church (as usual), I will be holding Tarot Reading Classes.  Starting again  Saturday the 4th July from 2pm to 4pm IF MOBILITY HAS BEEN RESTORED TO US and at this stage it.  I will keep updating this site.    Those people taking part will receive a deck of my REVELATION TAROT cards as part of the course.  It is a certificate course, and they will be able to read easily for others,  and with confidence,  by the time they complete the three sessions.
You can pre-book for the next ZOOM Tarot Training, starting 11th July 2pm to 4pm for three consecutive Saturdays.  Please email me to book your place.  yogafirst@netcon.net.au
TAROT READINGS:  I am listening.  I take bookings 6 days a week – no bookings on Thursdays.  Cost as below…..DIRECT DEBIT during Covid, cash thereafter.  To book: Email yogafirst@netcon.net.au
CHOOSE YOUR APPOINTMENT:    You get private guidance and instruction from me on topics that are part of my experience/learning (or my guides). Divination, psychic-intuitive works, energy work. I use tarot, tealeaves, pendulum and so forth.  whatever is needed and wanted.
15 MINUTE PSYCHIC INTUITIVE READING @ $40.  This session is perfect just to check-in, look at a specific question or concern, and move energy to get clarity, insight and direction you need.  Remember – 15 minutes goes in a flash so have your question ready.  Not available for in-person sessions – only phone or e mail.
30 minute PSYCHIC INTUITIVE READING @$65.  This session is fantastic for a general reading or to laser focus on one issue, or topic.  Lots to discuss?  The one hour would probably serve you better.
1 hour PSYCHIC INTUITIVE READING @ $85.  This session would be great if you have multiple questions/issues to explore.  Perhaps you have complex questions? then this session is for you.
I am working on a new tarot deck.  THE MAGDALEN TAROT.  Here it is "in progress".  I have been surprised historically how few images there are of Mary The Magdalen.  Mostly with the "alabaster Jar", or looking wistfully into the heavens – longing for her man.  I am sure there was much more to her than that.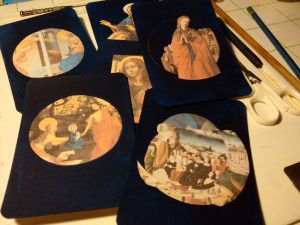 TEA LEAF READINGS….
Do you remember my Tea Leaf Readings?  I used to do them in my little TEA AND TAROT rooms in Mt.Macedon, in Woodend (Where the lawyers are now),  and in Sunbury.  I loved doing it, and sometimes I gave myself a scare,  the results were so uncannily accurate.  I can't teach this, but I can do session for you at the Woodend Studio, by phone or email.  Please email me at yogafirst@netcon.net.  to make an appointment for a personal, phone or email session..
Namaste.  Jahne