TAROT FOR EVERYONE (THESE CLASSES INCLUDE PENDULUM SKILLS, PENDULUM MAKING AND BOARD MAKING)
I believe that tarot throughout history has been the link between the esoteric and the exoteric. It takes the "magic" out of the hands of the few, and makes it accessible to everyone who will take the time to listen. And it does take time to learn, even when the tarot has been stripped bare as I have endeavoured to do..
In bringing this system together, I have tried to keep it simple. The cards are easy to read and to dream on. Each picture is merely a suggestion and invites the intuition to take part. This is not a deck for someone who works out of the head – astrology is for the academic.  This deck is about intuition.
The contemplations recommended in this system are easy, and you probably do a number of them already, and perhaps now you can see them in a new light – exploring the link to be made between your mind and their mind, your intuition and their confusion perhaps. With the drawings, I have just given you the beginning of a thought, and my own guidance on the "flow through". How you interpret that with your client in front of you is up to you. There is deliberately no colour. You add the colour in your head. So without changing anything, you are already on your way…..it is all about TRUST. Trusting yourself. It's so easy. If you have things we have not thought about, please contact us at yogafirst@netcon.net.au and we will put your suggestion on our website and in our next edition of this book.  To purchase a deck go to   www.jahnehopewilliams.net  or   www.myyogabooks.etsy.com
TAROT READING CERTIFICATE CLASSES (STUDIO AND ZOOM) :

 
In spite of having been treated with suspicion by the Church (as usual), I will be holding Tarot Reading Classes.  Book for the next class – they are ongoing.   Those people taking part will receive a deck of my REVELATION TAROT cards as part of the course.  It is a certificate course, and they will be able to read easily for others,  and with confidence,  by the time they complete the three sessions. The cost is $187 which includes your own set of Revelation Tarot cards.
If you have done our introductory course and have a deck, or have your own deck, you can book for our ongoing ZOOM Tarot Training, $50 for three consecutive Saturdays.  Please email me to book your place.  yogafirst@netcon.net.au
TAROT MAKING CLASSES
Saturdays 2pm to 4pm.  You read the tarot, you may have done our classes and courses, now make your own tarot deck or oracle.  $50 for three classes.  If you want to join you can either email me for more details – yogafirst@netcon.net.au, or go straight to the PayPal payment option.  Click on "donate" at the bottom of our HOME page, and pay via PayPal.  You don't need an account as PayPal receives debit and credit cards.  Don't forget your name and the reason for the payment when you fill in the payment details.
Materials:  In the first class you will need 10 or more small plastic or paper bags, magazines with a theme of your choice, tiny pointed scissors, a workbook and pen.  If you are interested in watercolour and doodling, you will need watercolour paper A4, brushes, water, watercolour, a technical pen size 0.1.  If you are interested in sumi you will need brushes, traditional stick,  black ink, a grinding stone and watercolour or rice paper.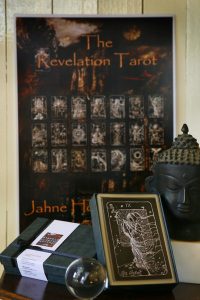 ZOOM (OR STUDIO) TAROT READINGS:  I am listening.  
I take bookings 6 days a week – no bookings on Thursdays.  Cost as below…..DIRECT DEBIT during Covid, cash thereafter.  To book: Email yogafirst@netcon.net.au
CHOOSE YOUR APPOINTMENT:    You get private guidance and instruction from me on topics that are part of my experience/learning (or my guides). Divination, psychic-intuitive works, energy work. I use tarot, tealeaves, pendulum and so forth.  whatever is needed and wanted.
15 MINUTE PSYCHIC INTUITIVE READING @ $40.  This session is perfect just to check-in, look at a specific question or concern, and move energy to get clarity, insight and direction you need.  Remember – 15 minutes goes in a flash so have your question ready.  Not available for in-person sessions – only zoom/phone or e mail.
30 minute PSYCHIC INTUITIVE READING @$65.  This session is fantastic for a general reading or to laser focus on one issue, or topic.  Lots to discuss?  The one hour would probably serve you better.
1 hour PSYCHIC INTUITIVE READING @ $85.  This session would be great if you have multiple questions/issues to explore.  Perhaps you have complex questions? then this session is for you.
ZOOM TEA LEAF READINGS….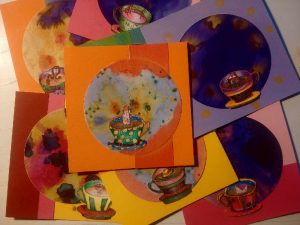 Do you remember my Tea Leaf Readings?  I used to do them in my little TEA AND TAROT rooms in Mt.Macedon, in Woodend (Where the lawyers are now),  and in Sunbury.  I loved doing it, and sometimes I gave myself a scare,  the results were so uncannily accurate.  I can't teach this, but I can do session for you at the Woodend Studio, by phone or email.  Please email me at yogafirst@netcon.net.  to make an appointment for a personal, phone or email session.. Prices as per tarot above..
We are starting a ZOOM TEA-LEAF READING COURSE.  It will be over 6 weeks and you will receive a set of the new cards.   While we are waiting we will look at the basics.  Email your interest and we will go from there.
OUR NEW TEA LEAF READING CARDS (originals in the photo to the right) will be available in the next couple of weeks.  Covid has held up the production.