DEAR YOGIS,
The time to be "NORMAL" has gone.  This is a time to be extraordinary
We will learn what yogis studied 5,000 years ago, the Taoists, the Tibetans, the Christians.. and modern science.  We will learn about how our bodies have changed over millennia, and how that changed how we eat,  move,  breathe and live.  You will learn what you could be doing right now to change, to become more healthy, sharper, happier.  These will be  classes of possibilities.  Put aside what you think is right, and learn what is TRUE.  As I say often.  TRUTH IS UNCOMFORTABLE.  "If you seek comfort you will not find truth – if you see truth you will find comfort".
DO SOMETHING THAT MATTERS.  CHANGE. 
TEACHER TRAINING 

on ZOOM
This book can be your good friend.   A one hour class every Monday at 6.30pm on ZOOM:  FREE  (No repeats – no recording.  Use it or lose it).
You just need to light a candle to chase darkness out of the room and drive the bitterness and loneliness out of your soul.
I have been overjoyed to see our graduates at this class.  Hop on with us as learn how there "superwomen" are not just managing, but powering through this difficult time.
"EASY PEASY" FRIENDSHIP BEAR MAKING WORKSHOP.(Limited numbers please book early).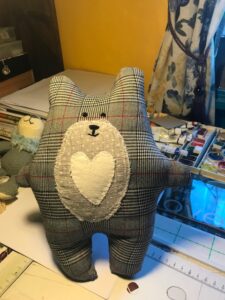 When:  Saturday the 13th August
Where: the Yoga/Art Studio, 37 Morris Road, Woodend (please park on the white gravel) – I do have good ventilation and an ION AIR FILTRATION system, and unlike many schools, I actually do switch it on!
Cost: $45 including using some of my materials and a template of the bear to use and take home, although I ask that you bring a piece of fabric for the main colour, and contrast for the face and belly.
Please pre-pay so that I can get a template and little bag of possible materials organised for each student – you can add to these.
If you buy the pattern on Etsy I will have a free group zoom workshop, just to help you with the bits and pieces.  Etsy lets me know who buys the pattern as does pay-pal, so I will know who wants to do the zoom, and who to send the ID to.   It is the simplest of patterns, but there is the easy way and the hard way to do things.  I prefer the easy way.
A NEW COMPASSIONATE COMPANIONS PROJECT GROUP
We will start this class via Zoom when we have a class of students ready to start.
To learn more about this course go to www.ccpproject.com