COMPASSIONATE COMPANIONS PROJECT – THE COURSE.
NEW COURSE STARTING 11th january 2022 – This is a "triple certificate" Course, and includes the work of a DEATH-DOULA.
The work of a COMPASSIONATE COMPANION (or Death Doula) is an "in-between role" to help bridge the gap between the medical system and the community.   I think a lot of people think that when you're a doula, you're sitting at the bedside of someone who is dying.   It can be that, but it is not always so.  Death comes in many ways – physical, emotional, spiritual.  We can midwife a person to the next place, as they are passing, but it is not always the case that we do.  We can just sit with a person who is dealing with addictions, grief.  Nothing needs to be said, it is not a counselling role.
The role of a COMPASSIONATE COMPANION is much needed in these difficult times…..
A COMPASSIONATE COMPANION Can be a very effective advocate and supports their client by advocating for their autonomy in choices and by encouraging communication with family, caregivers, and professionals working in direct care of the patient.  The client could also be a pet… they need companions too at the end of life.
If you would like to be a professional COMPASSIONATE COMPANION (including Death Doula), please email me, and we can talk you through the way forward the path you have chosen.  yogafirst2@bigpond.com
THE LITTLE BLACK BOOK OF EVERYTHING.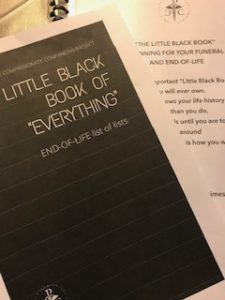 This will help you to rebuild your life should you ever be in the circumstance where you can no longer run your home, or your office, or someone close to you needs help with end-of-life details.
We live in the Ranges, and I have lost my house in a bushfire, students have lost partners and life would have been so much easier if we had filled in the details of their 21st century life in this book.  It should live with your will and end of life medical directive from you doctor.  Once you have these three documents you can get on with your life efficiently.
I was alerted to the difficulty when I had my will updated, and they asked almost nothing about passwords, services and appropriate entry codes etc to various accounts… They were only interested in the big picture, not these numbers that are so important if we have to rebuild our life after a crisis.  They didn't take any of these into account.  What use is it to know how your assets are going to be divided in the Will if you can't unlock the assets.
Plus there is a section to remind you of your life story, and your funeral directions – there is an amazing number of questions with regards to this – flowers, service, eulogies, service and so on.
Go to our shop (click on the menu) and get your copy today…and start filling in the gaps.  You will be so glad you have.  It will take another big stress away.