Dear Yogis,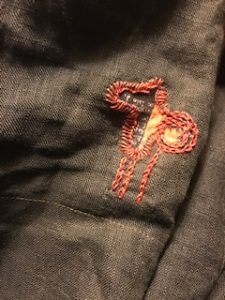 Here I am in my own little cocoon making dolls and teaching yoga.  I said to my students yesterday "so much to do, so little time", and it occurred to me that I was right, and one of the things I have not done, is commemorate all of you in a concrete way that can be handed down when I am no longer here – I am not thinking of leaving soon by the way.  When the yoga studio is gone, I want something that goes on.  Forget about a book (many of you have asked me to write one), I know and you know that people are reading less and less.  However, it occurred to me that we could make a PATCHWORK QUILT.  Something that will go on into the future, and commemorate your time with us and the beginning of your yoga teaching journey.   Perhaps a book will come out of the quilt.  Who knows.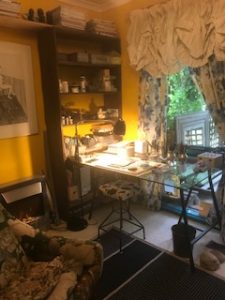 A PATCHWORK  YOGA HISTORY QUILT.
There are hundreds and hundreds of you that I have taught.  Hundreds who have become yoga teachers because we are here and devised a way when there was no way, and were one of the first to offer distance yoga teacher training.   Surely enough of you can sew a simple postcard size (or less) square to commemorate you and what you are doing now. Make it a project for the students in your class or your studio. What to sew onto your POSTCARD SIZE fabric…. 
POSTCARD SIZED FABRIC SQUARE (by you or one of your students) 

is…..

1. a fabric print of a head shot of you (something that won't fade) or your studio or logo…. (you can get fabric transfer paper to use in your printer from any good newsagent – use the rest of the sheets for T-shirt printing after you have finished your quilt square).
2. Your name
3. The year you started your Teacher Training,
4. and a tiny image or words that says something about you – An appliqué bird, or asana, or  rising sun, or an image from your town – something.  Doesn't have to be fabulous.  The fabulous will come when we join it all together.

5. If you are an enthusiastic sewer you could sew a little line of poetry or something from the sutras….

When it is complete I will donate the quilt to the local museum or library, or to the Melbourne Branch of the Theosophical Society.  Somewhere that will honour the quilt for the wonderful history that we have built together.  I am looking forward to doing my squares.. something about Margaret Segesman, and my teacher Abbots.

I may be carried away with the romance of it all – perhaps we can have quilting mornings when we can come together to work on the quilt – won't that be fabulous!!!
My students now in Ireland, Norway, the USA, Japan, Russia, Serbia, Dubai and all over the world and all around Australia reading this, please do a little square (or two).  Even if you can't manage a postcard size square do half that.  Anything.  I can sew your piece into the quilt whatever size it is (no bigger than a postcard please).  It doesn't need to be profound.  I imagine that I will do a square to commemorate this studio, a square to commemorate my teaching travels, and a square to commemorate my teachers.  Don't stop at one!!!
The wonder will be when it is all joined together.
THE YOGA CLASSES – please book before you arrive.  They are small classes and one unplanned extra may not be able to join
MONDAY HATHA : 1PM, 2.15/WEDNESDAY RESTORATIVE 1PM, 2.15 Teacher Training/FRIDAY HATHA 2.15 (meditation at 3pm – you have to book to join us for this)
MONDAY ZOOM: Teacher Training 6.30
HERBAL WORKSHOP ZOOM CLASS, Tuesdays at 7.30, please register your interest.
MONTHLY YOGA LUNCHEON:  Victoria Hotel Woodend, Thursday 25th August, 12 noon. RSVP
FOR BOOKINGS, ENQUIRIES – NEW EMAIL ADDRESS: yogafirst2@bigpond.com
HAVE YOU CHECKED IF YOUR

REGISTRATION

IS UP TO DATE?  IF NOT, MAYBE IT IS TIME TO DO THIS. EMAIL ME AND I WILL SEND YOU THE APPLICATION:    yogafirst2@bigpond.com
SEE YOU ON THE MAT.
NAMASTE JAHNE