Dear Yogis,
ZOOM (and Studio) Classes:
Monday 6.30pm –  Tuesday, 7.30pm RUMI STUDY GROUP – Saturday (22nd) The Art/Craft Studio Group, Sunday 10am 'Gita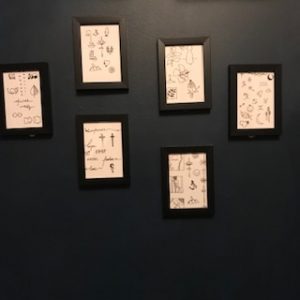 Please join us.  I will be opening the Studio from 1pm this coming Saturday so that you can catch up with me in person, see what we have been doing, and CHOOSE A TINY TATTOO DESIGN PERHAPS (and wander in the garden if the weather is good).  The  art/craft Group starts at 2pm to 4pm as usual.
If you come to the studio early,  and once you have chosen a design, we can make an appointment to complete in either black, red, or my favourite – henna colour.
MONDAY FREE TEACHER TRAINING.  6.30 (Mary Magdalen)
Starting this Monday at 6.30 we are going to be exploring the Gospel of Mary Magdalen.  This is just a taster as on Tuesdays  we are almost finished contemplating Rumi (which could become a lifetime study if one were so inclined?), and we will probably use the Tuesday 7.30 time slot for this MM Study (Monday is only an hour) but Tuesday is an hour and a half.
In studying this Gospel we will be considering the unknown part of ourselves, which at the same time is the most essential and valuable part of us.  We learned in Rumi that due to this mediating contact between the higher and lower parts of ourselves, the deeper intimate experience of conscious love could be experienced.
Where does Mary fit in this? She is the Minister, not the Whore.  Once Mary had been released of  "The Seven Demons" she could see the world and Jesus as they really are.  Like us, above the material, in the depth of silence that contains everything, she could know her real nature, made not just to love, but to serve.
Remember the bargain Shams had with God.  He was looking "…..for someone he could pour his knowledge into, who would use it, and change the world".  For this, he would give his life.  It is interesting that both Jesus and Shams had a three year ministry.   In the Jesus story,  Mary  mirrors Rumi.  Someone who intimately knows the spirit, who intimately knows God and takes the teaching into the world.
You are training to be a yoga teacher, or have graduated, and like Mary you have a job – a reason to be.  Not just to use yoga, and be perfect (no-one can be this), but to also take your knowledge to the world to serve not only God but to serve your neighbour, and through this the world.  This is why we have been created.
You signed up for a very big job.  That you have changed your mind, or didn't understand what you were signing up for is not the question, but there are Karmic consequences of your actions (of course). A very good song to remind us of our humanness is from Jesus Christ Superstar  "GESTHEMANE" where Jesus is asking God to "take the cup from me…", reminding God that he had "exceeded expectations", but in the end gives in to the will of God, the way,  "thy will not mine be done Lord".
SMOKIN' THE YOGA OF SMOKE (www.myyogabooks.etsy.com)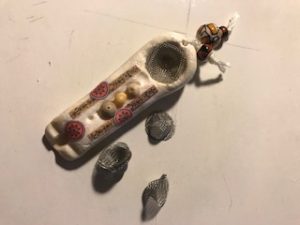 If you or your loved ones smoke, if you are aching, anxious,  depressed, then give up nicotine, and try herbs instead.  You can use the herbs in a pipe, in roll-your-own, as incense, and in little bags tucked into your pillow.  In this book I even show you how to make your own pipe.  The book is almost 50 pages jammed with information about herbs, herb magic and Ayurvedic smoking herbs to balance your doshas (What, how and when you smoke is important in Ayurveda).  I even talk about and have drawings of pipes so you can make your own, and make your own clay.
The pipe to the left is a favourite.  It is small (palm size) and feels like a living thing.  A small animal, a piece of jewellery.  It is a fully functioning pipe, but because of its size there is not a huge bowl, so it is a small smoke, but enough, and very gentle….  I made the air-dry clay myself, so there would be no chemicals in the smoke…  The three little mesh things beside it are the pipe mesh (herb holders) that I put in all my pipes so you won't inhale bits and pieces of herb!  Not a good thing.  If you want me to make you one especially with a special colour or beads in mind, let me know and I can do one especially for you (or a gift for a loved one).  Just email me. yogafirst@netcon.net.au.
YOGA AND TAROT – Have you tried handing your TAROT cards out at the beginning of the class and at the end? One card per person per time?  You will be surprised how the energy changes from the beginning of the class to the end.  Try it.  It is a great way to get closer to the class, to discover deep issues, and see how your students have resolved them in the yoga session.
WHERE EVER YOU ARE, WHATEVER YOU DO, I WILL MEET YOU ON THE MAT.
NAMASTE – JAHNE