YOGA FIRST is a distance education teacher training institute, established in 1976 with outreach into the community on a national and international Level. Our courses are accredited with The Australasian Yoga Institute and taught under its auspices. Our courses are also accredited by YOGA AUSTRALIA, IICT, and the International Accreditation and Recognition Council.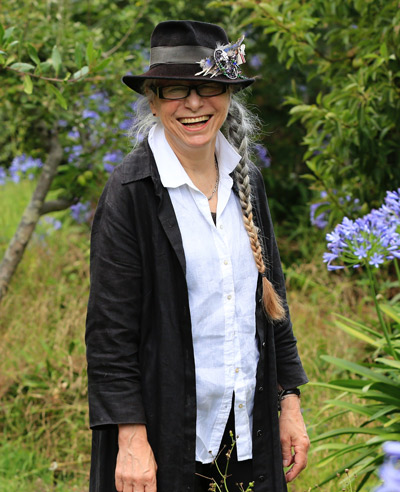 Rev. Jahne Hope -Williams the Founder and Director of Studies has taught yoga for in excess of 10,000 hours. She has been a student of yoga for more than half a century, and continues to be one. She is an Ordained Minister, and is on the Advisory Board of the "Step Into Life" organisation. She is also a trained Past Life  Hypnotherapist,  Masseur, and has been registered to the 500 hour standard by Yoga Alliance in the USA.  Jahne also is an artist with 61 exhibitions to her credit – go to www.jahnehopewilliams.com to see more.
Our Distance Education Yoga training institute is supported by students around the planet and of course all round Australia. The Studio was registered and established formally in 1976.  Our present Head Office and Home Studio is located in the Macedon Ranges in Victoria (Australia) accepts students from the age of 2 days onwards.  We also teach people in Recovery through our work consulting to Arrow Health at the Rehabilitation Centre "The Bentinck" in Woodend.
We have structured our Teacher Training courses at the highest level, for only the most dedicated students.  We teach the foundations with a focus on The Yamas and the writings of Patanjali.  We are not a fitness studio.  If you are looking for a quick course – then you are not looking for us.
On graduation you will then of course be able to proudly use the letters RYTA500 (or RYTA350 as the case may be) after your name.
We also offer: YOGA TEACHER REGISTRATION. If you are a Yoga teacher who has not formally qualified, but has done years of teacher training, we can register you. Please email us, and we will send you the forms required, you complete them, and then mail them back to us. This could save you years, and many hundreds of dollars learning what you already know.
If you meet all the requirements, and after we have received all your documentation, we will forward to you a beautiful certificate, complete with gold embossing you can proudly display. And importantly, it will help you to get your Professional Indemnity Insurance.
WE ALSO OFFER:
YOGA CLASSES – all ages and abilities
JAHNE'S YOGA UNIVERSITY
We feel we now have a completely rounded comprehensive yoga training course taking the interested yogi from the philosophy which is at the heart of yoga, right though to the 500 hour course. Everything needed to be the best you can be.
The Beginning: Yoga Philosophy. Starting with the Bhagavad Gita, we then move on to an in depth study of the chakras , and yamas. This is the core of yoga and what stands us apart from Pilates and other physical modalities, and can be studied alongside either yoga course, or as a stand alone course. (Optional)
The Yoga "Degree": The RYTA 350 hour course. This is what is now known as "Level 1". It used to be all that one needed, but Yoga has changed as has yoga teaching, and although this course is complete and comprehensive, it is just the start for the passionate "21st Century Yoga Teacher". Once you have graduated from this course you are a trained, registered yoga teacher, ready to teach anywhere in the world.
The Yoga "Masters" Course: Restorative Yoga Therapy/AR500. This course (which is a deeper view of yoga) rounds off your time at our Yoga University. Once you have travelled this path you are ready to look differently at your yoga, and work one-to-one with clients in both philosphy and yoga. You will truly be "professional".
Please contact us or register your interest below.