$175.00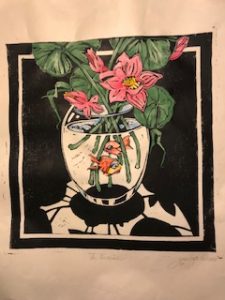 A hand coloured, hand pulled, hand printed lino-cut on Awagami Rice paper.   No machinery used at all… even the paper is hand made.  I used this lino cut plate about 15 years ago, and was unsure if I could print from it again – but here it is… I can.  It worked.  After the black print on the white paper, I then hand coloured with Windsor Newton watercolours.  They are high mineral content colours, and give a beautiful translucent look on the rice paper.
Because the paper is soft, I can post these to you in a tube.  First roll then around a foundation and then pop un a biggish to.  POSTAGE PAID IN AUSTRALIA AND OVERSEAS.
Description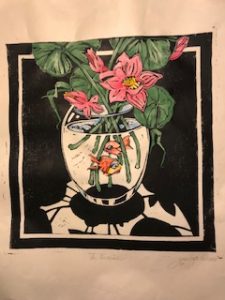 This lino-cut image  is about 39 cm x 39cms.  Hand cut lino printed onto Awagami rice paper and hand coloured using WindsorNewton watercolours.  These colours are translucent and bright because of the exceptionally high pigments/minerals in the paint.
There are only three of these prints, originals and because of the age of the plate, there is not likely to be more… it is coming to the end of its life – like us, they don't live forever and feel exceptionally lucky to have been able to get as many from it as I have.
The paper is soft, so i can post it to you lightly rolled and protected in a tube.  FREE POSTAGE anywhere inAustralia or internationally.