Dear Yogis,
PLEASE CHANGE MY EMAIL ADDRESS IN YOUR CONTACT LIST.  IT HAS BEEN CONFIRMED, MY NETCON ADDRESS IS FINISHING IN A WEEK OR SO, Chariot my ISP is closing its doors.  Technology has overtaken them.  They have struggled to supply a service all this year (it has been patchy) and they can't keep going.  I have been with them for 30 years, so there are some changes I will have to make.  A nuisance and time consuming!)
Yesterday we had a VERY TINY yoga lunch, but that being said we had a wonderful time and solved the problems of the world as even a small group of women can do.  Please, please determine to come to our next one, mark it in your diary now – The last Thursday in August, the 30th, at 12 noon in the Victoria Hotel, Woodend.  Commit to this date, and let me know that you will be there.  I would like to book the meeting room just for us, but can't unless we get a good number.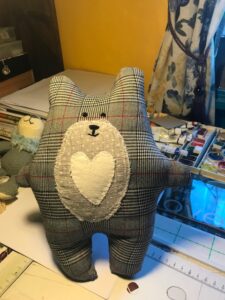 BEARS.  I have uploaded the first of my bear patterns to www.myyogabooks.etsy.com    The directions are all there for you to not only make a bear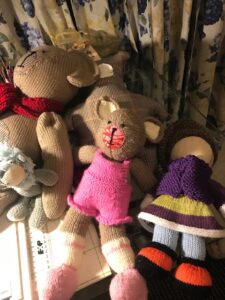 of your own, but also to get your group together and make bears for local charities.  It is easy enough to teach to children there are only three pattern pieces necessary (more are optional) and one main seam right around the outside of the bear.  You can upsize or downsize.  IT IS SIMPLE.  I just love making them and even DREAM about them.  Sitting up until all hours to add belly buttons etc.
I am starting some new bears today…. I will let you see them as i progress.
I also buy old knitted bears and animals from op-shops.  Wash, re-stuff, repair. redress,  and put new faces on them.  They go from scruffy, smelly, lumpy,  to beautiful.  I then give these away or sell them so I can make/fix. more to give away to children/people in need.  No matter the age, we all need something to cuddle and to love.
THE YOGA CLASSES
MONDAY HATHA : 1PM, 2.15/WEDNESDAY RESTORATIVE 1PM/FRIDAY HATHA 2.15 (meditation at 3pm – you have to book join us for this)
MONDAY ZOOM: Teacher Training 6.30
TEACHER TRAINING:  Sunday 31st July – Studio Class 2pm (please BOOK)
MONTHLY YOGA LUNCHEON:  Victoria Hotel Woodend, Thursday30th August, 12 noon. RSVP
BEAR MAKING WORKSHOP – details above.
HAVE YOU CHECKED IF YOUR

REGISTRATION

IS UP TO DATE?  IF NOT, MAYBE IT IS TIME TO DO THIS. EMAIL ME AND I WILL SEND YOU THE APPLICATION: YOGAFIRST@NETCON.NET.AU
SEE YOU ON THE MAT.
NAMASTE JAHNE