Dear Yogis,
Another reminder – some of you have not changed my email address.  Please change  it today to yogafirst2@bigpond.com
August already.  The garden is bursting into life, and portends a glorious spring.  I have all kinds of flower bulbs – Star of Bethlehem for the first time (a Bach Flower Remedy), bluebells, jonquils, daffodils, grape hyacinths (the first to burst forth) and of course tulips, but not many of these I am afraid.  Right at the moment my garden is GARLIC CENTRAL.  My clients brought me garlic which I planted, and I think they have all sprouted as well as onions, and my interesting "travelling garlic".  I am really looking forward to spring.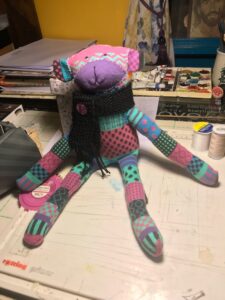 OUR DOLL/BEAR MAKING WORKSHOPS.  1. AT THE STUDIO AND 2. ON ZOOM.
Start saving socks (2 longish ones needed) for a sock doll/Bear, or download the fabric pattern for a fabric bear.  I am going to devise a pattern to make a GANESHA SOCK DOLL, but this may be a way down the track – we shall see.  There is so much to do, and so little time.
Melvyn to the left was made out of two socks.  I have another which I call VERA (WANG) made out of two white, fur lined socks (so gorgeous to hug).  I will show you when I am finished – but I think that "Vera" is spoken for. They sell pretty fast.  I seem to be able to make easy monkeys, but GANESHA? We shall have to plod along with that.  NEEDED: Socks, long socks with designs … leave them in the letterbox – cheaper than posting.
I did pick up a pair of very large denim trousers from the op shop today which will become a bear (or two).  If you want to join me in making bears, save your old denims, download the pattern,  (www.myyogabooks.etsy.com) and get to it.  As I keep saying, Christmas is coming faster than we may like, and what with the cost of everything rising, being ahead of the gift giving with some bears may save quite a few dollars.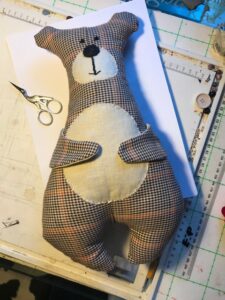 THIS IS MARMADUKE.  He is the bear that I will be making for you in kit form – Marmaduke here is tweed, but i will be making him a denim kit.  It will contain everything (and a template) except the sewing cotton, needles and the stuffing.    If the other bear was easy, Marmadule is super simple.  It will be one you can run up in an hour, or take an afternoon off and make one with your children )or a group), which you can pass along to a charity.The paper pattern is already and waiting for you on etsy.
If you need the complete kit with materials, that will be up there this week.  www.myyogabooks.etsy.com
Please keep checking in at the web site for when I put this up.  Yesterday afternoon when I was going to do this, I was engaged sewing together squares into blankets for the homeless through Rotary and the church, it was great fun and an opportunity to get together.
CIDER VINEGAR fruit CORDIAL .. Another way to save your dollars in a sea of rising prices.
Benefits
We make our own cider vinegar, and you can too.  I always have a mix bubbling away in the dark.  Check out previous Blogs or contact me for the recipe.
This cordial recipe, based on cider vinegar, herbs and fruit, is cheaper and better for you than even Bickfords Cordials.  And cheaper.
Lowers blood pressure by promoting vasodilation (widening of blood vessels)
Improves overall gut health and supports good bacteria
Provides live enzymes that markedly improve digestion
Promotes gentle systemic detoxification daily – an important function because of the daily pollution we are exposed to
Stimulates circulation – effective for cold hands and feet
Boosts energy and decreases fatigue
Slows down aging by speeding up toxin removal and improving skin health
Fruit and Herb Drinking Vinegar Cordial recipe:   I have lots of dried fruit, and plenty of rhubarb that gives me harvest all year.    Fruit adds vitamins, minerals, flavonoids, and antioxidants to this beverage – along with flavour. You can substitute honey, maple syrup, coconut sugar or syrup or even molasses for the organic sugar in this recipe.
2 to 3 cups of raw fruit
2 sprigs of herbs such as peppermint,  lavender or rosemary
A 2-inch piece of ginger and/or turmeric
1 cup of organic sugar or maple syrup
1 cup raw apple cider vinegar, with the mother
Directions:
Start by making syrup. Mix the raw fruit, fresh herbs, and sugar in a Mason Jar. Cover this mixture with a lid and place it in the refrigerator for 4-5 days. If you cook or boil it you will destroy many vitamins, especially C, that's why we do it this way.
Shake the jar to distribute the sugar and herbs with the fruit, as often as you think of it. After 5 days, remove the syrup from the fridge.
Strain the juice and solids through a sieve or cheesecloth, pressing down hard on the solids to retain as much juice as possible.
Mix the equal amounts of fruit syrup and apple cider vinegar and pour it into a fresh, sanitized Mason jar with a lid. Label and date.
You can use this herbal syrup Cordial immediately, but letting it sit for a week will allow the flavours to deepen, meld and harmonize.
Add by the tablespoon to cocktails or sparkling water.  Try 2 tablespoons of this syrup (or your own mix) to 12 ounces of sparkling water for starters.  Add more or less to taste until you get it exactly as you like it.
This sweet vinegar cordial will keep up to a year if kept refrigerated.
How to use this sweet vinegar cordial to make inspiring summer drinks.  Use 1 to 2 tablespoons in a glass of sparkling water or plain water (Gin optional!)
Try these flavours:  blackberry,  balsamic vinegar, rosemary,  blueberry,  thyme,  cherry, lemon balm, rhubarb, ginger,
At the moment I have a jar of dried apple, rhubarb, dried cumquat and ginger at stage 1 in the fridge (soaking in coconut sugar).
THE YOGA CLASSES
MONDAY HATHA : 1PM, 2.15/WEDNESDAY RESTORATIVE 1PM/FRIDAY HATHA 2.15 (meditation at 3pm – you have to book join us for this)
MONDAY ZOOM: Teacher Training 6.30
TEACHER TRAINING:  Studio Class 2pm (please register your interest).
MONTHLY YOGA LUNCHEON:  Victoria Hotel Woodend, Thursday 25th August, 12 noon. RSVP
BEAR MAKING WORKSHOP – details above.
HAVE YOU CHECKED IF YOUR

REGISTRATION

IS UP TO DATE?  IF NOT, MAYBE IT IS TIME TO DO THIS. EMAIL ME AND I WILL SEND YOU THE APPLICATION: YOGAFIRST@NETCON.NET.AU
SEE YOU ON THE MAT.
NAMASTE JAHNE