Dearest Yogis,
Wow – "what a difference a day makes"
OK.  So I now will be teaching yoga at Windarring in Kyneton from next Monday, (remember when we did it last time supported by one of our students, now supported by the Government).    The classes in our own studio are bumbling along, made hugely difficult by Covid.  People either have it, think they may have it, their family has it, or they are afraid of getting it.  All of these factors keep them away from class.  At the moment, I am still here.
I withdrew from lecturing next month at The Theosophical Society because I would have to travel on the train and nobody is wear masks, then move around Melbourne and lecture to a class of unknowns (mostly) probably not wearing masks… so I have determined that the risk is more than I want for something that is optional.  I am not hiding, I just am not taking on extra risk.  When people come to our classes I know who they are, and they have been very good at staying away if there are any health concerns.  I also have good ventilation and an ION AIR FILTRATION system which, unlike most schools, I know how it works, and actually switch it on!
Yogis have differing ideas about vaccination.  The vaccinated seem to be still adamant on keeping classes free from the unvax'd.  Although some who have had three and four vaccination have still caught MILD covid.  Even in our studio there are cases of people who are vaccinated having no symptoms of infection and then developing long covid.  It is tricky.  Everyone agrees that we probably will all at some stage get some variant, but almost everyone thinks it will not be them.  Covid could now be called endemic, and like the flu, we probably can all expect a dose every few years.
There is some talk in City Studios about the legality of asking people if they are vaccinated, and barring them from classes based on their answer..  It may be determined to be "discrimination".  We shall have to wait and see what the outcome is over time – we have not yet had a test case come up, and it will take that to determine our legal position.
Most city classes no longer ask about vaccination, but ask if students have symptoms they stay home.  Compliance with this (as in our studio) is exceptionally good.
THE BEARS…..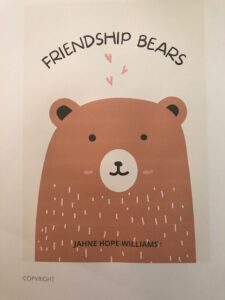 The possibility of teaching "Making Friendship Bears" is quite exciting.  Actually making more Friendship Bears FOR  my students, and opening the doors to make Friendship Bears in the studio and in other studios and galleries makes me very happy.
I am exploring the possibility of making bears with Windarring (a community of persons with disabilities of all kinds)  because the bears can be made by people who can't sew, as all the bits can be painted or drawn on with textile mediums.  All I have to do is cut out the bears, and for those who can't sew, sew them up.  Everyone can draw the details on, and stuff them.  Then I finish them so they are ready to be loved.
Could you do this with your children or group? You can keep the bears, or you can pass them along to the service groups in your area – police, red-cross, rotary, Churches etc etc.  The bears are always in demand in their roles as either "Friendship Bears" or "Trauma Bears".    If you are the social type, you can make small ones for wedding place cards, gifts for Baby-Showers, Birthday gifts and so on.  I have now put the pattern on etsy for downloading,  so, if you want to make your own FRIENDSHIP BEARS please go to www.myyogabooks.etsy.com
You don't even need to have a sewing machine… you don't need to be a fancy sewer, and there are only three pattern pieces – a back, a front and a muzzle.  Of course you can make them as fancy as you like…
"EASY PEASY" FRIENDSHIP BEAR MAKING WORKSHOP.(Limited numbers please book early).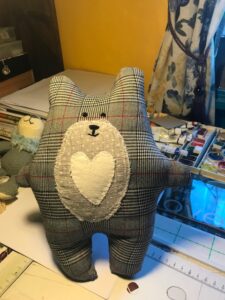 When:  Saturday the 13th August
Where: the Yoga/Art Studio, 37 Morris Road, Woodend (please park on the white gravel) – I do have good ventilation and an ION AIR FILTRATION system, and unlike many schools, I actually do switch it on!
Cost: $45 including using some of my materials and a template of the bear to use and take home, although I ask that you bring a piece of fabric for the main colour, and contrast for the face and belly.
Please pre-pay so that I can get a template and little bag of possible materials organised for each student – you can add to these.
If you buy the pattern on Etsy I will have a free group zoom workshop, just to help you with the bits and pieces.  Etsy lets me know who buys the pattern as does pay-pal, so I will know who wants to do the zoom, and who to send the ID to.   It is the simplest of patterns, but there is the easy way and the hard way to do things.  I prefer the easy way.
THE YOGA CLASSES
MONDAY HATHA : 1PM, 2.15/WEDNESDAY RESTORATIVE 1PM/FRIDAY HATHA 2.15 (meditation at 3pm – you have to book join us for this)
MONDAY ZOOM: Teacher Training 6.30
TEACHER TRAINING:  Sunday 31st July,  Studio Class 2pm
MONTHLY YOGA LUNCHEON:  Victoria Hotel Woodend, Thursday 28th July, 12 noon.
BEAR MAKING WORKSHOP – details above.
HAVE YOU CHECKED IF YOUR

REGISTRATION

IS UP TO DATE?  IF NOT, MAYBE IT IS TIME TO DO THIS. EMAIL ME AND I WILL SEND YOU THE APPLICATION: YOGAFIRST@NETCON.NET.AU
SEE YOU ON THE MAT.
NAMASTE JAHNE