Dear Yogis,
I have had a few wins today, not the least solving the problem of how to weigh down my ferments.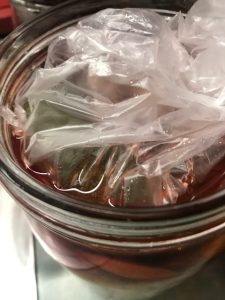 If you have ever put fruit under vodka or any type of liquid, you will know that the fruit will float to the top in no time at all.  Then if you are not watching,  it can go mouldy.  Not nice.  A fermentation weight that you pop into the jar on top of the fruit keeping it under the liquid is the way to go.  Trying to buy one was another thing altogether.
Problem solved by a putting river rock in a plastic bag and popping that in the jar.  I could have made a little macrame net, and perhaps that's a project for winter, but the plastic bag works.  It keeps the rock away from the fluid, and makes it easy to pull out of the jar when you need to stir the mix.
THE YOGA OF HERBS.
I have been asked to give a talk at The Theosophical Society in Melbourne on Saturday the 28th May at 1.30pm.  If you are close handy to Melbourne (and if Covid is at bay) I would love to see you.  Topic – The Yoga of Herbs".
"The essence of all things is The Earth.  The essence of The Earth is Water.  The essence of Water is Plants. The essence of plants is the human being".   "Esam bhutanam prithivi rasha, prthivya apo raso-pam osadhyo rasa, osadhinam puruso rasah" (Chandyoga Upanishad 1.4.2).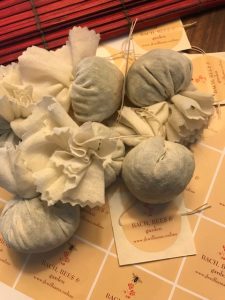 HERB TEAS:
*Herb tea for IBS and Bloating tummy (who doesn't know that feeling?)
*Herb tea that has a reputation for helping with anaemia.
*Herb tea for sleeplessness.
*Herb teas for anxiety and restlessness.
*Herb tea for depression
and *Herbs for HEART HEALTH  (I use Hawthorn, and this is in the Herb tea).
HERB TEAS $53.50 a pack  of 6 including postage.  This will last about 10 days to 2 weeks depending on how often you dip them into your own teas, or water bottle. You can add honey or lemon to taste as you want to.  The little pouches as you can see I make and tag myself, as well as growing, drying and packing the herbs.
SCHEDULE today….
ZOOM: Friday 6.45 TAROT (FREE once you get to the end of your current set of 4 zoom classes)
ION-KI SPA CLEANSE at The Studio.  Please make an appointment
Herbs and books on www.myyogabooks.etsy.com or http://www.jhwilliams.online
I LOOK FORWARD TO SEEING YOU SOON – ON THE MAT OR ZOOM
NAMASTE – JAHNE