Dear yogis,
If you have ever spent time with me, you would have heard me speak about Death Valley in the USA.  It is
the most beautiful place I have visited, I have the BEST memories from the number of times I was fortunate enough to go there and teach yoga.
On Saturday I was sent a picture, and it all came flooding back.  Here is the Inn. The hill above the inn on the left hand side is where the original owner/builder used to have afternoon tea EVERY AFTERNOON, not just occasionally.  From this vantage point she could look down on the progress of the build I guess, and admire it when it was finished. Her butler would load up a burro and take the table, umbrella and everything for a formal tea to the peak where she could look down on the Inn as she dined.  Of course the inn was quite a lot smaller originally.  Very Katherine Hepburn. I can imagine that – the entire Inn looked very much like an old film set.
The picture on the right is the balcony where (with tables removed) I used to hold my dawn yoga class as the sun was coming up over the mountains which ring the desert valley,  tipped with snow.  Such a contrast, and so very beautiful.
HERBS, FRUITS AND VEGETABLES…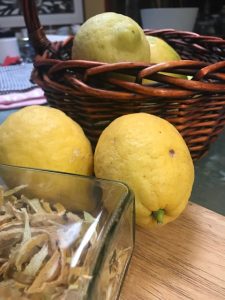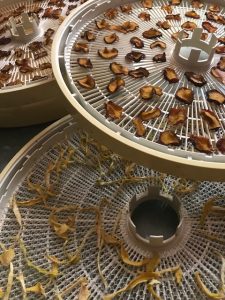 Winter is on the way – and if you lived here you would think it had arrived.  It's "lemon time" and I have been making dried peel to be made into powders, processing and freezing the flesh for lemon butters, syrups and cordials. The same with the plums.  You have to be quite picky about how you cut up the fruit and prepare the peel, there is no easy way – I have tried the easy ways and the result isn't good.  The picture to the right is dried plum slices, and dried lemon peel.  It took four of these huge lemons to cover one tray entirely in one layer, which dried down to half a jar.  Cut carefully they take a fraction of the time to dry.
To make a meaningful amount of lemon peel and later lemon powder you would need a basket of lemons, which would mean a lot of lemon juice and frozen lemon in the freezer. Not a bad thing.  Freeze in ice block trays and later bag up.
The easiest powders to make are those from greens.  The ideal time to dry and powder your produce is when there is a glut at your greengrocers or in your garden.  You could of course pick a mix of wild greens to add to these and make a jar of green powder to pop in smoothies, soups and stews in the winter for extra nutritional value. An advantage of powders is that you can process an enormous amount of vegetables (even pumpkins or zucchinis) and fruit and the result will fit in one jar, as opposed to slicing and drying where storage space is needed after drying – ask me, I am running short of shelves and storage.
Either way (drying or powdering) helps us to use any glut that we may be fortunate enough to experience, keeping in mind we are all dealing with higher prices for fruit and vegetables, and forget about the tropical fruits,  I think the flooding is going to make this most difficult.
PAST LIFE TAROT READINGS:
If you are stuck, and would like another view of where you are and where you are going in your life,  maybe this is the answer or part of the answer.  Instead of a two hour Past Life Therapy Session which is very difficult to do on zoom (and quite expensive), we could do a past Life Tarot Reading.  Think about it and call me to make a booking.  yogafirst@netcon.net.au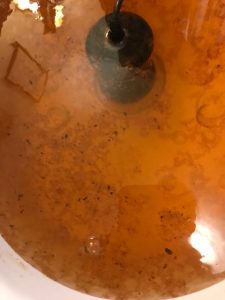 THE ION-KI SPA CLEANSE
I forgot to say.  A client recently had a session.  Afterwards she felt lighter and energised, but was sceptical until she got home and took off her bracelet – I always tell my clients to remove all metal items before a treatment but she forgot to remove a little charm about the size of a ten cent piece in the form of a "tree of life".  When she took it off later that night underneath the charm on her skin was a henna coloured imprint exactly in the shape of the charm.  The residual stuff in the bottom of the tub after the session was the same colour, henna.
To those people who think its a nonsense or can't understand it – it tells me (and might tell them) that something is changing.  We may not understand it (the scientists among us might skoff) , but it does change the energy in the body.  A treatment eases pain and discomfort, energises, and you feel lighter and happier somehow.
SCHEDULE – Open 6 days a week – closed Thursdays
STUDIO: Monday 1pm yoga, Wednesday/Friday 5.30. ION-KI SPA CLEANSE by appointment, weekends available
ZOOM: Monday 6.30 Teacher Training – Gita.  Tuesday 7.30 herbal Workshop and Friday (free) Tarot class 6.45
TAROT AND PAST LIFE SESSIONS available during the week and weekends.
I WILL SEE YOU ON THE MAT
NAMASTE – JAHNE