Good morning Yogis,
The rain has arrived.  On Monday my singing bowls predicted rain (they sound so different when rain is on the way).  I looked out of the window – the ski was blue, the weather warm, no thought of rain, but on Monday night it rained and Tuesday quite a lot heavier.  The shire was planning a back-burn, but that will have to be postponed of course.  I was planning to pick hops, that also has been postponed – a lovely crop this year, best to pick when they are dry.
I have started to RECORD the zoom meetings (which MAY include the tarot meetings), primarily because we have students away with covid, students who have to travel to work and can't get back in time, and family contingencies…  I won't record if no-one turns up, but as long as I have a student I will have a class and record it for those who for whatever reason can't be there.
On Tuesday at 7.30 we have a herbal workshop.  This is an information-rich hour or so (depending on topic and time) and last night we discussed all things Covid and Covid Vax side-effects relative to Bach and to herbs.  I am recording this as I said, so, if you are interested in herbs, please join us, even if you can't come to the meetings, you will be able to access the recordings when you have the time.
SCHEDULE
YOGA STUDIO: Monday 1pm, Wednesday Restorative 5.30 and Friday 5.30 Hatha
ZOOM: Monday 6.30 Gita, Tuesday 7.30 Herbal Workshop and Friday 6.45 Tarot.
All of these will be recorded – if you are a subscriber to the classes I will forward a link to you so you can watch later.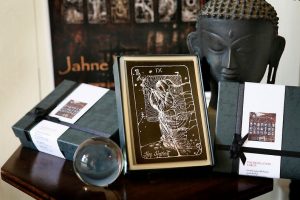 THE FRIDAY TAROT CLASS FROM THIS WEEK WILL BE FREE (OR THE END OF YOUR CURENT PAYMENT MONTH) AS THEY WERE DURING COVID – STUDENTS ARE HURTING AND TAROT CAN HELP.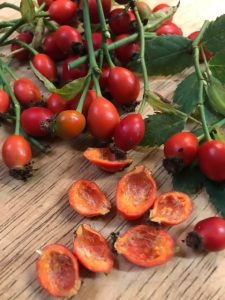 EASY (NO-COOK) ROSEHIP JAM
I am sure you are familiar with rosehip jelly and rosehip syrup.  They both in some way require heat, and Vitamin C is destroyed in heat, so even though these two products can taste citrussy, they have lost much of the VitC content.  There is a solution – don't cook them or heat them.  How to do this
Definitely no cooking needed, although it is a very fiddly thing to do.  You can find rosehips on your walks I am sure, and there is the possibility you may be able to buy de-seeded rosehips.  I do the de-seeding whilst I am watching the TV of an evening.  It seems to defeat the purpose to buy them deseeded, and discard the rosehips that I grow, or find out foraging!  Besides that, I like the paste made from fresh rosehips, rather than powder.
*De-seed the RosehipsGrind the rosehips to a fine paste (if you buy them, they will be dry, so grind to a powder), and give them a final wash and brush to make sure no fine hairs remain.  Whichever way you do it (paste or powder) place them in a bowl.  I sometimes add some mandarin peel I have dried and ground to powder.
*Add apple cider or apple juice to the powder/paste and mix to a jam consistency.  Let the jam sit for 3-5 minutes then add more fluid as needed to achieve the thickness of a jam or jelly.  If it not sweet enough for you, add honey, vanilla, ginger or cinnamon. Spread on crackers, cookies or ice cream.  The jam will keep in the fridge for about 2 weeks.
HERBS ON HAND
TURKEY TAIL: $25 or $30 posted alone.  I have just got a new shipment of Turkey Tail.  Top quality,  I have it at least twice a day, but you only need quarter to half a teaspoon, so it does last a long time. Sprinkle on breakfast, put in coffee or tea..
SHILAJIT Tincture: $65 including   I got this in a couple of months ago.  Those clients who responded quickly love it.  It gives them heaps of energy. Especially good at this time.
HERB TEAS:
*Herb tea for IBS and Bloating tummy (who doesn't know that feeling?)
*Herb tea that has a reputation for helping with anaemia.
*Herb tea for sleeplessness.
*Herb teas for anxiety and restlessness.
*Herb tea for depression
and *Herbs for HEART HEALTH  (I use Hawthorn, and this is in the Herb tea).
HERB TEAS a pack  $53.50 including postage.  7 Popular single herbs in tea bags(10g each – you can mix and match)
5 Herb teas as above (1 of each, 10 g – your voice.  Choose 5)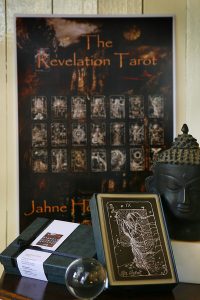 PLEASE TAKE NOTE…..THE TAROT DECKS (AND THE TEA LEAF READING CARDS) ARE BEING RE-PRINTED IN LARGER
QUANTITIES, so they will be more economical to you.  I had to overcome postage somehow, and reducing my production price evens the equation somewhat.
NAMASTE YOGIS, I WILL SEE YOU ON THE MAT
JAHNE
DISCLAIMER:  THE INFORMATION ON HERBS IS NOT INTENDED TO DIAGNOSE OR PRESCRIBE. Herbs are compatible with most medications but, check with your health professional if you have any concerns.