HI THERE YOGIS,
Thank you to those people who rang yesterday and today for consults by phone.  I just loved hearing your voices, we really made a difference, got some break throughs, and I started to feel useful to you again.  I am reminded of the Queen (she is shrinking to the size of a SMURF – but she doesn't do yoga).  We both have been doing our job in the one area for a very long time – she is about 15 years ahead of me.  She is like a queen-bee.  She gets looked after, fed and clothed for as long as she is useful.  Her job really is to stay useful, and keep her family on the throne, and pretend she is running the country.  That's all.  At this moment I prefer to be me.  The Queen hasn't really got a job at the present, just the occasional address to the nation.  I do my address to the "nation" daily – this is it.  I too am pretending that I am running my little yoga country – but really, COVID is.
Today I didn't intend to bake, but I found myself in the kitchen, and homestay being what it is I just did it.  In ordinary times I would not.  However, things have changed, and because one thing led to another thing,  to another – it didn't take much time, and all the washing up got done at once.  I made some cheese.. which was necessary because I was running low on cheese, and I got a litre of milk for 86cents which was OK.  Not as good as last week when I got a litre for 10cents at Coles! True.  My "cheese milk" usually costs between 5 cents and 85 cents.
I just buy (cheese milk) when I can get out of date cartons thrown out cheaply, and then make cheese – which today started the whole baking momentum.  I heated the milk and added the vinegar. When I had done that I decided to make bread – my "wonder loaf" – and then while that was baking (It stands for 12 hours, but it was ready to bake), I made a "seed, coconut and date" cake.  I cooked the bread in my table top oven, and whilst that was baking,  the cake took 10 minutes to mix and 6 minutes in the microwave.  While that was cooling I strained the cheese and hung it to dry (which will take about 2 days).  When the cake has cooled I will slice it and bake in the oven to crisp up, like biscotti.
Altogether I think the whole "bakeoff" took about and hour and a half.  Nothing like the two hours bakeoff contestants get to make just one cake!  You will find the recipes and photographs on www.wildnweedy.blogspot.com
Below is the WONDER LOAF.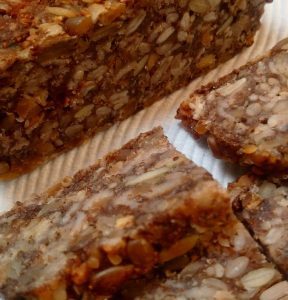 I am always put off by recipes with masses of ingredients, however, I have got an old dutch dresser which is usually used for plates, but I use it for spices, flours, nuts and lots of different chillies which I bought in Texas,   And when I am baking/cooking I just  walk up and down and randomly use extra ingredients from the dresser – lots! I will try and remember what I put in my bakes for the blog, but you can always experiment.  I have been having the most wonderful food that I have made and grown and found and baked.  And girls and boys, I have not put on an ounce of weight.  I was a bit worried about getting on the scales… but, joy.  I am the same as before COVID! and… I am eating a whole lot better I think!!!  I still have the champers occasionally, and a wine.  I am not deprived (as you can tell by the recipes above).
I am still moving the rooms of the house around,.. the energies are so different in each corner of the house, and if I try to do the wrong thing in the wrong corner, well it goes badly.  I can't paint or draw  in the front room, I can't teach yoga other than in the studio, and I need to re-organise a special place for tea-leaf and tarot readings.  I haven't found the right place yet – but I will.  I do have some good ideas which you will see the result of – if you come for a consult, (or a massage when we can).
Looking forward to seeing you all again….  the cavalry are coming.
Keep well, keep baking and stay happy – NAMASTE.   JAHNE