DEAR YOGIS
In this unusual and complicated time of social-distancing and "home-stay", what most of us are craving more than ever is connection.  
That's why I've decided to officially open the doors to my TEA&TAROT READINGS Goodbye waitlist!  
More and more people everyday are turning to Tarot and other such disciplines, but finding connections isn't always easy. When I first started reading the tarot and the tea leaves like my mum and aunts (and doing yoga'ish stuff),  I didn't have books, or a library available…..I didn't even have a deck, no problems with tea leaves though.  I was about 5 or 6 when my friends started asking me,  and I was told not to do it, so I read stones in the dirt or clouds.  I remember some of my readings even now – they were bizarre!   I was forced at that age to be so private about it – I would hide the fact I did readings, and swear my friends to secrecy.
I kept reading, it was illicit, it was "unchristian", it was forbidden.  However, I loved what I was learning and experiencing, but there was no way I was able to tell anyone about it.
You can imagine how conflicted I felt.   On the one hand, I felt so connected, so excited  by this skill of mine and yet… ashamed of it at the same time.   One day, I realized the truth.  It wasn't that I felt ashamed,  I just didn't feel safe.  I didn't feel safe to express myself, explore my craft or share my skills with others – I didn't feel safe to be me.   That feeling didn't stop when I was a child.  There are times when it still doesn't feel safe – there were times when not even yoga was safe.  
The light bulb moment came later.  If I'm feeling this way, then someone else might be too!  So, what started as a way for people to know they weren't alone and get real life TEA&Tarot reading practice has now turned into classes.  A community – not just for tea leaf reading, but yoga, and all things metaphysical.  For me it is all connected.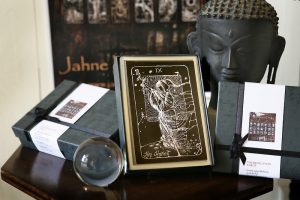 Our Studio and our community wherever you are,  is home; a place where you can feel safe to enjoy your journey,  safe to express yourself, to learn, to grow – to be YOU!
And with the doors now (almost) officially open, I'm more excited than ever to welcome in new members. Will you be one of them? Tarot/TeaLeaf Reading Classes start on the 6th of June (2pm to 4pm), which is not far away.  I am planning a TEA LEAF READING AFTERNOON TEA at the end of June.  A lovely HighTea, with a tea leaf reading for everyone.  Limited to 10 guests. Interested? Email me: yogafirst@netcon.net.au.  Not local? Not available?  You can always have a reading on line via email or the phone..   
YOGA CLASSES – limited to three per class at the moment and Start on the 20th May.   The time table is on the www.yogabeautiful.com.au site.  We are opening again next Wednesday, in a limited way.  There are rules as set out by YOGA AUSTRALIA.  You will find the details on the site under "CLASSES".  If you want Tarot News you will find that under "TAROT" on the same site.
I look forward to seeing you all again. In the meanwhile, stay happy. (Even when we go back, I will keep doing the newsletters!)
NAMASTE  JAHNE