Dear Yogis,
Don't forget tomorrow (Thursday 31st March) is our Luncheon date.  The Victoria Hotel in Woodend at 12 noon.  I would love to see any of you who are available at this time attend.  Don't worry about contacting me, no RSVP.  The Vic are sticklers for the Covid precautions, so bring your proof of vaccination just in case you get asked.
SMOKING HERBS.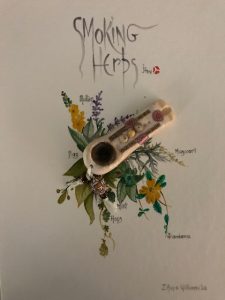 I have finished the poster, and I am making more pipes.
If you want to download the poster then go to www.myyogabooks.etsy.com.  I did it so that serious herb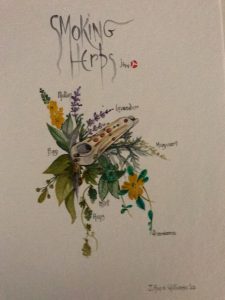 enthusiasts could download an attractive poster of their herbs, then before framing make a printer copy to put in their Herb Journal near the entry of the herbs in the illustration.
In the photo to the left, I have placed the real pipe on top of the poster just so you could see the size.  On the right hand size is the poster as it is.
STELLARIA"  Our range of Flower Remedies specifically for animals.
This is our most recent range of flower essences (based on the work of Dr.Edward Bach). The first set of which was launched for use with animals at the time of the Covid lockdowns which afforded me  the time and space to work on these remedies.  I came up with my own "Famous Five" – Five fabulous remedies to deal with even the most stubborn cases.
Like all our essences, these new combinations act as catalysts for emotional change, helping to 'nip in the bud' emotional upsets to our favourite furry companion's inner balance in any situation,  and to reduce the risk of this developing into a more significant difficulty down the track, which it often does.
The Remedies deal with… * fear * aggression * socialisation * liberation * separation anxiety *grief * and * transition, although we can formulate Remedies designed just for you and your companion.  We call them our "FAMOUS FIVE".
It is a delight to know that these essences are offering emotional comfort to many animals who may have been suffering for many years, as a result for example, of being taken from their mother too young, or of being re-homed after spending time in an animal shelter, or being in a place where there was no possibility of socialising normally. There is a Stellaria Essence that has been developed specifically for each of these and other emotional states, which give rise to many of the behavioural patterns that can pose difficulties for the animal and owner alike down the track.  A remedy for the animal and the owner who is often stressed..
Every year, thousands of animals are needlessly destroyed, not because they are unsavable, but to give their owners peace from dealing with an animal's incontinence, destructiveness, noisiness, or other problem.  In this way, behaviour problems become a "terminal disease" and tragically it seems this the greatest cause of the euthanasia of young animals.  With vet bills escalating, the cost is often a determining factor in discarding or putting an animal down.
Correcting a behaviour problem is extremely cost effective on every front – physically, mentally, emotionally and fiscally.  It does not require expensive behaviour therapy or modification on behalf of the owner – it can be brought about in many cases quite simply and inexpensively through the use of our flower remedies – The STELLARIA  "Famous Five"
The 'Famous Five" a set of five "Stellaria" Remedies for the most common problems * FEAR *  SOCIALISATION * SEPARATION ANXIETY * GRIEF * TRANSITION are available at www.myyogabooks.etsy.com . The cost? $85 plus $10 postage.  I will get them photographed and up tomorrow… and I will let you know when this is done.   (You can of course purchase the remedies singly).  I am sorry that postage is such a high ticket item – buying the set ameliorates this somewhat.
WEKLY STUDIO/ZOOM SCHEDULE
ZOOM: Mon. 6.30 Gita, Tues. Herb workshop7.30, Friday 6.45 Tarot
STUDIO: Mon.1pm (full), Wed. 1pm Restorative, Friday 1pm Hatha
MONTHLY LUNCHEON:  Thursday 31st March at the Victoria Hotel in Woodend at 12noon (If you are running a bit late, relax, we will still be here – drop in for dessert).
See you on your scooter (I am still contemplating this with a fabulous grafitti'd helmet!)
NAMASTE – JAHNE