Dear Yogis,
JUST A QUICK REMINDER OF NEW YOGA TIMES AND CLASSES FOR WINTER.  
CLASS TIMES:  MON. WED. FRI. SAT 1pm YOGA CLASSES
NEXT YOGA LUNCH:  RSVP.  Thursday 28th April, Victoria Hotel Woodend.
What a great day, only hampered by having to visit Bunnings, but really, it was the blind leading the blind.  I went into buy an Ozito garden tool.  I really like the brand and they are economical and have served me well.  I was told by the staff that I didn't need to buy a battery, that one battery suited all the Ozito range.  Wrong! Consequently I have to make another trip down there to get a battery or have one posted – one way costs as much as the other, so I might as well bite the bullet and visit AGAIN.  This time armed with more information.  Enough to stymie a well meaning salesperson. It will be a long, long time before I do this again.
We had our monthly yoga lunch this morning (I am writing this Thursday evening) Where were you?  What a hoot, and the food was great, and we didn't have to wait an hour for it.  I personally prefer the Mount Pub, but I don't like the long wait for service – though I do understand that hospitality venues are under the pump and the pressures of staff shortages  because of  a. covid problems and b. staff who are doing "other things" after lock-down, or c. are re-training also made possible by covid programs.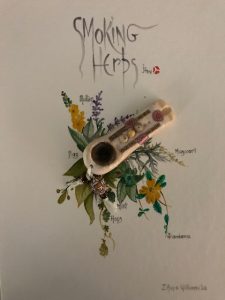 ART VENTURES
It is times like this that I am pleased I paint and draw, and can work for myself.  In this way I am never unemployed, and if I am, it is my own fault.  I haven't paid attention – No-one makes me work.  If my appointment book isn't full there is only one person to blame.  Me!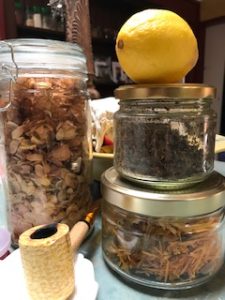 I am doing a number of watercolour posters of herbs.  You will find them on instagram and etsy (www.myyogabooks.etsy.com).  I am starting a poster with interesting teapots and herbs.  I stayed up much too late last night doing the drawings.  Starting painting after tea tonite.  I thought I would have tomorrow to do more painting, but I have to go to Bunnings … what a nuisance!
HERBS:  Don't forget my herbal teas.  They are not meant to be like the teas at Coles.  These are medicinal (as well as nice tasting), and can help ease bloating, heart problems, IBS, tiredness and so on.  I might have a pipe of smoking herbs tonite – I really need a good relax that leaves me bright and bushy tailed to keep on drawing.  Like to try? All on Etsy. www.myyogabooks.etsy.com.
SCHEDULE:
WEKLY STUDIO/ZOOM SCHEDULE  (PLEASE BOOK AHEAD – NO DROP-INS)
ZOOM: Mon. 6.30 Gita, Tues. Herb workshop7.30, Friday 6.45 Tarot
STUDIO: Mon.1pm (full), Wed. 1pm Restorative, Friday 1pm Hatha,  SATURDAY 1PM RESTORATIVE YOGA.
MONTHLY LUNCHEON:  Thursday 28TH APRIL at the Victoria Hotel in Woodend at 12noon (If you are running a bit late, relax, we will still be here – drop in for dessert).
See you on your scooter.  I am still contemplating this with a fabulous grafitti'd helmet! – I REALLY DO NEED A BIT OF FUN IN MY LIFE, and this could do it.
NAMASTE – JAHNE