Dear Yogis,
Right now we are living in a land of plenty.  I hope you are doing more than visiting Coles.  My garden is so full to bursting it is hard to keep up with all the wonderful plants wanting to be picked, dried, frozen and eaten.  Especially the mushrooms.  I have picked and given away plums and apples.  Now the dandelions are growing lush and lettuce like.   Yesterday I planted out my garlic, and after Church today will be visiting the nursery to get more garlic bulbs to start and then plant.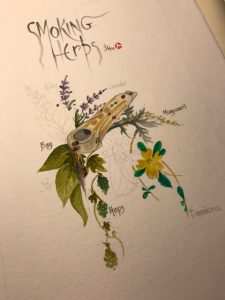 The most popular herbal packets that I prepare are the SMOKING HERBS.  I initially made these for a favourite client who wanted to give up smoking but could not.  I put together a relaxing mix,  that at worst if they kept using it,  contained no added chemicals or nicotine.   The stated aim of the client was to relax and sleep better.  They slept on the first nite, 10 hours straight.
Here is my painting of the herbs I use, together with the pipe which I make out of a non-toxic home made clay mix.  They are small and very functional.  They give a lovely smoke.   When I have completed the painting I will put it on www.myyogabooks.etsy.com All of my paintings and products are available on this site.
The downloaded page could be used as part of your journal as part of your HERBAL WORKSHOP notes (Zoom Tuesday 7.30) for future use in your herbal work, or for your own interest.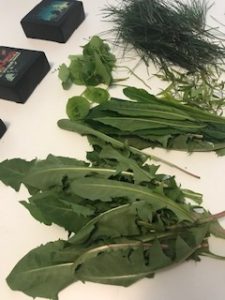 THE HERB OF THE WEEK IS DANDELION: Always a favourite.  Lush and lettuce like.  Most people mow it,  or use weed killer to get rid of it.  Not me.  I save the seed and plant it.  At the present I have it coming up in the wild garlic bed. This English type dandelion is not to be confused with the other Australian native one.  They sometimes grow together.  The "wild" one has a furry, prickly leaf and a tall solid stem.  It is edible, but why would you?  In the photo it is green bundle in the front, in further son a pic of the dandelion in full growth.  It even looks luscious!.
As a garden weed, the dandelion like the nettle, absorbs about three times as much iron from the soil as is extracted by any other plant.  It grabs onto copper and any other worthwhile soil nutrients it can absorb.  The flowers (apart from being the basis of a flavoured vinegar or fermented honey) provide a rich pollen food and creamy nectar to honeybees and wild bees for pollinating crops.  The whole plant can be made into an excellent liquid fertiliser into which it realises all the nutrients it has been hoarding.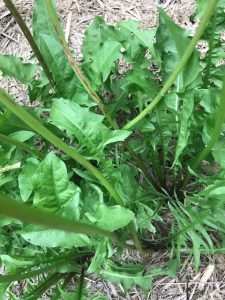 Dandelion is non-poisonous and therefore is harmless and beneficial to humans.  Tea made from dandelion roots or leaves is of great assistance in settling the gut, it is also a mild laxative.  Further, it aids weak digestions and helps to combat anaemia.  It is also reputed to cure chronic eczema when a regime of drinking the tea is faithfully  followed.
SALADE DE PISSENLIT, a little salad or side salad can be made from dandelion with a light dressing of olive oil and a squeeze of lemon juice – nothing could be easier.  If you are a meat eater, sprinkle this little salad with crisp, dry fried bacon pieces.
LET'S GET YOUNGER TOGETHER. IN ORDER TO INTRODUCE YOU TO THE WONDER OF HERBS,  I can do a consult on zoom, make you up some special herbal teas, or a BACH Flower Remedy and send them to you for $85 for the consult including Herb Tea or Bach remedy and postage.   This HEALTH PACKAGE will be available on zoom or in the studio until the end of April.  To get your zoom ID and make an appointment, please email me at yogafirst@netcon.net.au
This appointment may also be used to talk about your favourite animal.  Bach remedies rather than teas will be prescribed for animals (including birds).
My FIVE REMEDIES FOR ANIMALS ($85 for the full set of essences including postage)  with an explanatory leaflet on their uses   The five conditions the remedies  help with are…..  * FEAR *  SOCIALISATION * SEPARATION ANXIETY * GRIEF * TRANSITION
WEKLY STUDIO/ZOOM SCHEDULE
ZOOM: Mon. 6.30 Gita, Tues. Herb workshop7.30, Friday 6.45 Tarot
STUDIO: Mon.1pm (full), Wed. 1pm Restorative, Friday 1pm Hatha
MONTHLY LUNCHEON:  Thursday 31st March at the Victoria Hotel in Woodend at 12noon (If you are running a bit late, relax, we will still be here – drop in for dessert).
See you on your scooter (I am still contemplating getting one!!)
NAMASTE – JAHNE