THE AUSTRALASIAN YOGA INSTITUTE IS MISSION DRIVEN AND MEMBER SUPPORTED. BECOME A REGISTERED MEMBER TODAY.
Please transfer all your account queries to Jacky at yogafirst@optusnet.com.au.  If you want a direct answer from me, then as usual, yogafirst@netcon.net.au.     All mail to go to PO Box 14, Mt.Macedon. Vic. 3441.
NEWSLETTERS:
I am discontinuing this weekly newsletter in the new year, and doing a monthly one instead, probably the week or so before teacher training to remind you all to come. I do newsletters for my students and trainee teachers, to keep you connected to what is happening. About 10 years ago we still had big weekly teacher trainings, as well as weekly hard copy and email newsletters. As the student numbers got less and less, I discontinued them.   Life has speeded up it seems that mid-week is now impossible. I am lucky you still have time for monthly classes, please don't stop coming.    I am hoping that with monthly newsletters you will take the time to read them right through. I start the week with them, and they do take time to write. Not doing them will mean that I can do other things with that time.
HYPERMOBILITY (the course)
The new course is on the ETSY site. www.myyogabooks.etsy.com.
Most of you judging by the modules, think that hypermobility is only about people who can over extend their bodies. The circus performers among us. Not so.
There are people in our classes showing a symptom (hypermobility) that will lead you to being able to really, really help them lead healthier lives, and maybe even stave off life threatening diseases. Yes, yoga and you can help and hypermobility in all its forms is a 'flag" to alert you to the possibilities of an even greater teaching/learning experience..
If we can encourage people to
STRENGTHEN THEIR GUT (Yoga, fermented foods, probiotics)
INVEST IN A CONSISTENT PRACTICE of gentle mindfulness movements
and TAKE KEY ANTI INFLAMMATORY SUBSTANCES AND SUPPLEMENTS – such as curcumin, ginger, garlic.
Then they will be on the path to a longer, healthier, life.
This is a huge subject and researchers are only now coming to grips with it. You could lead in the field.
We have to specialise, we have to get sharper at how we teach. When I started, people didn't know much about yoga, life was different, there wasn't a gym on every corner, massage was done in a red light district, and naturopath courses at Southern School were just starting. In fact, I was offered a course for $500 which would take less than a year! It now costs about $45,000 and takes 4 years. I might have said "yes", and I urge you to respond to my call… There have been many changes, and we have to change.
Choose to come and learn more. I have given you a rest, but now I am nipping at your heels once again.
YOGA AT THE STUDIO and the Church
We are expanding and I am looking for VOLUNTEER teachers who can help us expand even further. The classes at the church have been so successful we are soon expanding to The Uniting Church at Riddells Creek, a lovely country church which has a labyrinth we can walk after lunch. I will be teaching there on a "Donation" basis . It seems to be working for everyone. With the free lunch.. you can't beat it.  By the way – they also have an extensive BOOK EXCHANGE.  For a gold coin donation you can swap or borrow a book.
THE FOOD BANK
Yes, we teach yoga, but right now you may be struggling, or have students who need help. It is amazing how wonderful a box of groceries can be. If you want help, but don't want to front up to the church, just let me know and I will get a box or bag ready for to collect at yoga here at the studio. No questions, no health cards etc. Just you need help. If a student needs help, pick up a bag from me, and you can pass it on. I am helping a few families like this and you can too.
EUROPEAN WASP SEASON.
I know all about the destructive nature of wasps.  I had a huge nest in the walls of the office a few years back.  Thank goodness we discovered it in time – the wasps had eaten the plaster on their side of the walls and all that was between me and them was the layer of paint!  It is not unusual. This year I have put out traps. In the last three days I have caught fifteen queens! Queens that won't be nesting in my walls.
Look up "laurielure" on google.  He gives detailed instructions for these traps. You need to follow them closely, and make more than one.  Remember, wasps travel in a straight line – not like bees.  Wasp queens discover new nesting sites and are then joined by the rest of the hive.  So discard what you know about bees, and think wasp.  All you need is soft drink bottles, honey, water and vanilla essence.  AND THEY ARE TRIED AND TESTED TRAPS.  If every neighbourhood did this, we would have far fewer wasp invasions.  Even if you haven't been INVADED, hang at least one of these traps to trap what you can.  They are not attractive to bees, native or otherwise. I have discovered you can use a sugar syrup plus vanilla essence and the Queens will love it just as much.
ART HEALS
EXHIBITION AT MY HOME STUDIO. The exhibition went superbly well, and I just loved it. It was great to get back to painting and exhibiting. The guests didn't drink nearly so much champers as they did in the old days… but we had a good time on Kombucha, a little champagne, and mineral water.  Below is a section of the exhibition.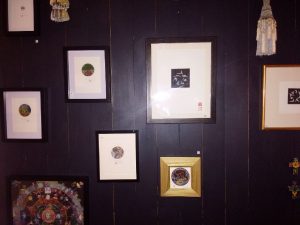 The next exhibition will be close to VALENTINES DAY. You will get a preview on February 3rd, and I will hold the exhibition on the Saturday and Sunday 2pm to 4pm. Subject: "THE KARMA SUTRA in miniatures".
ART CLASSES: If you want to learn on a regular basis….Experience the joy of painting and drawing by learning to trust your intuitive self with me!. Painting this natural, gentle way allows you to let go of the inner critic that keeps you away from your full aliveness and creativity. The oil pastels are a way of achieving a quick result, and you get to touch and smooch the medium across the paper. It is like painting with lipstick!
All you need is the desire to paint, and the courage to express yourself. No art experience necessary.
TUESDAYS from7pm- 9pm
COST $250 for 5 classes – we are taking September bookings. We experiment every week with new materials and skills to enhance your finished image.
All materials will be provided.  By the end of the class you will have a unique image to take home, and frame to put in your own meditation room. Maybe good enough, stunning enough to be an heirloom. No painting experience needed. If you are nimble enough to sign your own name, you can do these classes.
SATURDAYS 9am SUMII (ZEN YOGA) BRUSHPAINTING –
I am suspending this class as I don't have the time. I need to paint in order to keep up with things, and much as I love it I don't have time to waste.
Why Register with THE AUSTRALASIAN YOGA INSTITUTE? 
It is about LINEAGE. You trained with us, you are a part of our lineage (or we are a part of yours), Registration supports this. PLEASE, PLEASE CHECK YOUR REGISTRATION. You need to be currently registered for your insurance to be valid, and you will need to supply a copy of a valid registration to be insured.   Please check your insurance requirements – keep up to date. They change quickly.
REGISTRATION – CONTINUING EDUCATION REQUIREMENT.
THIS APPLIES TO EVERYONE.
We have fallen in line with other organisations and ask people who are registered with us and wish to re-register to do at least one short course in the year as a continuing education requirement. You need to keep up. You can do one of my little courses on ETSY, or someone else's, doesn't have to be onerous, just something to keep you on your academic toes so to speak. Just watching a DVD won't be enough unless you actually write a report on what you watched and why you watched it – the outcome – how it changed how you do what you do.
YOGA WITH JAHNE…..CLASS TIMES – all STUDIO classes $20
You will find them on our "yoga beautiful" web site.    Our last classes for the year will be on Saturday 22nd December, and we will re-open on Monday the 7th January, although the classes on Mondays at the Church will go right through, as will the free lunches – we will be there for you.
PARKING HOME STUDIO – 37 Morris Road, Woodend.
PLEASE, PLEASE Park on white gravel in front of the studio. I had the garden made into an attractive parking lot. When it was lawn you didn't even think about parking on the lawn or the nature strip. Now it is especially for parking, you park blocks away and walk. What is this about? If my park places are full, you can park in the drive-way directly opposite in front of double grey garage rolladoors. Not in front of neighbours driveways please.
MONTHLY TEACHER TRAINING AT THE HOME STUDIO:
There are shorter teacher trainings, which cost heaps more, and require large blocks of personal instruction.  Maybe because more is asked of the students, (the cost is huge in comparison to us – plus travel, plus board, plus food),  the attendance is not a problem.  Because we try to fit with your schedule, you dream that attendance is optional entirely.  It is, but it is still hugely important, and will add a lot to your teaching if you can commit to 2 hours PER MONTH. 
THIS MONTH IN TWO SESSIONS $30: The first session a workshop in Hypermobility asana, and adjusting. 12.30 to 2pm, then a break then the usual session…2pm to 4pm This will be the last for the year so there will be mince pies, and THE OSCARS!
DATE: Sunday 2nd December, 12.30 to 2 and then 2pm to 4pm  at my home studio (37 Morris Road in Woodend –There is no need to book. Bring writing materials, and be early. If you are teacher Training student then the cost of the afternoon is $30 for the two sessions, or $20 for one.  This fee applies to everyone. If you are a visitor and not formally a student teacher with us then the cost is $20 for a two hour class, $30 for a 4 hour class and $30 – for a 4 hour class! Come.
Please don't miss the next training with is the first Sunday in December (the 2nd), between 2 and 4pm. We will be giving out certificates at this training… the "Oscars".
BENDIGO Teacher Training classes
Next class is Tuesday 4th December at 3.30pm Turn at the Metricon building on the highway in Kangaroo Flat. It is a traffic light intersection, just up from Bunnings. Crusoeden is the building behind Metricon building, and faces Church Street. It's easy to find. Cost: $20 per class (to bring it in line with the cost of a yoga class) for everyone who attends – thank you. (Directors – Jayne Boyle  – crusoedenbody@bigpond.com).  Regular classes held – please email for timetable.
REALLY HELPFUL BOOKS:
ETSY, ETSY www.myyogabooks.etsy.com
I write books to help you in your course. Please download them, and then please use them in answering your modules. HYPERMOBILITY – The Course…. A certificate course. If you teach yoga, you need this. No excuses.
Chakras – Your personal power house. * Yamas – The guide for life * Restorative Yoga * Yin Yoga and Yin Yoga for Kids * Red String of Fate *Chakra Enhancing oil * Rose Petal Jam – a Cookbook * How to be a Yoga Teacher by Home Study * The Sacro Cranial Connection * Tea leaf Reading – The Chart * Yoga for pregnancy * 5 ELEMENT YOGA (The 5 Tibetans) + charts * SacroCranial Connection * and more….
Please never imagine that I don't read your modules – I do. If you misquote, if you don't understand (no matter how many pages you do) I will pick it up. What will you find on ETSY? YAMAS, CHAKRAS, HYPERMOBILITY, THE FIVE TIBETANS AND TEMPLATES and more. There are lots of books there to help you in your progress to graduation. If you do your course WITHOUT reading the hypermobility books, you will find your work being questioned.
DRAWINGS, DOWNLOADS. You will notice on the bottom of every assessment there is a reminder that drawings need to be done, and in your own hand, and downloads of any kind will not be marked. PLUS every page needs to have your name, module number, and page number.  If I don't know who owns the work, it will just sit on the pile until you make a move to identify yourself.
EMAIL/POST:  Please use the email address  yogafirst@optusnet.com.au  for anything to do with accounts,  or the usual yogafirst@netcon.net.au. to get to me. If you do want to speak to me personally, then email, make a time suitable for both of us, and then we can chat.  If you do it this way, rather than just "wing it", you can be reasonably sure I have time, and you will get my attention.  POSTAL ADDRESS is not at my home –Please address all land mail to PO Box 14, Mt.Macedon.  Vic. 3441.  Until you see a change written here in large letters, that is where it will be.
Don't forget to Register if you are teaching even if you have not graduated (especially if you have not graduated), insure and re-subscribe to the videos every 12 months.   Don't leave these to the last minute.
Love and Blessings
Jahne…….
Newsletter sent out by The Australasian Yoga Institute, www.yogabeautiful.com.au