THE YOGA CLASSES:
Christmas is fast approaching – unlike your dear selves, we are taking only a small break.      Saturday the December 22nd will be our last Studio Class and we will resume Studio classes on Monday 7th January. At this stage I do plan to keep going with the Monday Church classes right through… the 24th as well. So you won't be yoga deprived.   Please go to the web site for the latest information…Go to www.yogabeautiful.com.au and go to the page called CLASSES. Much easier than any other way. I know that many of you don't read down as far as the class times in the newsletter. It is easier to go straight to the web rather than have to email and ask.
The art showing at my home Studio on the 25th of November was a huge success by any standard. I loved it. Thank you all those who came, and especially those who purchased a work. The next exhibition will be THE KARMA-SUTRA MINIATURES, done especially for VALENTINES DAY.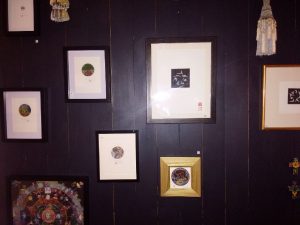 If you missed out on the showing and would like a special viewing, please email me – one can be arranged.  The miniatures are a wonderful gift for Christmas, and not expensive.
ART CLASSES and WORKSHOPS:
Web site: www.jahnehopewilliams.net
Email your interest to: yogafirst@netcon.net.au
TUESDAYS from7pm- 9pm
COST $250 for 5 classes – or $50 per session
All materials will be provided.
By the end of the 5 classes you will have a unique image to take home, and frame to put in your own meditation room. Maybe good enough, stunning enough to be an heirloom. No painting experience needed. If you are nimble enough to sign your own name, you can do these classes.
SATURDAY MORNINGS
I have suspended this class until after Christmas as I am so busy painting. I need more hours in the day – and this is where I can get it.
NOW AVAILABLE ON WWW.MYYOGABOOKS.ETSY.COM
The REVELATION TAROT is now in its 10th year on ETSY. I am at present waiting for scanning and then printing of the extension 9 cards. "Gates and Guardians", and the accompanying book. There are also ready-to-frame cards, and pins will be on ETSY shortly.
The Yoga of Kombucha * Yamas – The guide for life *Restorative Yoga * Yin Yoga and Yin Yoga for Kids * Red String of Fate * Chakra Enhancing oil * Rose Petal Jam – a Cookbook *How to be a Yoga Teacher by Home Study * The Sacro Cranial Connection * Tea leaf Reading – The Chart *Yoga for pregnancy * 5 ELEMENT YOGA (The 5 Tibetans) + charts * Pendulum chart * Revelation Tarot Deck
YOGA WITH JAHNE…..CLASS TIMES – all STUDIO classes $20
MONDAY:             11am Hatha, 12 noon lunch, 1pm Meditation.   Followed by access to food bank with Jahne or Wendy.
5.30 Restorative at Studio and 6.30pm Hatha at the Studio
TUESDAY:            7pm painting Class, The Home Studio.
WEDNESDAY     12.30 RESTORATIVE YOGA
5.30pm Gentle Restorative at home Studio. (Not accepting new students. Please email or text enquiries)
6.30pm Hatha at the home Studio.
FRIDAY                 3pm FREE (or by donation) YOGA AT THE UNITING CHURCH – Followed by access to Food bank with Jahne.
5.30 Restorative at Studio then.6.30pm Hatha Yoga at Studio
SATURDAY.         10am Hatha Yoga.   12.30 Restorative (Not accepting new students – please email or text enquiries)
COST:
Yoga $20 per Class Or CLASS PASS – $135 per 10 CONSECUTIVE classes (students of the studio for 3 years or more).   New students: $165 per 10 class pass (normally $200) After 3 years as a student, the cheaper rate will apply.
UNITING CHURCH CLASSES (FREE or by donation)
Next door to the Police Station, Forest Road, Woodend.
Monday: 11am Hatha Yoga, 12noon lunch and 1pm meditation at Church.
Friday: 3pm Hatha Yoga
PARKING HOME STUDIO – 37 Morris Road, Woodend.
Please, Please – Park on white gravel in front of the studio. I had it made especially so that it would be easier for you! If there is no room, then park in the drive-way directly opposite in front of double grey garage rolladoors. Not in front of neighbours driveways please.
WASP SEASON
…….is now upon us, and I have caught heaps of Queens. The visitors to my showing who walked the garden were amazed at the quantity of queens in the traps. .. Their peak season is FEBRUARY. I put out my home-made wasp traps, keep them clean and have caught 15 queens in three days, as well as lots and lots of blow flies. These queens didn't find their way into my roof or walls as they did on previous years. Unlike bees, wasp queens go out searching to a place, and the workers join her. Catch the queens and you head off infestation. If we all did this, there would be less wasp problems. Go to the web site www. LAURIELURE to find out the way to make your own traps (that really work). All you need is drink bottles, honey (they like the cheap Aldi stuff) water and vanilla essence (also the cheapie). I have also used a sugar syrup and vanilla essence when I ran out of honey, and the queens didn't seem to mind.
REALLY HELPFUL BOOKS: ETSY, ETSY www.myyogabooks.etsy.com
I write books to help you. What will you find on ETSY? YAMAS, CHAKRAS, HYPERMOBILITY, THE FIVE TIBETANS AND TEMPLATES and more. There are lots of books there to help you in your progress with yoga.
PENDULUMS/TAROT/TAROT POUCHES: All locked and loaded ready for you. Like any other store – if you want the best prices, the best items, you have to drop in often.
EMAIL/POST:  Please use the email address  yogafirst@optusnet.com.au  for anything to do with accounts,  or the usual yogafirst@netcon.net.au. to get to me. If you do want to speak to me personally, then email, make a time suitable for both of us, and then we can chat.  If you do it this way, rather than just "wing it", you can be reasonably sure I have time, and you will get my attention.  POSTAL ADDRESS is not at my home –Please address all land mail to PO Box 14, Mt.Macedon.  Vic. 3441.  Until you see a change written here in large letters, that is where it will be.
Love and Blessings
Jahne…….
Newsletter sent out by The Australasian Yoga Institute, www.yogabeautiful.com.au