Dear Yogis,
What a wonderful week.  Not because we are ALL going back to something called NORMAL, but because we know we have a choice.  
Do you want NORMAL?  I have run away from it since I was a child and realised it was about mindlessly fitting in, which is where the word originated.  A "normal" was the Norman implement we now know as a set square, and it made possible great buildings, because the bricklayers could be sure that everyone was travelling in the same direction and laying bricks that aligned.  Without this implement straight lines of bricks were almost impossible.  Do you want to be "a brick in the wall?".
I like small classes, small gatherings, being able to cross the road, people saying hello, drivers who are on the road driving and parking well because there is plenty of room, and lots of room on trains. I could go on.  Then there are many more people cooking and eating at home (beef sales are up with butchers having more customers not less).  So there are some downsides to the virus, but there is also the upside.  When the schools go back, and mums and dads can get back to work (changed conditions?) we should be able to choose change for the better.  It is not all bad.
Apart from no classes and no consults, my life is still as productive as ever.  I am still painting, doing my cards and paintings large and small.  Beatrix Potter is one of my inspirations.  A mentor?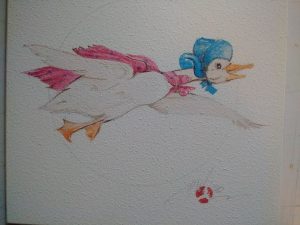 Here is Miss Jemima Puddleduck I painted for one of my lovely students.   I don't often delve into my childhood images, but Beatrix Potter's tales certainly lend themselves to this.
They were beloved books, and Beatrix herself was a fascinating person.  A genius.  Most people just think of the "Bunny Books" when they think of Ms.Potter, but in actual fact these were a smokescreen to the scientific work she did in fungi and bacteria.  Her Bunny books were so beautiful because she kept rabbits (and many animals in lieu of friends), observed them, drew them endlessly, and when they died a natural death, she drew them in death, and then the skins and skeletons.  She loved them.
Pasteur corresponded with her as an equal scientifically, and developed his work using her theories.  If she had been a man (or lived in France perhaps) we would have heard much more about her, as we have about Marie Curie for instance.  Beatrix couldn't have done more, but people would have paid attention instead of dismissing her efforts.
In spite of her constricted Victorian upbringing (she lived most of her life in a world of covid like restrictions), she was able to do an enormous body of work that you will only learn about if you know more about her.  Her scientific drawings of fungi are still in English museums, her work is treasured by these institutions.  She was the first to identify and illustrate some fungi but her name was never added to their scientific name as is usually the case.  Why? Mainly because she was a woman.  The only way she was admitted to the Royal Society and The  Linnaeus Society  was because her uncle who was himself a member of these organisations lobbied on her behalf.  However, it made no difference to her status.  She was still seen as a wealthy, "dabbler', and not to be seriously considered in science.  However, if she had been a man and allowed to exercise her scientific muscle, we may never have seen all her wonderful children's stories…..  and I believe the world would have been a lesser place.
She didn't have children, and was trotted all over London to be introduced to society in the hope that she would meet a man and do her duty. This caused a lot of conflict within her and led to a number of nervous breakdowns and illness.  She did marry much later in life and on her own terms.  However, within these restrictions (and without any of the modern computers etc, using only papers,  pen and brush)  she wrote a number of books a year, and drew sometimes upwards of 60 fungi illustrations from life per year.  She had to go out, find the fungi, dissect etc etc. all in (quiet) defiance of her parents and within the restrictions of her age and class.  Restrictions which you may have considered "imprisonment".
If she can do this, what are you doing?  How are you contributing to your world during this ongoing Covid restriction, or are you caught up in the "I CANT'S"?  In spite of everything, Beatrix lived, loved, laughed and left a legacy. 
Have a fabulous PRODUCTIVE day.
Namaste – Jahne