Dear Yogis,
ZOOM: Monday 6.30pm Mary Magdalen. Tuesday 7.30pm Mary Magdalen.
STUDIO: Monday 1pm Gentle Hatha, Wednesday 5.30 Restorative, Friday 5.30 Hatha.
Please email me to join the class: yogafirst@netcon.net.au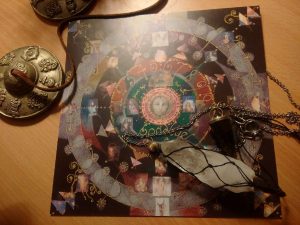 What can I say.  I am just so inspired at the moment with the TAROT.. not just my own deck but a number of different decks by different artists.  The wonderfully intuitive VOYAGER, the "close to home" SHAKESPEARE, and the close to the heart LENORMAND.  I love them all, and have had the opportunity to use them all recently. Thank goodness my clients aren't the dogmatic kind – the "I want a reading from the RIDER WAITE and nothing else will do" kind of people…  I use a pendulum to decide which to use and when.  It works for me, and I am sure it works for you too.
If you want a zoom reading (business, relationship, love life, changes) then I would love to help you.
I charge $85 an hour no matter  – yoga, art, massage or tarot – in person or on zoom.  When I am more competent with astrology we can go there too.
I do charge extra if you go over the hour, but it is always your choice (I don't use a stop watch).  Sometimes the most important parts of the reading sneak in at the end – the right guides at the right time.  If you want a longer life history or past life kind of reading then that takes longer and can cost up to $250 depending on where we go…. and how long it takes.
MARY MAGDALEN.
As you know I now attend the Catholic Church.  There have been numerous paragraphs in our weekly Order of Service alluding to whom in the Bible the Church approves of and who falls outside of that, and reinforcing the virginity of Mary,  Jesus and whomever else seems important. I was interested given Jewish family laws and the fact that Jesus was jewish and would have known and adhered to these rules, and I wondered how I could change the common perception even a little,  so,  I have been speaking to some friendly members of the congregation (the movers and shakers among the women) and the priest about Mary Magdalen.  Then, this week IN THE SERMON (called the Homily here), The Priest said twice and in a very loud voice  "of course, Mary Magdalen was the Apostle to the Apostles" and spoke about her work, her spirituality, and how she went out and spread the gospel message.  I am pretty sure not many there were actually listening, but I felt like standing up and cheering.  It is hard to share smiles when we are all wearing masks, but I can assure you I was sending him peace, love and goodwill thoughts.  A little change but profound.  More please.   It flabbergasts me how the Church has distorted the message – but it is just lovely to get together with a group who are trying to be better persons, spiritually.
CCP:  Don't forget we start on the 22nd July.  If you want to be a DEATH (AND LIFE) DOULA, LEADING TO A FUNERAL CELEBRANT, email me and I will send you the Application.
I look forward to seeing you on the mat, and on the zoom.  
Namaste, JAHNE
and as a MYSTIC friend of mine used to say (he passed last year, and is very close to me at present) "Mucho, mucho Amore".