Dear Yogis,
We were promised BIG rain – but where is it?  A few clouds happening,  we have had a shower or two and hopefully more to come.  At this time of the year, in spite of leaks in the roof, it is well needed, and holds off fires until next time.
A SCHEDULE REMINDER
STUDIO YOGA: Monday 1pm, Wednesday 5.30, Friday 5.30
ZOOM: Monday 6.30 Teacher Training (The 'Gita), Tuesday 7.30 Possible HERBAL CATCH-UP, Friday 6.45 Tarot,
Saturday ZOOM HERBAL WORKSHOP at 2pm (If you sign up before the workshop – $50 for a month –  I will enable you to download one of my FABULOUS FUNGI Prints FREE).  You don't have to turn up for the class, but you will need to enrol for the month.  Depending on your availability, I could run a catch up class on Tuesdays at 7.30.
HERBAL PRACTICE…
Some herbalists focus their entire practice on the spiritual aspects of plants, others incorporate this into their clinical work. For each tradition or herbalist, the way that plants are used for spiritual health may be different, but the ability of plants to support the human spirit unites them all.
In my practice, using herbs  promotes spiritual health and is another option for herbalists who have studied the spiritual side of herbalism through traditions passed down from indigenous healers, medicine men and women, particularly in our case, Edwards Bach, Yoga and Ayurveda.
Many herbalists use a number of  skill sets (I think this is us), so it is perhaps now apparent that an herbal education can lead in a number of previously unimagined directions, such as an herbal researcher or botanical illustrator which has been a part of my path. I am hoping I can be your mentor or instructor to lead you in studies pertaining to not only to plants, but also helping each of you see how their particular gifts, experiences, skill sets, and interests can best manifest work and engagement with the world of herbs.
When you do this workshop you will not become a trained herbalist – however, you will be able to work with your family and students to improve their wellness, and enhance their spiritual health.  The herbs I use and the essences I distill are remarkable.  I invite you to join us.  Many of the herbs grow in my garden.. you are always welcome to come and experience them for yourself.  Please ring first and make an appointment.
MIRKA'S DOLLS.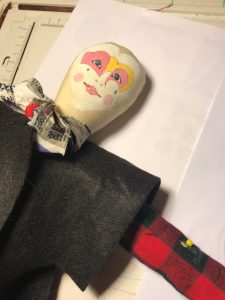 I love making dolls.  The Late Mirka Mora made wonderful dolls and I had the great pleasure making dolls with her.  After the bushfires in particular, making dolls was a relaxing and "out of the world" experience which allowed me for the time I was with her, to put the troubles aside.  She could always find the joy, just being with her changed everything.  When I make dolls, Mirka is with me.
I think most people who made dolls with Mirka learned something about themselves and the world.  For many it changed their lives.  She had workshops in halls, barns and railways station, for one person or for a hundred… nothing stopped her, she was remarkable.  I knew her from way back when she was a resident of Collins Street, when her Cafe was the artistic hub of Melbourne.  No web, no instagram, no mobile phones – just art, exhibitions, and life, real life played out with real people.
The doll on the right is under construction, unfinished.  I don't have a real plan of what is happening, I just play and see what emerges.   These are not dolls for children, but dolls for adults – a doll to calm the mind.  A doll like this leads the mind down new paths, changes the (inner) world.  Making dolls is not frivolous, it is not a waste of time, it is not (always) for children.
At the end of the month I plan to have a STUDIO OPEN DAY, and I will show my dolls at this time…  If you follow me on Instagram you will see them under construction so to speak – the yoga of dolls.  I can always do a workshop at your studio – email me.  You can make dolls without a machine, all you need is materials paints and needle and thread, and you can even do without paint.  It is not about what you haven't got, it is about "doing what you can, with what you have where you are" as the Buddha said.  
If God gives you ten things to do, do them, one at a time.  
I will see you in the garden, or on the mat (or in your studio).
Namaste.  Jahne