Dear Yogis,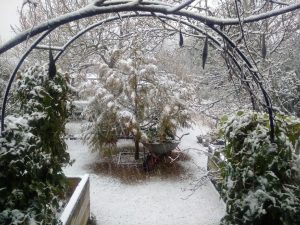 A new day, a new week of yoga (cold, cold, cold).  Today (I am starting this newsletter today, Sunday) I had a Teacher Training course which occurs every second Sunday – we would love to see you at the next one in two Sundays time.  One of the Students said that Blackwood and Trentham was colder than here.  Hard to believe!..
The photo to the left is the garden at the studio during a snow storm.  Not a recent one I must say.  The closest we got last year was after a September storm when all the white petals of the flowers from the trees in the front garden were blown off and coated the landscape in a deep white carpet.  It looked just like snow, without the cold and the sludge.
Today's was a beautiful class, as they all are.  Each of us needs to step aside from our daily lives to something calming and different, and these small yoga classes give you the opportunity for this.  We don't need to achieve anything, be "better than".  It is enough to take a minute, to breathe and to see things in a different way before we gather ourselves up and return to the turmoil of our daily lives.
YOGA CLASS CHANGE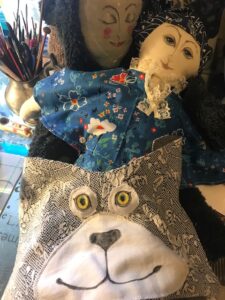 I am making a small change.  Fridays at 2.15 is a popular Hatha class, not so the 1pm – so I am going to change the 1pm class for the time being into a RESTORATIVE CLASS.  So, if something stops you from coming on a Wednesday, come to Friday 1pm as a RESTORATIVE make up class – or if this time suits you book for four ongoing sessions.
MY FABRIC COMPANIONS…..
I have been very busy making my companions.  Here are TWO to the left (the cat is waiting for whiskers).  Going to bed  is becoming problematical as the other little beings take up space.
I have said that I will have an exhibition later in July, but I don't  know at the moment I will be able to part with any of them.  They are beautiful, bigger than usual, and fill a need in me at the moment.  I have always loved and made dolls, but this is quite a "drive", curbed by classes, tutorials and distractions.
I will do classes when you are ready for them – I even have a Mirka Mora doll for you to work from.  Of course with Mirka's the face is everything.  The body can be constructed in no time, and with little or no sewing…  They,  like Mirka,  are surprising and expressive.
CURRENT STUDIO/ZOOM SCHEDULE: (Studio Yoga – Mondays at 1pm are Full)
WEKLY STUDIO/ZOOM SCHEDULE  (PLEASE BOOK AHEAD – NO YOGA STUDIO DROP-INS, sorry)
ZOOM: Mon. 6.30 FREE OF CHARGE Teacher Training/Gita, Tues. Herb workshop 7.30, Friday 6.45 Tarot –  $50 for 4 Friday classes.
STUDIO YOGA:Mon. 1pm (full) 2.15pm, Wed. 1pm Restorative(vacancy for July only), 2.15pm  Friday 1pm RESTORATIVE , 2.15 Hatha.
CONSULTATIONS: Tarot/Bach/QHHT HYPNOTHERAPY, Bowen or a combo – by appointment only.  $85 including remedy (including postage if zooming)  Past-Life (QHHT taught by Dolores Cannon) $250 via email or in the studio.  The reading includes Time, date, place of the prior life. To discuss,  email  yogafirst@netcon.net.au
TEACHER TRAINING VIDEOS:  Unfortunately there appears to be a glitch in the videos – some can read them, some students can't, so we have discontinued their use as they have been difficult.    I have a USB with them all on, and I will be sending this in lieu of the videos to all NEW students.  This may prove to be a better option.
MONTHLY LUNCHEON:   Thursday 30th June at 12noon at "The Vic" in Woodend (If you are running a bit late, relax, it's OK – drop in for dessert.  We have the meeting room, so it is separate and quieter).  Please let me know if you can join us.  We will post an invite closer to the day.   RSVP PLEASE
WEEKLY MEETINGS:  We have free Teacher Training zoomed on Mondays, and we began our yoga teacher asana class/meeting in the studio WHICH WE HAVE ORGANISED FOR EVERY SECOND SUNDAY BETWEEN 2 and 3pm.  NEXT STUDIO TEACHER TRAINING CLASS Sunday 3RD JULY.
I WILL SEE YOU ON THE MAT.
NAMASTE – JAHNE