Dear Yogis,
The mornings are pleasant, the afternoons are frigid even with no wind, and it is time (after my meditation) to head for the art studio, and herb storage, rather than working outside.  Yesterday morning I got the wood in, planted out some "walking onions", and strawberries, cut some wood with my new mini-chain saw (what a blessing), and of course, swept up a few leaves.  I was back inside by 11.30….
Judging by the herb orders coming in, I think others are struggling up off the couch and noticing that maybe they are not in as good condition as they would like to be.  I love working with herbs, and it is gratifying that others are looking to these rather than turning to "big pharm".  My orders are national and international and people are buying in threes and fours, with many repeat orders – so the herbs must be working!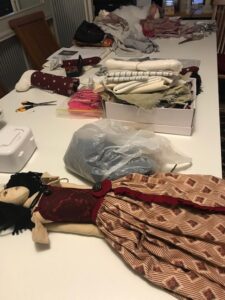 I also am working on the dolls as you can see by the amount of things on my work table.  I have so many doll ideas in my head and I am actually forcing myself to finish each one before I move onto the next.  Last night whilst I was waiting for my zoom herbal students I drew the pattern for the next doll.  I know I must work out a way of conveniently storing the pattern alongside the progress photos, just in case i want to go back and do them again – or teach.  
Years ago I used to hold VERY POPULAR, "Midnite Mini-Patchwork" sessions.  People arrived about 8.30pm we had a lovely supper, and most left about 3 or 4am in the morning.  In more than a couple of classes,  the students stayed for breakfast, still sewing of course.  I am not sure students would turn up today – it seems that mothers need to be within arms reach of the children and husband day and night, although I would be up for it not having those constraints.  Champagne, pastries and chocolates were included….. The time with other crafters and yogis, in the midnite hours, was very precious. MIDNITE DOLL MAKING ANYONE?
SPEAKING OF ART,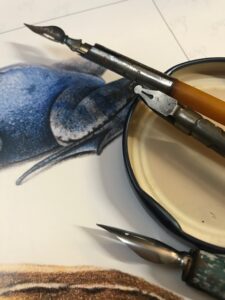 I have been cleaning my pens.
Calligraphy ahoy!  There is always someone celebrating weddings, parties (or love letters) who wants them done in a special style and that is why I need a whole range of nib pen styles… and I like writing my own letters with a nib pen – who does nowadays, hardly anyone except me, and Sarah in Connecticut (USA) another artist in the family.
In the past cleaning my pens was a difficult job.  When I was at the Smithsonian I was taught to use sandpaper, chemicals and a tiny grinding stone to re-condition the tips.  I have discovered that if I use strong vinegar (called 8%), it is just as good, quicker, and more economical.  I was stunned by the efficiency of the vinegar which gets the stainless steel nibs almost back to mint condition.  I still grind the tips, but that is because they are well used.  No need to get new.
If there was just one or two it would not be such an issue, but I have lots, and now all I need to do is stand them in the vinegar overnight, and then just use a little hot water, soap and an old paint brush to get them back to clean.  The stainless nibs once conditioned in this way are as good as new, and the other steel nibs are stained but clean.  How easy is this!
CURRENT STUDIO/ZOOM SCHEDULE: (Studio Yoga – Mondays at 1pm are Full)
WEEKLY STUDIO/ZOOM SCHEDULE  (PLEASE BOOK AHEAD – NO YOGA STUDIO DROP-INS, sorry)
ZOOM: Mon. 6.30 FREE OF CHARGE Teacher Training/Gita, Tues. Herb workshop 7.30 ($50 per month), Friday 6.45 Tarot –  $50 for 4 Friday classes.
STUDIO YOGA:Mon. 1pm (full) 2.15pm, Wed. 1pm Restorative(vacancy for July only), 2.15pm  Friday 1pm, 2.15 Hatha.
CONSULTATIONS: Tarot/Bach/QHHT HYPNOTHERAPY, Bowen or a combo – by appointment only.  $85 including remedy (including postage if zooming)  Past-Life (QHHT taught by Dolores Cannon) $250 via email or in the studio.  The reading includes Time, date, place of the prior life. To discuss,  email  yogafirst@netcon.net.au
MONTHLY LUNCHEON:   Thursday 30th June at 12noon at "The Vic" in Woodend (If you are running a bit late, relax, it's OK – drop in for dessert.  We have the meeting room, so it is separate and quieter).  Please let me know if you can join us.  We will post an invite closer to the day.   RSVP PLEASE
WEEKLY MEETINGS:  We have free Teacher Training zoomed on Mondays 6.30pm, and we began our yoga teacher asana class/meeting in the studio WHICH WE HAVE ORGANISED FOR EVERY SECOND SUNDAY BETWEEN 2 and 3pm.  NEXT STUDIO TEACHER TRAINING CLASS Sunday 3RD JULY.
I WILL SEE YOU ON THE MAT (or zoom).
NAMASTE – JAHNE