Hi there Yogis,
Here are the photos I promised you yesterday – The computer is more comfortable, and is behaving as though nothing happened (although we all know something did).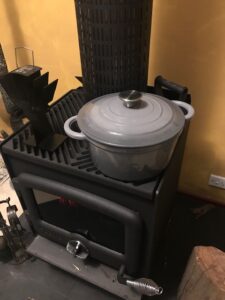 THE HEATER.  
As I have been crowing since it arrived, it is heavenly here with a real wood heater.  The house is warmer, and I am saving heaps of money on gas and electricity.  I don't  light the fire properly until later in the afternoon, but it does keep heat in all night, and I just open it up for the evening.  It is so good, and will be even better when I learn what she wants and how to load the wood etc.
Yesterday I purchased a cast iron pot from Kmart for $30.  It is splendid and I have a wonderful soup happening.  You may well laugh but my house now feels like home.
THE PENDULUMS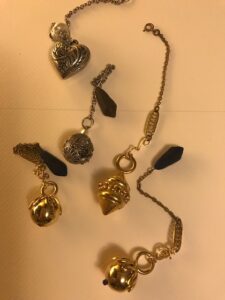 I have flagged that I am going to have an exhibition over the weekend of the 17th July, and these pendulums will be with a group that I will be exhibiting.  They are quite large (not pocket items),  quite beautiful and made from some very old jewellery pieces i purchased an age ago for just this purpose, but it has taken all this time to get around to it.
THE DOLLS
I have finished a few, and I will photograph when I have the big cat done.  By "big" I mean about 3ft tall, almost 4 ft.  This is a fabulous size because it is a great adult companion too – why let the children have all the fun.  I have a great doll made by Mirka Mora during one of her workshops.  She knew after numerous workshops how to make an easy, ethereal  doll, and she did.  You could too.
HAVE A WONDERFUL WEEKEND, SEE YOU SOON
NAMASTE – JAHNE