Dear Yogis,
The end of the week – or the beginning depending on how your working week happens....  My days are more busy and not less as I consider wood for the week,  and gardening for the season (and lots of leaves to be swept up and used on the garden – the difference between a good crop in spring and a mediocre one).  My garden relies on a thick layer of leaf mulch.  Considering I am moving into a more sustainable style of living, I thought you might me interested in this story.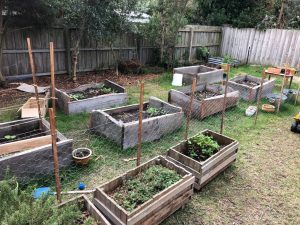 Two boys and two fathers contemplating building or buying a rabbit hutch.   One boy to his father "Hey Dad, maybe we could build a rabbit hutch!" Father to son, "You mean we can buy a hutch, no reason to re-invent the wheel".
Other father "Your reasoning holds up unless you are trying to teach your son how to use a hammer and saw. Unless you want to give your son skills he can use for his lifetime.  And maybe you are trying to teach him to build something that lasts and to take pleasure in his work. Unless you don't mind missing those good talks a father and son get to have whilst they are working together, side by side."  He packed up his tools. "If you don't mind missing those things, then sure, you can just buy a hutch down at the Produce Store."
When you find yourself thinking "It would be easier to buy such and such rather than making it," slow down for a moment and ask yourself what is more important – to check it off your to-do list, or to use this opportunity to teach your child some new skills?"  If you choose the latter you are giving your children more than time, skills and memories – you are teaching them how to be lifelong learners.
The photo is of a "starter garden" a family sent to me.  They had moved into a new house and wanted to teach their children more about sustainable living, and began the journey with these home-made raised garden beds.  They did not buy them at Bunnings – the family made them from old fence posts, and found wood.
As a teacher of Yoga teachers (and yogis) I am always looking for LIFELONG LEARNERS.  People who come on to a zoom class and make notes instead of just sitting and looking at me – I am not an entertainer. I search for students, who think, who read, who love to learn, who can write (or type) notes, because they love to learn.  I am overjoyed when a student brings a notebook and pen into a yoga class, and makes notes about asanas.  I don't know about you, but I always have great ideas when I am on the yoga mat.  It pays to bring a pad with me.
CURRENT STUDIO/ZOOM SCHEDULE: (Studio Yoga – Mondays at 1pm are Full)
WEEKLY STUDIO/ZOOM SCHEDULE  (PLEASE BOOK AHEAD – NO YOGA STUDIO DROP-INS, sorry)
ZOOM: Mon. 6.30 FREE OF CHARGE Teacher Training/Gita, Tues. Herb workshop 7.30 ($50 per month), Friday 6.45 Tarot –  $50 for 4 Friday classes.
STUDIO YOGA:Mon. 1pm (full) 2.15pm, Wed. 1pm Restorative(vacancy for July only), 2.15pm  Friday 1pm TODAY only, Restorative, 2.15 Hatha.
CONSULTATIONS: Tarot/Bach/QHHT HYPNOTHERAPY, Bowen or a combo – by appointment only.  $85 including remedy (including postage if zooming)  Past-Life (QHHT taught by Dolores Cannon) $250 via email or in the studio.  The reading includes Time, date, place of the prior life. To discuss,  email  yogafirst@netcon.net.au
MONTHLY LUNCHEON:   Thursday 30th June at 12noon at "The Vic" in Woodend (If you are running a bit late, relax, it's OK – drop in for dessert.  We have the meeting room, so it is separate and quieter).  Please let me know if you can join us.  We will post an invite closer to the day.   RSVP PLEASE
WEEKLY MEETINGS:  We have free Teacher Training zoomed on Mondays 6.30pm, and we began our yoga teacher asana class/meeting in the studio WHICH WE HAVE ORGANISED FOR EVERY SECOND SUNDAY BETWEEN 2 and 3pm.  NEXT STUDIO TEACHER TRAINING CLASS Sunday 3RD JULY.
I WILL SEE YOU ON THE MAT (or zoom).
NAMASTE – JAHNE