Hi there Yogis,
We are not in a heat wave, but 17 degrees at this time of the year could be called a heatwave.  Although we have had drizzly rain, my garden is crying out for a big downpour.  I still have my basic greens.  What would i do without broad bean greens and herb Robert.  I have them every day.
OUR YOGA PRACTICE.
Several of our clients and students are suffering from long-covid.  But not everyone gets covid.
"Being exposed to the SARS-CoV-2 virus doesn't always result in infection, and we've been keen to understand why," says Dr Rhia Kundu, lead author of the college study.    "We found that high levels of pre-existing T cells, created by the body when infected with other human coronaviruses like the common cold, can protect against COVID-19 infection."  In short, battling other respiratory infections allows your body to develop the type of defences needed to resist COVID when you're exposed to it.
We know that our students are protected.  At the beginning of every yoga session we do the MICRO COSMIC ORBIT, which wakes up Tcells and the cerebro-spinal connection.  Now scientists studying covid and Sars are finding that this is vitally important to protect our body from these infections.  To learn more go to my Tube channel where I began alerting you to this way before covid came on the horizon.  By the way, doing this discipline once a week won't cut it, you need to do it EVERY DAY before your 5 Tibetans.  It only takes a few minutes and you don't even require lycra.
There are hundreds of reasons to do a regular yoga practice.  Surely 7 minutes a day is a small investment in your health.  Takes longer than that to google the information.
CREATING A HEART INSIDE YOUR DOLL or BEAR CONTAINING PART OF THE ASHES OF A DECEASED PERSON.
So far this year, approximately 2/3 of people who died in Australia were cremated.   And while some people prefer to hold onto the ashes of a loved one in an urn, or scatter their ashes in a memorable place, others are getting creative.
Every day there are more ideas about commemorating a loved one, the ashes being made into diamonds, incorporated into paintings, even made into beads…  As well as being made into  jewellery, ashes can be made into a little (impervious) heart inserted into the body of one of our dolls or a bears.  You can supply me with a small amount of ashes (about a dessertspoonful) a piece of fabric the deceased loved for the heart and for the bear, and you can even incorporate a little pocket in your bear for a favourite and recognised perfume.  The size of the bear is up to you – small,  medium or large.  We could even put the little heart into a bear or doll owned by the deceased.  Sounds kooky, but I wish I had some ashes to add to a doll.
'It helps a lot'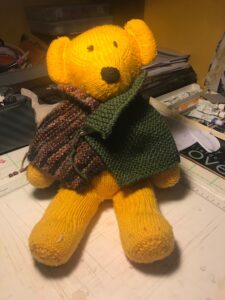 I am hoping that  you would pass the "HEARTFELT BEAR" on to your children.
To do something special like this where you can carry the deceased person with you – hold them close as you go about your day and into the night… I know that sounds a bit weird, but to go from this morbid bit of ash to a beautiful bear or a doll, it's amazing.  It's is also saving loved fabric from being discarded,.  Everything that went into reminding you of your loved one can be used.  We could even do it ahead of time as a project before passing over…   and you could both design and love the bear and I can add the ashes later.
I can even add the ashes to a bear or doll they already have loved, refurbishing if that is required.  I could unpick their favourite sweater for a tiny jacket, use a pair of trousers for the body and so on.   So much better than a tomb stone you only visit occasionally – tombstones are hard to hug….
The little bear to the left isn't quite finished,  his nose and eyes need to be repatriated, and I have a wonderful big button to add to the jacket.
THE YOGA CLASSES
MONDAY HATHA : 1PM, 2.15/WEDNESDAY RESTORATIVE 1PM/FRIDAY HATHA 2.15 (meditation at 3pm – you have to book join us for this)
MONDAY ZOOM: Teacher Training 6.30
TEACHER TRAINING:  Sunday Studio Class 2pm
MONTHLY YOGA LUNCHEON:  Victoria Hotel Woodend, Thursday 28th July, 12 noon.
HAVE YOU CHECKED IF YOUR

REGISTRATION

IS UP TO DATE?  IF NOT, MAYBE IT IS TIME TO DO THIS. EMAIL ME AND I WILL SEND YOU THE APPLICATION: YOGAFIRST@NETCON.NET.AU
SEE YOU ON THE MAT.
NAMASTE JAHNE