Dear Yogis,
Yoga classes (any classes) are taking a bit of a hammering from covid, and the fact that once clients are "mended" they have focussed on the home and renovation, rather than their yoga schedule.  If you are lucky enough to snag a tradie you have to do the job in their time rather than yours, and I have found that yoga classes have been suffering from the choice.  I can understand it though – I have been trying to get some plumbing done for months and it is so hard (but not critical as some of your work is, was and has been)..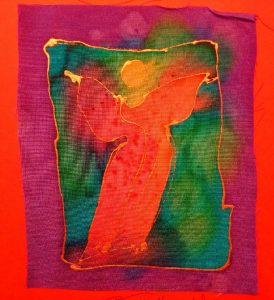 As covid progresses and prices for the basics rise, we all need another string to our bow (or in my case several), in order to get the income we once got from yoga classes alone.  Luckily right now I have sewing, darning, and bear making which not only fills the coffers, it is enjoyable, and the end result is that I can give the bears to charity, sell some, do classes – every bit of which gives me great joy.  It also means I can swap, barter, exchange and give others joy with the end result of my efforts (especially darning), and get some essential such as eggs, and cat meat in exchange.
We have to know ourselves.  I am a Capricorn – it is an advantage and a disadvantage.  We are goal oriented, so I know how to make the best of situations, but that goal orientation does make it a single minded path.  Some folk just don't understand it – they are out having fun why don't I? They want me to take a mid-day holiday but I don't.  Why?   Because like the squirrel, I am laying aside stores for lean times.  It is my nature, and I feel relaxed when I have got the work done – then I can take time out.  I am a Capricorn – I   have to plan my spontaneous time.
"EASY PEASY" FRIENDSHIP BEAR MAKING WORKSHOP.(Limited numbers please book early).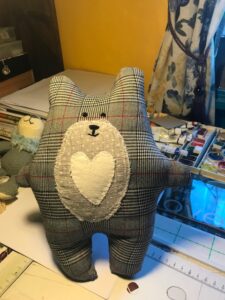 When:  Saturday the 13th August
Where: the Yoga/Art Studio, 37 Morris Road, Woodend (please park on the white gravel) – I do have good ventilation and an ION AIR FILTRATION system, and unlike many schools, I actually do switch it on!
Cost: $45 including using some of my materials and a template of the bear, although I ask that you bring a piece of fabric for the main colour, and contrast for the face and belly.
Please pre-pay so that I can get a template and little bag of possible materials organised for each student – you can add to these.
This could be a Charity Bear, or it could be a Friendship Bear.  Our local ambulance service runs out of bears from time to time and we have been asked to top it up.  You could do the same for your local service clubs.  We should finish the bear in the time.  There is no knitting required just sewing.  No need for machines, we can do it all by hand, although you can use my machines if you are in the studio and want to do this.
In the next couple of days I will put a pattern on to Etsy (will let you know on Wednesday if it is there – although you could check) which you can adapt size-wise. I will have templates you can use in the studio.  Please bring half a metre of main fabric and half a metre of contrast and some odds and ends for eyes mouth etc.  You can see how I use them above – although the placement of the eyes and the belly are up to you.  The fabric  can be cotton or wool – polar fleece and  felt are the easiest because they don't fray.  Actually I like a frayed edge.
If you buy the pattern on Etsy I will have a free group zoom workshop, just to help you with the bits and pieces.  Etsy lets me know who buys the pattern as does pay pal, so I will know who wants to do the zoom, and who to send the ID to.   It is the simplest of patterns, but there is the easy way and the hard way to do things.  I prefer the easy way.
THE YOGA CLASSES
MONDAY HATHA : 1PM, 2.15/WEDNESDAY RESTORATIVE 1PM/FRIDAY HATHA 2.15 (meditation at 3pm – you have to book join us for this)
MONDAY ZOOM: Teacher Training 6.30
TEACHER TRAINING:  Sunday 31st July,  Studio Class 2pm
MONTHLY YOGA LUNCHEON:  Victoria Hotel Woodend, Thursday 28th July, 12 noon.
HAVE YOU CHECKED IF YOUR

REGISTRATION

IS UP TO DATE?  IF NOT, MAYBE IT IS TIME TO DO THIS. EMAIL ME AND I WILL SEND YOU THE APPLICATION: YOGAFIRST@NETCON.NET.AU
SEE YOU ON THE MAT.
NAMASTE JAHNE