Dear Yogis,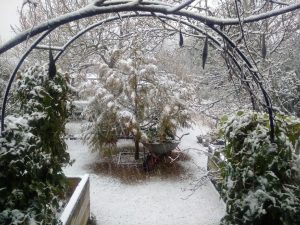 Merry Christmas to you all.  I am sure that you will have days of Peace and Goodwill.  When things go into overwhelm, which sometimes they do, just stand back, smile and breathe.  It's not about you.
The new year I am told (from a business point of view) is predicted to be like "The Roaring Twenties".  I am not sure it will be true with Omicron on our doorstep, but we will get what we expect, whatever that is.  For myself, I will be busy, gardening and  drawing, and getting my fungi Oracle finished.  I bought the cat one of those squiggly fish things with a battery in it for Christmas, and once some ribbons were tied on the tail, she felt at home with it, and had fun.  There is a lesson there somewhere.
I look forward to seeing you all in 2022.  Remember, we start back on the 10th of January – I will give you plenty of notice. The photo is my garden in the winter – looks a whole lot different today – although we were anticipating a cold Christmas, but not that cold (this time around).
Love and Blessings in 2022 and always..
NAMASTE.  JAHNE