Dear Yogis,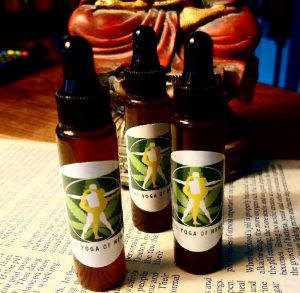 It is almost Christmas, there is so much to do and I am just BURSTING with energy.  I have been using my Bach therapies as a spritz on my face twice a day, it is so much more effective for me than under the tongue.  It is not just the energy it is a quiet centredness and of course the bursting out of the skin feeling.  It is so great, especially at this time of the year.  Hope you feel like this too.
I am so looking forward to the little hiatus until the 10th of January and our next classes – I am going to get HEAPS done.  I have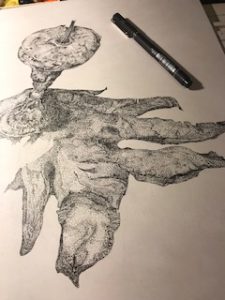 made the prints, and am getting a second run printed today I hope.  The images plus 4 extra I am going to put together as an oracle, and some greeting cards.  It will give me a chance to re-do a couple of the images I would like to "tidy up".  I will finish the "Beaked Fungus" I have been working on first of course.   It has taken many hours as it has been made up of DOTS.  I have totally used up a couple of sets of technical pens.
CHRISTMAS DAY AFTERNOON TEA, etc.
If you are at a loose end on Christmas Day, please come around to my place between 2 and 4.  The usual covid requirements apply of course.  37 Morris Road, Woodend.  Please park ONLY on the white gravel in the front yard, put there especially so you can park safely.   Don't park in front of the neighbours, they don't like it.  There is plenty of parking space on the gravel if you do it carefully.
I hope to see you on zoom, or in the studio on or after the 10th January.  I will be putting things on my sites, making changes and adding art.  I will let you know in the newsletters and on instagram and facebook.
One more newsletter and then we are done….for Christmas.  
You have so few days left to shop, better get to it.  Think of me in the garden – or join me, I would love to see you.  Make an appointment for a therapy, a tarot, or a tattoo.  I am here   yogafirst@netcon.net.au
COVID.  I was reading this morning that there are long lines at testing stations and not enough of anything.  My advice:  Until you can get tested,  is to take responsibility for yourself.  Be careful not to go into unknown groups, wear a mask when you can, and make sure you are well dosed up with VitC (at least 1,000mg per day), Echinacea, SuperVitD,  and zinc.  I have a air filtration unit with UV light in my house as an extra precaution.  Check on the air currents in your house and make sure there is air flow in the rooms – it doesn't need to be a wind.  Have a quiet Christmas.
SEE YOU ON THE MAT.
NAMASTE.  JAHNE