Dear Yogis,
We had our last "Yoga Lunch" last Friday.  The first since the start of Covid.  AND, AND, AND, I have loaded my Bach Therapy Course – The Yoga of herbs on ETSY (www.myyogabooks.etsy.com).  You might think it doesn't apply to you, but I use it on my plants and have had great results.
A CASE HISTORY:  I have a beautiful lemon tree on my back verandah.  In spite of the fact The Macedon Ranges seems  not to be the climate to plant lemons, this tree has thrived.  This year however it was savagely attached by thrip and a black spot fungus, maybe encouraged by a load of chicken poop…instead of the usual "zoopoo" it favours.  It looked like the tree was being overtaken, it was in shock.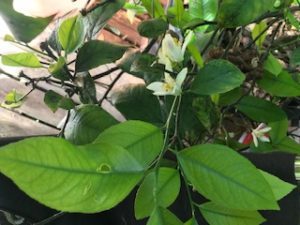 I first misted the plant with Rescue Remedy and used my own White Oil concoction to clean the leaves.  I continued misting Bach on the trunk when the leaves were too oily from the white oil as she needed support whilst the cleansing of the leaves was working.  There was a week when I felt that what we were doing was working but it wasn't really showing – I used my pendulum to confirm this, and kept going, on the basis that the bush was going through a healing crisis.
After a week or so (after checking with my pendulum)  I changed the Bach Rescue Remedy to Bach Crab-Apple for its calming, cleansing and antiseptic properties. I was still dry wiping the leaves to get rid of the dying thrip and to prepare for the Bach remedy misting.
The lemon tree against all odds is thriving.  It has a wonderful crop of new leaves, the buds that were absent in spring are now evident, and it is possible that we will have fruit.  (I could go on about the fig tree, the cherry tree, and so on….)
This was an effective, economical and timely intervention, and most importantly it worked. It works on all trees, flowers and plants and can do no harm to the plant, yourself, birds, or your companion animals.
One of the most impressive healers/homeopaths/Bach Therapists I have known was the Late Dr. Joseph Von Moger, who made his own remedies and could be seen in the forest and open spaces around Mt.Macedon collecting flowers to make the remedies. I have the inventory of plants from the garden of his house called "White Lodge" in Mt.Macedon, add these to his wanderings and foraging  in the bush and collecting in the Shire, and the list becomes quite impressive.  Apart from the large trees, I have collected most of the plants he had in my own tiny garden (in comparison to "White Lodge").
I have such a garden.  If you are interested, make an appointment and come see my garden, you would be welcome.  It is always great to see a growing plant rather than a name on a label.  Maybe when you come for a Bach remedy you can take a turn around the garden as well.  Email to make an appointment. yogafirst@netcon.net.au
ZOOM:  I will do a zoom class soon on "MAKING BACH REMEDIES FOR YOUR GARDEN".  Bach isn't economical if you have to go to your health food store to buy a remedy, but it is VERY economical if you do it the way Bach intended – you make your own.  Bach Remedies were designed to be simple, and effective – any they are.
Email to let me know your interest: yogafirst@netcon.net.au
CHRISTMAS SCHEDULE  The School will close on the 20th of December – but I will be available to assist with consultations at any time EXCEPT the 25th of December, only because people drop in and out during that day.  Until then we will have yoga classes Monday 1pm, Wednesday 5.30 and Friday 5.30.
I will see you on the mat.
NAMASTE.  JAHNE