Dear Yogis,
Whatever we think, here in Woodend, winter has certainly arrived.  I was stunned when (keeping in mind the temperature was about 9C) my student turned up this morning in cotton trousers, t-shirt and so on, whilst this little bunny was decked out for winter.  I did feel older – but I like to be warm.  Our family came to the Macedon Ranges because mum came here on a Sunday outing and fell in love with it, although she always said she would retire to Queensland for the warmth!  For her it was like going back to England, same vegetation, same weather.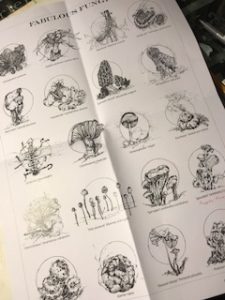 A NEW BOTANICAL HERB DRAWING ZOOM COURSE  ($65.50 for 5 zoom sessions.  Every Saturday 1.30 to 3pm starting Saturday 26th March)
Are you ready to add a whimsical, personal touch to your skills?   Imagine your own vivid illustrations, such as have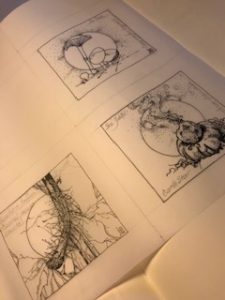 captured the hearts and imaginations of foragers, cooks and herbalists for centuries, illustrating your newsletters, cards, booklets….and so on.
I am a trained Scientific Illustrator, but you don't need to be – you don't have to able to draw for anyone else, just for you.  By the end of the Botanical Drawing for Herbalists (zoom) Course, you will have completed numerous botanical illustrations from start to finish using the many techniques.  You'll also be equipped with inspiring exercises and ideas for adding your newfound drawing skills into your forays into foraging or in cookery – maybe to illustrate recipes, or build a course around your kitchen adventures   This could be anything from creating your own illustrated flash cards to adding frame-worthy new pages to your materia medica, or posters for your yoga studio or kitchen. 
I have attached an example of fungi drawings I made for a poster.  Just black and white – but very effective.  You could do this too.
SCHEDULE:  
ZOOM: Monday 6.30 Gita, Tuesday 7.30 Herbalists Course, Friday 6.45 FREE TAROT SESSION.
                ZOOM HERBAL DRAWING COURSE: Starts Saturday 26th March at 1.30pm
STUDIO YOGA: Monday 1pm, Wednesday, Friday 5.30
                 STUDIO Ion-Ki Spa Cleanse.  If you feel too tired, stressed, "stuck" to do anything new, try a cleanse and change.
HERBS ON HAND (New Shipments have arrived)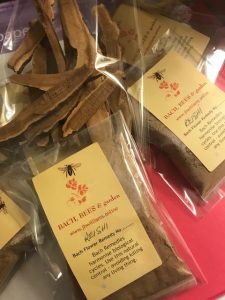 Turkey Tail Powder –  25g $30 including postage
Reishi Powder – 25g $30 including postage
Reishi Dried Herb Slices 25g $30 including postage (I put mine in a little red wine, honey, spices and ashwagandha to make a tonic wine).
*Herb tea for IBS and Bloating tummy (who doesn't know that feeling?)
*Herb tea that has a reputation for helping with anaemia.
*Herb tea for sleeplessness.
and *Herbs for HEART HEALTH  (I use Hawthorn, and this is in the Herb tea).
HERB TEAS $53.50 a pack  of 6 including postage.  This will last about 10 days to 2 weeks depending on how often you dip them into your own teas, or water bottle. You can add honey or lemon to taste as you want to.  The little pouches as you can see I make and tag myself, as well as growing, drying and packing the herbs.  They are not like regular teas, you don't jiggle them to make the water dark – these are herbal teas to have you feel better… one tea bag will last at least one day, with me two, jiggled into any tea or water you are drinking.  After they are finished, I drop them into my drinking water jug…I might have 4 or five in the jug at any one time.  No chemicals are water or lost.
Reishi's alcohol-soluble triterpenes go a step further.  Scientists have discovered that alcohol extracts from Reishi mushrooms are "the only known source of a particular group of triterpenes, also known as ganodermic acids, which have been found to have direct cancer cell cytotoxicity on a wide variety of cancer cell lines".
"…know there is more to life than to live, and a success must be one in which the individual may grow in understanding and in knowledge." 
I WILL SEE YOU ON THE MAT
NAMASTE – JAHNE
Reminder: I've written this article based on my own research and experience, but I am not a medical professional.  Please do your own research and/or consult a healthcare professional to be sure a reishi tincture/herb/remedy is right for you. Be especially careful when working with wild mushrooms. Every year people are poisoned by eating wild mushrooms that closely resemble edible species.      I am not a mushroom expert, nor do I claim to be.  I've written this based on my own research because I enjoy sharing the fruits of my own mycological journey with others.  Do not rely solely on my writings to identify mushroom types, and be sure to cross-reference anything mushroom-related with at least two (preferably more) credible sources.