Dear Yogis,
I am excited.  The Bach Remedies have not only brought people to me, but I can also work in garden and know I am helping others, not just enjoying myself.  I can teach. How good is that!  And i can start writing little books again.  I am going to do three little books (like Beatrix Potter's "Bunny Books").  Bach for Bees and Insects, Bach for plants and Bach for Animals.  There are a lot of books out there about Bach for people.  My books will be sold with a little set of remedies. A kit.   
I am especially looking forward to treating BEES with Bach Remedies.  No, I won't be rubbing their little tummies with remedies, but I am giving a squick spray at the door, or when the hive cover is removed.  Bach is especially gentle (being an energy remedy) in settling a hive after relocation, or when re-housing a swarm, or helping an aggressive queen re-adjust.
Just think, I have been working with Bach Remedies since 1973, and have only now begun to learn about helping bees.  I have always used Bach in the garden.  At present I am using them to control thrip, snails and slugs, and assisting in plant recovery when the danger has passed.
And they WORK.  To learn more you could come to the herbal workshop on Tuesdays at 7.30.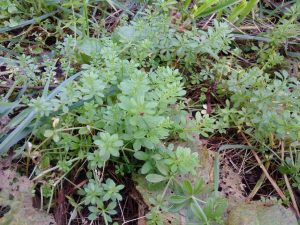 HERBS IN THE KITCHEN:   I do know that in the kitchen I do everything the hard way – I use a knife to chop, a hotplate to heat and scales to weight things… you may have a thermomix!  But whatever you use, please start to recognise plants around you.  They make such a difference not just to the way you live, your level of wellness, but also how much money you have in your purse at the end of the week.
Tomorrow (Tuesday) at 10.30 in Woodend,  I will be taking a couple of students for a walk along the creek and surrounds to identify herbs (Not a suitable walk for dogs, prams or small children – we will plan another walk to incorporate small people).  You are welcome to join us.  Please email me if you are interested. yogafirst@netcon.net.au
COMPASSIONATE "CRAFT" COMPANIONS: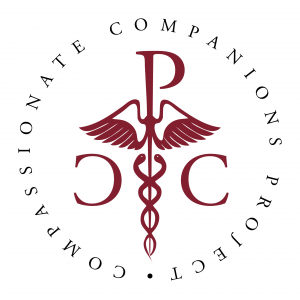 In 2014 (yes that long ago), a collaboration took place between textile artist Celia Pym and Dr. Richard Wingate of the Developmental Neurology Department Kings College London.  Celia is active in creating works that make use of knitting and darning,   Richard is researching the psychological effects of anatomic training on medical students.  They discovered that darning and surgery have something in common MENDING.  So they conducted an experiment in which Celia worked in a corner of the dissecting room to darn for three months.  Every day Celia mended clothes brought in by Medical Students and teaching staff.  From those who brought things to be mended she heard about their feeling for their clothes and the process of the damage, and from this she would gain some understanding of their habits and lifestyle.
In the dissecting room, students work on cadavers every day.  Some students were disturbed by the unfamiliarity of the work, and in these moments they would sit by Celia while she worked.
Celia said "I go into training room, and I darn whilst talking to the students.  No matter how well the repairs go, the item will never be new again, but it will be able to be used and loved.  It is the same with the body.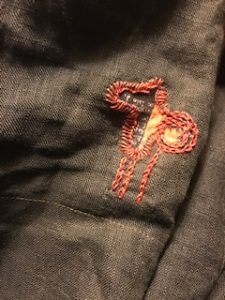 Darning and surgery is a shared experience... They both share DISSECTION – dissecting the damaged area, VERIFICATION – assessing and interpreting the the degree of damage, and SUTURING – stitching.  Over the course of this experiment and going forward, Richard observed that Celia reduced the tension in the training room, and having similar healing intentions to the students, helped still their minds.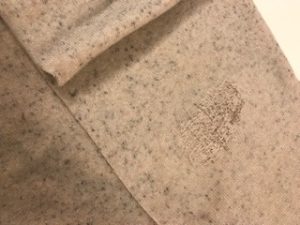 Whilst not all The Compassionate Companions will be happy with incorporating craft into their repertoire, there are a few (like me) who see it as the key to their usefulness.  Think about it.  How many tense persons are there in waiting rooms, about to go into surgery, in recovery, or having various kinds of chemotherapy?  Mending applies to all of these, and bringing calmness to the patients goes a long way to helping a good recovery.  I am sure how much easier it is to talk to strangers if your hands are busy…
I feel that in the process of mending I am in fact, mending more than just the garment. The process enables people to approach me, or the (Compassionate Companion) for advice and also to talk candidly about the meaning implied in restoring a treasured piece of clothing. Sometimes, the garment will have been the property of a loved one who has died, so repairing it, she says, enables the relationship to continue. The act of mending artfully is a form of caring and memorialisation.
SCHEDULE FOR THE WEEK:
Yoga Studio. Monday 1pm, Wednesday and Friday 5.30
ZOOM. Monday 6.30 Teacher Training – Gita.  Tuesday 7.30 Herbal Workshop, Friday 6.45 Tarot
I WILL SEE YOU ON THE MAT (with or without darning)
NAMASTE. JAHNE