Good morning yogis,
This morning, WHICH IS THE FIRST DAY BACK AT YOGA  – not much philosophy, but lots of news on the home front about our wonderful TYOH OIL.
We have been overjoyed to see how the hemp market has flourished during COVID, and I am sure we will experience the "Roaring 20's" at least on the stock market  as the isolation  rules are  being slowly lifted.  There are more people about, more cars on the road, and more optimism.   Now that supplies are coming back to (almost) normal – whatever that was – our TYOH OIL has been flying out the door.
With CBD being a Special Access Scheme-only medicine in Australia, a transdermal product you can try without a prescription is our TYOH OIL  which  contains a blend of Hemp and Essential oils. 
HOW DO THE ESSENTIAL OILS, TERPENES AND HEMPSEED OIL (A PERFECTLY BALANCED RATIO OF OMEGA 3,6 AND 9) WORK?
Glad you asked! Copaiba Oil, (A rare Peruvian resin) one of the constituents of TYOH  has been long regarded for its brilliant, natural analgesic properties, high in turpenes the active constituents in Hemp Oil, and reputed to be more effective than CBD.   It's been widely used in topical pain-relieving treatments, delivering in some cases almost immediate results.  Because of the powerful herbs and essential oils, TYOH is not to be taken orally.
Along with the essential oils, we have the Hemp Seed Oil – with its plentiful and perfectly balanced ratio of Omegas 3, 6 & 9.  As I have been telling you all along, Hemp Seed Oil is a natural anti-inflammatory and is known to help relieve inflammation-related pain (which covers a lot of our common pains). Plus the added benefits of pure  lavender and clove essential oils, and you have a power packed package!
Unlike marijuana which drowns the system in chemicals, depending on dose producing complete "shut down" of all responses and feelings,  Hemp oil strengthens the existing endocannabinoid system in the body. The major  naturally occurring cannabinoid  in our brain is called "ANADAMIDE" which in Sanskrit means "Bliss", which is appropriate for this wonderful naturally produced chemical.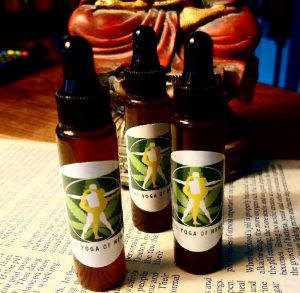 Using the Patches (see the page above) together, the beneficial constituents of the essential oils and Hemp Seed Oil are released slowly into the bloodstream – more effectively reaching sore spots  and problem areas than if the same ingredients were to be ingested, because they bypass our built-in filters – the lungs, stomach and liver.
As we get back to our lives, there may be times when we get anxious – maybe for no good reason, just an effect of change.  Essential oils combined with hemp oil can ease this confusion and give you the "head-space" to work your way more easily through the fog.
As usual, if you are interested please go to  "HEMP" on this web site www.yogabeautiful.com.au for details.
HAVE A WONDERFUL DAY – HOPE YOU ARE GETTING TOGETHER IN TINY, TINY GROUPS AND DOING YOGA WITHIN "THE YOGA AUSTRALIA" COVID  GUIDELINES. KEEP WELL
NAMASTE.  JAHNE
Disclaimer:     Any statements made within this document  have not been evaluated by the Therapeutic Goods Administration (TGA). No products produced, manufactured, marketed, or distributed are intended to diagnose, treat, cure or prevent any disease. Consult your doctor before beginning any supplements or botanical extracts. If pregnant or breastfeeding, consult with your doctor before use. For use by adults 18+. Keep out of reach of children or pets.