Dear Yogis,
Yesterday morning I received a message from the SES on my iPhone.  There was going to be a big storm last night.  Dire warnings.  My bookkeeper who is in the SES told me to prepare, so I did.  The little stove was mouldering and warm, big pot of water on top (I will get an old fashioned "reservoir" when I see one), coffee pot and iron – all essentials.  My lap top fully charged and the big power bank also fully charged, lots of wood in and under cover etc etc…. little solar lights all powered up. Genny on the verandah for long term outage if it happened.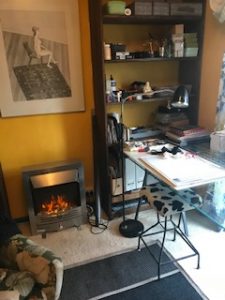 It was nerve-racking remembering the last storm but I went to bed... I was woken a few times by rather large gusts, but slept soundly.  This morning, noticed we had welcome rain, but it didn't come right up under the verandah as it did on June 9th 2021 (the BIG storm).  So all is well.  I hope that you prepared well as the weather is unpredictable, and the storm may yet come.
COVID AND CLASSES – The "Other Storm".
I am sure you are finding it difficult to get groups together for anything, and especially yoga which is deemed to be non-essential.   Support staff away with covid, cafes, closed,  even our local op-shop and nursery closed, but we are getting used to it sad to say.  I think this is how life will be for a few years until we learn more about this virus.  We have to learn to work around it.
The most important thing we can do is to focus on our nutrition, and not focus on every little change we notice in our body.  There are changes, they will be more as our body comes to terms with the vaccinations we have had, and the virus we are exposed to whether we recognise that encounter or not.  As my older clients keep telling everyone, "just get on with it.  You can't change where we are, we have to learn to live with it".
However, we do have an arsenal.  We have our vitamins – keep taking them.  We have fresh green vegetables – if you can't afford what is in the shops, go foraging.   I get greens for four meals out of seven from what other people think are weeds, and with this wonderful damp weather the paddocks are lush, and the "weeds" are in good shape.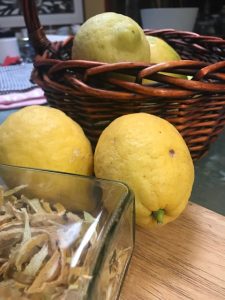 Keep taking your "grapefruit mix" .  Cut and place in a pan or slow cooker 3 grapefruit, 2 oranges and 1 lemon (all of the fruit skins, pith everything), almost covered with water, and cook to a pulp – use a stick blender when they are soft.  Then put the mush in tiny ice block trays and freeze then bag.  Use them all the time in your water bottle and drinks.  Add some mint and a slice of lemon or lime for "A Garden in a Glass".  This orange mix contains the naturally occurring form of hyroxychloroquin a chemical which is used to build resistance against Covid. It apparently cured Trump of Covid (enough said about that!).
Please don't stop looking after yourself.  When you feel anxious, tired, below par, it is tempting to sit in front of the TV eating nice, sweet things.  It is a trap. These are the times when we most need to think of our yoga training, and get out there.  Do the 5 Tibetans, or go for a short walk (or a long one).  Remember what Billy Connolly said "There is no such thing as weather.  You are wearing the right things, or you are not".  You could learn a new skill, or get into the garden.  It is the perfect time to weed and get on top of those pesky forget-me-nots before they flower and drop seed.   You could even forage and get a basket of edible weeds to make into a lovely herby, nourishing,  omelette for tea.  It is up to you.  You can wilt, or you can thrive.  The universe won't care – but in the end, you will.
THE YOGA CLASSES
MONDAY HATHA : 1PM, 2.15/WEDNESDAY RESTORATIVE 1PM/FRIDAY HATHA 2.15 (meditation at 3pm – you have to book to join us for this)
MONDAY ZOOM: Teacher Training 6.30
TEACHER TRAINING:  Studio Class 2pm (please register your interest).
MONTHLY YOGA LUNCHEON:  Victoria Hotel Woodend, Thursday 25th August, 12 noon. RSVP
BEAR MAKING WORKSHOP – Saturday 13th August 12 to 4 pm
HAVE YOU CHECKED IF YOUR

REGISTRATION

IS UP TO DATE?  IF NOT, MAYBE IT IS TIME TO DO THIS. EMAIL ME AND I WILL SEND YOU THE APPLICATION:    yogafirst2@bigpond.com
SEE YOU ON THE MAT.
NAMASTE JAHNE