Dear Yogis,
I am still having trouble with my emails.  Please revert to yogafirst2@bigpond.com until further notice.  If you have sent to optus or bigpond in the the last 12 hours, could you repeat the email to yogafirst@netcon.net.au please.  Otherwise, it is lost to me…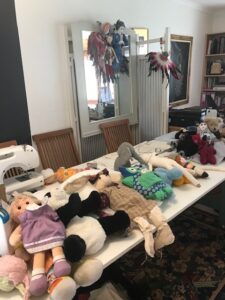 Only a day to go before our Open Studio Saturday (between 2 and 4) same on Sunday, and the dolls on the "finishing table"  (to the right) are almost as excited as me!.  Thank you so much to those folk who have let me know they are coming – I am so looking forward to seeing you all.  This is the first Open Studio since before the Covid Lockdowns.  That does not mean that Covid is gone, it does mean that we are all immunised, and we may get covid, but it will be less severe (as long as you are taking care of your immunity with a reasonable diet and exercise).   That being said, if you have the sniffles, if you have any symptoms, please make a date with me to come to the studio at another time – there is no urgency – I am going nowhere, I will wait for you.
At the Open Day I will have the dolls of course, fabulous golden pendulums, and paintings
I make and mend dolls for children and people in crisis.  There are a number of ways you can work with me in this.
      *Buy a doll and leave it with me and I will donate it to a child or an adult who needs a "compassionate companion".  
      *Make a donation to my doll making efforts.
      *Donate fabrics.
      *Source and donate hand made (not manufactured) dolls which need TLC.  I will clean and refurbish them and hand them on.
      *OR BUY A BABY TO TAKE HOME AND LOVE.
The dolls I actually make, even the teeny weeny ones, will I hope, be heirlooms.   Manufactured dolls contain the most terrible rubbish, even ground up gravel which turns into dust (your children can suck and breathe in this dust).  Some contain sharp wires and armatures, terrible screws and fittings to hold in the eyes, and large plastic boxes containing batteries!  How these help a child love and cuddle a doll I don't know, how they get past health inspections I don't know, and why we buy them for children is also a mystery to me!
I do make my own dolls, from second hand refurbished, pre-loved material…. but they do take quite a long time as most of the work is hand-work.  The machine only used for the major seams.  I hand paint most of the faces.
Please pop in.  I will have champers as usual, and nibbles.  You will be able to see the finished dolls, and perhaps "like" a doll which is not quite finished yet.  I can post it to you or you could collect later.  LAY BYS ACCEPTED.
CURRENT STUDIO/ZOOM SCHEDULE: (Studio Yoga – Mondays at 1pm are Full)  (PLEASE BOOK AHEAD – NO YOGA STUDIO DROP-INS, sorry)
ZOOM: Mon. 6.30 FREE OF CHARGE Teacher Training, Tues. Herb workshop 7.30 ($50 per month – part of the Bach Therapist Course only).
STUDIO YOGA:  Mon. 1pm (full) 2.15pm, Wed. 1pm Restorative(vacancy for July only), 2.15pm  Friday  2.15 Restorative. No Saturday classes the 16th July.
Fridays only – If you book you can join us at 3pm for a short meditation session on Fridays only.  Because it is the end of the class and I need to plan, you will need to book.
CONSULTATIONS: Zoom Tarot/Bach/QHHT HYPNOTHERAPY (a very powerful form of hypnotherapy), Bowen or a combo – by appointment only.  $85 To discuss or book,  email  yogafirst2@bigpond.com
MONTHLY LUNCHEON:   Thursday 28th July at 12noon at "The Vic" in Woodend (If you are running a bit late, relax, it's OK – drop in for dessert.  We have the meeting room, so it is separate and quieter).  Please let me know if you can join us.  We will post an invite closer to the day.   RSVP PLEASE
WEEKLY MEETINGS:  We have free Teacher Training zoomed on Mondays 6.30pm, and we began our yoga teacher asana class/meeting in the studio WHICH WE HAVE ORGANISED FOR EVERY SECOND SUNDAY BETWEEN 2 and 3pm.  NEXT STUDIO TEACHER TRAINING CLASS Sunday 31st July at 2pm.
DOLL MAKING CLASS – TIMES TO BE CONFIRMED.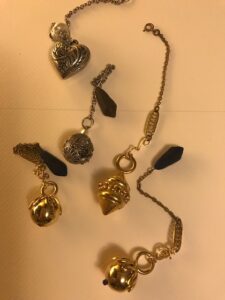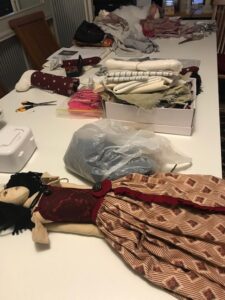 OPEN STUDIO. Saturday 16th and Sunday 17th July,  2pm to 4pm BOTH DAYS.   I have been looking forward to this right through Covid zooms.  
Please pop in between 2 and 4pm on Saturday or Sunday and see (purchase) paintings,  my dolls and other goodies – herbs, smoking herbs, vintage items and fabulous pendulums.  You can even have a PENDULUM lesson in using the one you purchase.  Of course there will be champers and Christmas nibbles.    It is after all July and we can have a CHRISTMAS IN JULY. .  You can even come and discuss a tarot booking,  But especially look at my dolls.
I WILL SEE YOU ON THE MAT (or zoom).
NAMASTE – JAHNE