Dear Yogis,
These days, a certain quote comes to our minds:
"Go back? No good at all! Go sideways? Impossible!
Go forward? Only thing to do! On we go!"
– BILBO BAGGINS, THE HOBBIT BY J. R. R. TOLKIEN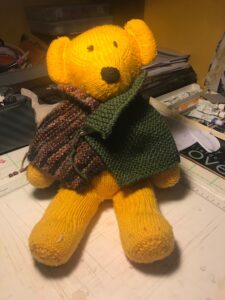 New beginnings for us all post covid  and after almost 60 YEARS of solid yoga practise and teaching,  I have spent my days between yoga classes, not doing more yoga, but doing what I love to do…  MAKING THINGS.  In this time and space I am making dolls, and they have walked off the shelves, so I think I am doing things right
.
They are not just for me, I get my pleasure in the making… I make them for children in crisis… and people who need comfort.  It is not only children who need a doll or a teddy – even older folk and those in aged care need a friend, something that reminds them on happy times.  Yes, they are surrounded by people and maybe things to do, but a soft toy is a personal friend.  I love my dolls, and Teddys.  The one to the right is a refurbished Ted.  New stuffing, washed, the jacket is under construction and then the face needs attention.
There are so many different dolls in my head, and quite different dolls.  I have been looking at my records at dolls I made with the late Mirka Mora, and later inspired by her (I am always inspired by her even though she is not actually here at the bench).  Tiny dolls, huge dolls, mini dolls, elegant dolls, animal dolls – all of them.  So little time, so many dolls to make.  Now the Open Studio weekend is done, I have begun to put my dolls on etsy. If you want one of my dolls you can go there, or you can make an appointment to come to my studio – of course I will be doing doll making classes (including fancy stitches for those interested) in the studio AND ON ZOOM.   Please register your interest on
yogafirst2@bigpond.com.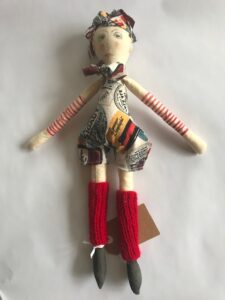 Where does yoga fit in all of this?
Well – my meditations are longer, they have to be because I am paddling into unknown waters and my meditation will support me (nothing else will help you in the unknown).  The asanas? I am going to have to do more.  Always The Five Tibetans, every morning, but I admit to doing the speed version.  I will have to concentrate on the longer version, and more of them.  Morning and night.  I kidded myself that moving wood was an asana, and it could be if i took longer, but that also is a speed yoga.  So it's back to the foundations for me.
Often when we are taking a new course we hope that we can leave the foundations for someone else to do – sorry – it doesn't work like that.  First the foundations, then the build.    I will have to begin by thinking of things quite differently and begin to build some new foundations.  It is not a good idea to build on sand.
I can see where I think I am going, the vision.  
New lighting etc physical STUFF, more time.  But I am not sure how I am going to get there or how long it is going to take.  This is where trust, faith and yoga come into it.  I think I will do the vision board I have been promising myself for some time – but now I actually have a vision, this board will be useful.
THE YOGA CLASSES
MONDAY HATHA : 1PM, 2.15/WEDNESDAY RESTORATIVE 1PM/FRIDAY HATHA 2.15 (meditation at 3pm – you have to book join us for this)
MONDAY ZOOM: Teacher Training 6.30
HAVE YOU CHECKED IF YOUR

REGISTRATION

IS UP TO DATE?  IF NOT, MAYBE IT IS TIME TO DO THIS. EMAIL ME AND I WILL SEND YOU THE APPLICATION: YOGAFIRST@NETCON.NET.AU
SEE YOU ON THE MAT.
NAMASTE JAHNE