Dear Yogis,
CLASS TIMES
ZOOM
Monday 6.30 FREE Mary Magdalen Study
Tuesday: 7.30 to 9pm The Magdalen Study
STUDIO
Monday Hatha 1pm (full), Wednesday Restorative, 5.30 (full), Friday 5.30 (Vacancies available)
THIS SATURDAY (June 26th) 2PM. THE MONTHLY ART/CRAFT CLASS IN THE STUDIO
Sunday 10am: The Tibetan Book of the Dead – especially useful if you are doing the CCP course.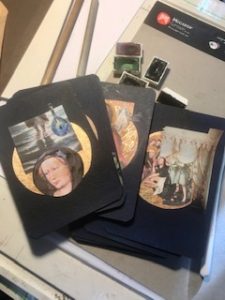 THE CELEBRATION OF MARY MAGDALEN
Thursday the 22nd of July is the feast day of Mary Magdalen.   Because we are studying Mary, and the students are inspired by her story, they decided to hold a lunch on that day so that we too could celebrate her life.  It doesn't matter if you are celebrating with a sandwich in the office, join us.  I am going to zoom at the same time as we have our luncheon, so you will be able to join in…
Whilst you are waiting,  join us in the study and see what the fuss is all about.  If males had not wiped out her achievements, had not labelled her a penitent sinner, and not sewn together the two Mary's (Mary Magdalen and Mary of Bethany) to muddy the waters, how different the lot of women through the ages would have been.  The disciples were told to "go forth and proclaim THE GOSPEL OF MARY", not "The Gospel."  Mary was a teacher, not a sinner.
COMPASSIONATE COMPANIONS.  Training to be a "DEATH DOULA" or "END-OF-LIFE CONSULTANT"
Have you ever considered being a consultant in this area?   I am working hard on this course which we we launch in August.  The Cost will be under $400 (so start saving).    There will be 10 modules so I imagine the course will take 12 weeks.  There will be zoom catch-ups each weekend.  When you have the certificate you will be able to work in the community in this capacity.  You can call yourself a "Death Doula" or an "End-of-Life Consultant".  I will call you a COMPASSIONATE COMPANION and this will be your Certification.
We all live in an ageing communities with few "extended family" connections.  Consequently many folk are left alone at the end.  Sometimes loved ones can't get to them because of distance or "busy-ness", sometimes they are afraid of death and stay away, sometimes they are so overcome with grief they can't go there.  There are many reasons why people have to make the last journey on their own.
And then we have women who have miscarriages, and/or for whatever reason loose children.  The Church and State rarely act appropriately.  You can be the bridge. You can support the family in the here and now, and see the child is in rest on the other side. You can even hold little ceremonies (as Buddhists do) to make sense of the passing, and have somewhere "to put the grief".
Pets also are sometimes alone at the end and die on a concrete slab at the pound, or are just left at the Vet to be put to sleep.  Even pets who are loved whilst they are well and responsive.  Sometimes owners are so overcome with grief they can't deal with death.
All these examples are understandable.  They have been faced and understood in The Book of The Dead.  The book clearly lays down how you can help yourself, and how you can help your students and clients.  We all go there.  Even if you never move outside your family, you will have their deaths or your death to consider.  Don't be blind to this.
If you have ever considered this path, now you can follow your dream through this school. If you wanted to move even further along this path WITH US, you could become a FUNERAL CELEBRANT (Stage2).  Let's get Stage 1 completed, and then we will move to Stage 2. All based on Yogic/Buddhist principles (with the Gospel of Mary as part of our study – her writings are very yogic).  
I WILL SEE YOU AT THE TOP.
NAMASTE – JAHNE