Dear Yogis,
A beautiful weekend, and all you Spring Carnival people, there is going to be  "Spring Carnival".  I knew that the government would think of some way to resurrect The Cup.  Imagine the millions of dollars they would lose if it was cancelled, and the ongoing problems with breeders, and trainers (and countries who donate).
SCHEDULE:
STUDIO: YOGA – MONDAY 1pm (full), WEDNESDAY 1pm (full), 5.30 (one vacancy available), Friday 5.30 (full) WAIT-LIST available for each class.  We will be able to accept more students when restrictions ease.
ZOOM: Monday 6.30 Teacher Training, Tuesday 7.30 CCP, Friday 6.45 Tarot.
YOGA:  As the restrictions are gradually lifted we will be able to bring more people in to a class.  At the present moment because of size we are limited to three students and I cannot take casuals.  You have to sign up for the four consecutive sessions.  At the present only Wednesday 5.30 has vacancies.  If you would like to come any other day, maybe Friday at 1pm, then let me know and I can organise a class and see how many would like to join you.
HERBS (AND MUSHROOMS) for your health
For those of you waiting patiently, I have just been notified that the Shilajit is on its way.  It will be here maybe Thursday?  Maybe earlier?  I also have some hawthorn tea (a mild herbal tea good for the heart), which I sourced and dried myself.  When you purchase any of the other herbs this week i will add some Hawthorn tea to the package so you can give it a try.
If you are holding back with your shilajit order, please get your request in early – it sells out quickly and is hard to get at the present time.  I also have some TYOH OIL for only $27.50 for a tiny 5ml dropper bottle.  You don't need much.  The oils are very strong and are wild sourced in Peru.
When you buy a herb or our oil, please buy two.  Why?  It is hard to source glass dropper bottles, the ingredients sometimes are hard to get due to shipping, and then Australia Post is very slow.  If you purchase ahead of time, buy two and get express post, you will be doing the absolute best and spreading postal cost across more stock, you will have a little stash, and lockdowns can come and go without making a difference to your requirements.
ART AND TAROT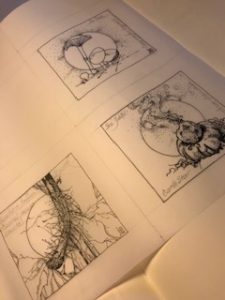 I haven't finished the "Mary Book", I know that, and the cards are sitting on my desk, however, I have started the FUNGI TAROT/ORACLE and am amassing information for the book. Of course Magic Mushrooms will be a big part of the cards as will SUPER MUSHROOMS, the mushrooms we turn to in order to boost our health and especially the immune system.  The mycelium can even be used to feed bees in the winter months.
You will be amazed how much you can learn once you concentrate on FANTASTIC FUNGI.  Go to Netflix and watch the film, it is worthwhile.
I am looking forward to hearing from you.
I will see you on the mat.
NAMASTE – JAHNE