Dear Yogis,
Although the weather was cold here, I now have my little wood heater, and I feel like a "real person".  I don't know why it has made such a big difference, but it has.  The house feels different.  I don't come home to an empty house anymore – I have a wood stove!  A warm being in the centre of the house.
I don't know how your day is progressing, but I have taken care of the emails, am now speaking to you, and then the ID for this evenings zoom will out.  The topic for tonite? SUFFERING.  I know you are yogis, and you know how to deal with suffering, but do you?  Or do you get trapped.  First we have to know what is ACTUALLY causing the suffering before we can know how to change.  If you want to come to this FREE class and I haven't sent you an invite by lunch time, please email me – yogafirst2@bigpond.com.  Once I start my yoga classes for the afternoon I won't have time for anything else.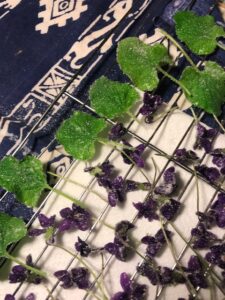 VIOLETS:  
It is violet time, and they are a flower that just love to be picked and eaten.  Over the years I have been planting, and they have been spreading.  Now I just let them do their own thing.  I make sure they are well watered in the summer, and receive mulch and fertiliser, but no more than that.  They repay me a thousand fold.
I do not look after them as well as I should, but even with this benevolent neglect they always carpet the garden with their gorgeous flowers and rich purple fragrance.  Even when I am sugaring I am aware of the beautiful aura of the flowers surrounding me.
I have been picking, and sugaring them and the leaves (which I always use as a salad green too) so I can keep some of this joy for later.   I will also be making a violet Flower Remedy today – We usually get a little sunshine about noon, and it is shaping up for that.  Violet is for those sensitive,  tender people who hold themselves back for fear of being or feeling unloved or misunderstood.   I will be teaching "what to do with flowers, especially violets"  on Tuesday at the herbal Workshop at 7.30.
By the way – I have had a request to ship fresh herb material, but I am loathe to do that, there are so many variables.  But sending you Bach Flower Remedies is just perfect.  I can take the flowers when they are perfect and make the remedy immediately, suspend the energy in the mix, and you get it in double quick time.  PERFECT.
YOU COULD DO THE BACH FLOWER THERAPIES COURSE, AND TAKE CONTROL OF YOUR LIFE FOR YOURSELF… This week I will be looking at the course and re-instating its real price.  Right now you can get trained in this beautiful herbal practice for a very economical price…  Just because it is not expensive, does not mean it isn't "useful" – able to be used…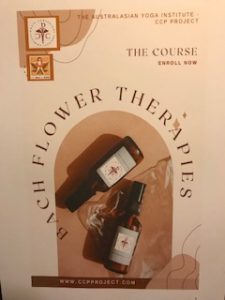 THE BACH FLOWER THERAPIES COURSE…
Taking control of our lives helps us to be in deeper alignment with what we want and don't want. For example, many of us realize we don't want any more 9 to 5 jobs, which have started to feel meaningless, whilst others are desiring to work in some area in which they can help others.  With THE BACH FLOWER THERAPIES COURSE you can launch a NEW fulfilling career in just over 3 MONTHS, not years!

🌟 This is a unique opportunity for people who want a more rewarding career helping others, and helping the planet whilst they help themselves.
🌟 Turn your passion for helping others into a thriving and meaningful career without attending college for years.  
🌟 Create your own work schedule, work from where you want, and set your own rates.
🌟 You don't need any previous experience.
🌟 It doesn't matter if you have never worked in your life.
🌟 All you need is empathy and consistency and we can help you build your BACH FLOWER THERAPIES CAREER.

IF BECOMING A PROFESSIONAL THERAPIST, AND SERVING OTHERS IS ONE OF YOUR GOALS. TAKE THE NEXT STEP TO CROSS IT OFF AND ENROLL NOW!
THERE IS NO TIME TO WASTE. YOUR FUTURE SELF WILL THANK YOU!  
THERE IS NOWHERE IN THE WORLD YOU CAN GET SUCH A FULFILLING CAREER, IN THIS TIME, FRAME FOR THE PRICE I AM OFFERING IT TO YOU AT THE MOMENT.
Go to WWW.MYYOGABOOKS.ETSY.COM and enrolled today

CURRENT STUDIO/ZOOM SCHEDULE: (Studio Yoga – Mondays at 1pm are Full)  (PLEASE BOOK AHEAD – NO YOGA STUDIO DROP-INS, sorry)
ZOOM: Mon. 6.30 FREE OF CHARGE Teacher Training, Tues. Herb workshop 7.30 ($50 per month – part of the Bach Therapist Course), Friday 6.45 Tarot –  $50 for 4 Friday classes.
STUDIO YOGA:Mon. 1pm (full) 2.15pm, Wed. 1pm Restorative(vacancy for July only), 2.15pm  Friday 1pm, 2.15 Hatha. (Possible Sat.10am Hatha)
CONSULTATIONS: Tarot/Bach/QHHT HYPNOTHERAPY, Bowen or a combo – by appointment only.  $85 including remedy (including postage if zooming)  Past-Life (QHHT taught by Dolores Cannon) $250 via email or in the studio.  The reading includes Time, date, place of the prior life. To discuss,  email  yogafirst2@bigpond.com
MONTHLY LUNCHEON:   Thursday 30th June at 12noon at "The Vic" in Woodend (If you are running a bit late, relax, it's OK – drop in for dessert.  We have the meeting room, so it is separate and quieter).  Please let me know if you can join us.  We will post an invite closer to the day.   RSVP PLEASE
WEEKLY MEETINGS:  We have free Teacher Training zoomed on Mondays 6.30pm, and we began our yoga teacher asana class/meeting in the studio WHICH WE HAVE ORGANISED FOR EVERY SECOND SUNDAY BETWEEN 2 and 3pm.  NEXT STUDIO TEACHER TRAINING CLASS Sunday 3RD JULY.
I WILL SEE YOU ON THE MAT (or zoom).
NAMASTE – JAHNE