GOOD MORNING YOGIS<
Well gang, we are "sort of" out of restrictions, but only part way.  They might have been confusing before, they are very confusing now.  However, because I am teaching on a personal  level and not larger classes, I am starting studio sessions from Monday the 13th of September, 1pm.  I don't know when I will be able to enlarge the classes.  There are still no casuals allowed,  appointments and bookings for 4 CONSECUTIVE  sessions at a time as usual.
VACCINATION:  The Government is going to be trialling new requirements regarding a type of vaccination passport.  It won't be terribly useful as they are so easily able to be forged (as reported on Radio National).  However, it is going to be a nuisance for those who are not vaccinated as some doors will be shut to them, and for those of us who are vaccinated we will have to keep on justifying ourselves everywhere.  But like the QCode, we will learn to live with it.
ZOOM/STUDIO SCHEDULE (unless things change)
ZOOM: Friday 6.45, Tarot. Sunday 10am, CCP. Monday, 6.30 Teacher Training.  Tuesday, 7.30 CCP.
STUDIO: Monday 1pm and Wednesday/Friday 5.30.  There are no casual bookings, only booking of four CONSECUTIVE classes. If you are not a regular student with this studio, then you can put yourself on the wait list.  I will let you know when I can have regular classes.  Right now the classes are more like personal sessions for regulars or the health impaired.  I dream of the time we may be able to go back to actual classes.
Our zoom classes are pretty terrific, and I am looking forward to seeing you on TAROT ZOOM this evening.  We are going to talk about THE TAROT AND VISION BOARDS.   The Tarot Boards I make function as vision boards for me.  When I look at them I am reminded of what I want to "BE, DO and HAVE", and the board itself helps me to get there.  How you use your boards depends on you.  You can't "have" until you "be" and "do".
SCIENTIFIC ILLUSTRATION: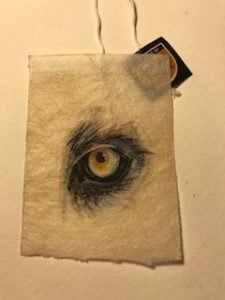 I have been having a lovely time doing illustrations on tea bags.  On the basis of this, I have been asked to do an article for the Guild of Natural Science Illustrators based at the Smithsonian in Washington DC.  It is one of the amazing  places I trained more the 35 years ago.  Every day I paint something (like a pianists five finger exercises and scales).  The watercolour to the left is the eye of a WOLF.  The brush I use is a 16×0 – very tiny.  You could almost count the hairs, and they wear out really quickly on the tea bag substrate.
I am soon going to do portraits, in the meanwhile I will do silhouettes FOR YOU TOO. If you want
one, send me a profile photograph of yourself, your children (or your pet), and I will do a silhouette.  The cost is $87.50 matted, and mounted ready to frame in A5 size (although you could frame larger….) and including postage.  
Just send me a profile photograph, and pre-pay via PayPal (go to  www.yogabeautiful.com.au and click on PAY VIA  PAYPAL.  they do take credit and debit cards).
Life moves along.  We all are reminded of the Buddhas words "DO WHAT YOU CAN WITH WHAT YOU HAVE WHERE YOU ARE".  I have been given so much, it is a challenge to use all of my gifts…  What about you?
SEE YOU ON THE (REAL) MAT SOON.
NAMASTE.  JAHNE