Dear Yogis,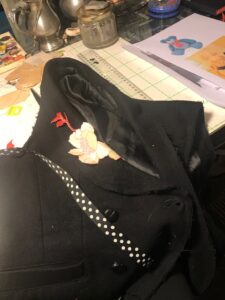 Apart from a pile of wood in my front yard which I need to move, there is not much new today.  Last night I started renovating a little black vest.  It was a boring piece of clothing, but lovely tailoring, and I decided to add some appliqué and a spotted ribbon tie..  It will be an ongoing project, which will hold memories albeit vicarious.  Last night the memories were of the Trooping of the Colour in London for the Queens Jubilee.
I admit, I was born in London and one never does cast off those ties.  I love all the pomp and ceremony, although I watched out for the disgraced Prince Andrew, and yes, there he was,  firmly tucked behind the family on a beautiful horse.  There was so much regalia that you had to look hard, but I am pretty sure it was him. I suppose disgraced or not, this would be the only chance for him to take part in such a special occasion (his Mum's Jubilee), but I think I would have left him at home.    But,  I am tough about that.  No Harry/Markle team, but "yes" to Andrew?  The queen does look frail.  I wonder if we will see her around next year?  She is certainly a survivor and we need those.
Looking at the Queen, and thinking about some of you who are collapsing into infirmity without really thinking about what you are doing (poor darlings, this is a good part of your life but you are not watching) – what I think about this part of my life is this –  God gave me a whole lot of gifts which I chose to use or not.  They used to be easy to access, but now there are quite a few things that I either find a bit too hard, or less accessible.  Things have started to fall away, and reality is changing.  I am starting to explore things I can do, and want to do, so there are some benefits.  Those "adventurous" slightly "iffy" things I haven't yet done,  I will leave until such time as a doctor or other(?) says you have….months to go. Then I will pull the covers off, and let her rip.  See you there!
ART –
I do love cutting and pasting, bodies,  anatomy, collage, art.  So I will combine all of these into some artwork.  I am not sure when I will have the concentrated time to do this, as I have loaded up my days, and then I have the wood to shift before it rains, and so on – there is still the garden, yoga and massage to work into the day.  But I will get there…  I would love to have a studio exhibition and really cover the walls.
CURRENT STUDIO/ZOOM SCHEDULE: (Studio Yoga – Mondays and Wednesdays at 1pm are Full)
WEKLY STUDIO/ZOOM SCHEDULE  (PLEASE BOOK AHEAD – NO YOGA STUDIO DROP-INS, sorry)
ZOOM: Mon. 6.30 FREE OF CHARGE Teacher Training/Gita, Tues. Herb workshop 7.30, Friday 6.45 Tarot –  $50 for 4 Friday classes.
STUDIO YOGA:Mon. 1pm (full) 2.15pm, Wed. 1pm Restorative(full),2.15 Friday 1pm, 2.15 Hatha,  SATURDAY 1PM, 2.15 RESTORATIVE or HATHA YOGA.
MONTHLY LUNCHEON:   Thursday 30th June at 12noon at "The Vic" in Woodend (If you are running a bit late, relax, it's OK – drop in for dessert.  We have the meeting room, so it is separate and quieter).  Please let me know if you can join us.  We will post an invite closer to the day.   RSVP PLEASE
CONSULTATIONS: Tarot/Bach/QHHT HYPNOTHERAPY, Bowen or a combo – by appointment only.  $85 including remedy (including postage if zooming)  Past-Life (QHHT taught by Dolores Cannon) $250 via email or in the studio.  The reading includes Time, date, place of the prior life. To discuss,  email  yogafirst@netcon.net.au
TEACHER TRAINING:  Unfortunately there appears to be a glitch in the videos – some can read them, some students can't, so we will have discontinued their use as they have been difficult.    I have a USB with them all on, and I will be sending this in lieu of the videos to all NEW students.  This may prove to be a better option.
WEEKLY MEETINGS:  We have free Teacher Training zoomed on Mondays, and I am open to a yoga teacher asana class/meeting in the studio WHICH WE HAVE ORGANISED FOR EVERY SECOND SUNDAY BETWEEN 2 and 3pm.  THIS IS STARTING THIS COMING SUNDAY (June 5th – 2pm).
I WILL SEE YOU ON THE MAT.
NAMASTE – JAHNE