Hi there Yogis,
Well, I had my flu injection on Saturday morning.  I don't feel flu'y however, I have got a cold sore.  I haven't had one of those for years, and my skin is extremely itchy… so I think it has stirred up a herpes virus which has been sitting dormant somewhere in my body just waiting to be woken up.  The remedy for this is DANDELION (roots and greens), which I will be sourcing wherever I can later in the day.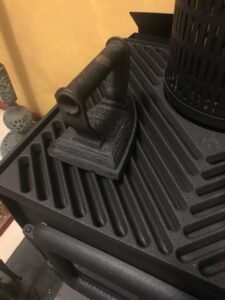 There is so much to do now I am living in a different era to the rest of you – wood fire (carting, and stacking wood), herbalism, jamming, gardening. You will be pleased to know my little French smoothing iron is working beautifully.  Last night I did the first ironing with it – it is heavy, and it doesn't lose heat like my electric  cordless ironing station.   It is that little word "electric" that makes all the difference.  Now I am "unplugged" in that regard… but I am still walking backward.  There are other things I need to walk backwards in time effectively.  I don't think I will be walking without shoes or socks to collect eggs at 5 in the morning as Tash Tudor did (I am told).
If you want to be more self sufficient, let me know.  There may come a time when there is little option.  Hard to think about when all is good, but, as the Buddha said – "This too will pass".  He was not just talking of troubles, but of all things, good and bad.  
GOODBYE TO PLASTIC BAGS….
There are two types of thick reusable plastic bags the Woolworths Group sells for 15 cents and 45 cents (as does our local Coles). They were brought in back in 2018 after the supermarket phased out single-use plastic bags.
Woolworth's changeover to paper will happen over the next year, but when exactly will depend on which state you're in — and how many bags your local has in stock. "We know the change may be an adjustment for some customers and that's why we're phasing this change in over the coming year," Woolworths supermarkets managing director Natalie Davis said.   Big W and Woolworths will begin gradually running down stock of the bags before they're cut off completely.  The Group says this will be complete by June next year.
If you forget your bag (as I often do), paper bags will still be available for 20 cents.   "But ultimately, we want to sell less bags altogether," Ms Davis said.   Woolworths' paper bags are made from 70 per cent recycled paper, are designed to carry up to 6 kilograms and are supposed to be reused.  Because it is close handy I do use Coles ,  and I have not seen any re-usable paper bags with handles at that store.  I will let you know when they catch up with Woollies!
Why do I use Coles? I would have a 20 minute car trip plus parking problems to get to Woollies which would cancel out any savings in terms of renewables.  IGA is going open in our town.. however, the council keeps on demanding more and more compliance, and combine this with covid problems and the opening  may be some time off, however, everyone is waiting for the day it does.
It will absolutely impact Coles which has I think become clearing house like "CostCo" (as has our Kmart).  You cannot guarantee brands or stock.  When they have sold a shipment you never know if (or when) more of the brand you want will arrive.  Coles is all about profit.  They no longer "obviously" support the community. For instance they have done away with the beloved and I think essential,  Community Notice Board (they do have room for half a dozenA4 pages!), and they have left over,  non-food what looks like Target Stock in baskets in the isles – blankets, cupboards, and so on. Plus the frozen vegetable section is bereft of produce unless you want pizza, peas or chips which take up most available space.   Please bring back Ivor Johnsons original town supermarket.  He cared about the community.
PLEASE MAKE TIME FOR THE ONE HOUR FREE TEACHER TRAINING ZOOM THIS EVENING.  
WE ARE REPEATING "THE PURUSHATRAS".  We did a long session in the studio yesterday, but it brought to me how these definitely need repeating every so often. If you don't get an invite, email me asap and I will send you an ID.  It starts at 6.30 – please don't try and get an ID AFTER this time – I will be busy and not answering emails!
CURRENT STUDIO/ZOOM SCHEDULE: (Studio Yoga – Mondays and Wednesdays at 1pm are Full)
WEKLY STUDIO/ZOOM SCHEDULE  (PLEASE BOOK AHEAD – NO YOGA STUDIO DROP-INS, sorry)
ZOOM: Mon. 6.30 FREE OF CHARGE Teacher Training/Gita, Tues. Herb workshop 7.30, Friday 6.45 Tarot –  $50 for 4 Friday classes.
STUDIO YOGA:Mon. 1pm (full) 2.15pm, Wed. 1pm Restorative(full),2.15 Friday 1pm, 2.15 Hatha,  SATURDAY 1PM, 2.15 RESTORATIVE or HATHA YOGA.
MONTHLY LUNCHEON:   Thursday 30th June at 12noon at "The Vic" in Woodend (If you are running a bit late, relax, it's OK – drop in for dessert.  We have the meeting room, so it is separate and quieter).  Please let me know if you can join us.  We will post an invite closer to the day.   RSVP PLEASE
CONSULTATIONS: Tarot/Bach/QHHT HYPNOTHERAPY, Bowen or a combo – by appointment only.  $85 including remedy (including postage if zooming)  Past-Life (QHHT taught by Dolores Cannon) $250 via email or in the studio.  The reading includes Time, date, place of the prior life. To discuss,  email  yogafirst@netcon.net.au
TEACHER TRAINING:  Unfortunately there appears to be a glitch in the videos – some can read them, some students can't, so we will have discontinued their use as they have been difficult.    I have a USB with them all on, and I will be sending this in lieu of the videos to all NEW students.  This may prove to be a better option.
WEEKLY MEETINGS:  We have free Teacher Training zoomed on Mondays, and we began our yoga teacher asana class/meeting in the studio WHICH WE HAVE ORGANISED FOR EVERY SECOND SUNDAY BETWEEN 2 and 3pm.  NEXT CLASS Sunday 19th June.
I WILL SEE YOU ON THE MAT.
NAMASTE – JAHNE