Dear Yogis,
If you haven't talked to me in a while – email me.  You are a part of the Sangha and I miss you.  Email anything.  Just an "I am OK" would be touching base and fabulous.
STUDIO CLASSES:  Hurrah, Hurrah!  This afternoon.  1pm and 5.30 pm in the studio.  Friday 5.30 in the studio.    Masks, distancing, santitising and the Q Code of course (no exceptions unless you don't have a phone, then check in).  If you have a cold or feel unwell in any way, then please hold off and come next week.
ZOOM: Friday 6.45 Tarot Classes (your free class). Sunday 10am CCP/The Tibetan Book of The Dead Study.
THE TAROT AND PENDULUM – WHAT IS A REVELATION CONSULTATION?
As a perceptive and creative intuitive for her entire life (and her relatives from every generation),  Jahne gives you the insight, power, tools and map to create your future. Her insightful Readings are guaranteed to be motivating and entertaining,  as you journey into your inner universe through the worlds of The Tarot.  Email me for an appointment, or go to www.blueladystudio.com for details.
No longer fortune telling, 21st century REVELATION Tarot Reading is FORTUNE CREATION…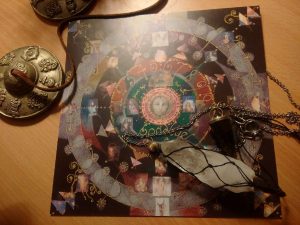 Consultations are an inspiring, empowering proactive process for creating your future! Using tarot as a GPS of the Soul and creative intuition, new thinking tool, Revelation sessions with author and creator of the Deck gives you a down-to-earth, do-able road map for navigating your life.
Revelation Tarot is a wholistic pathway that calls upon your emotional, physical, spiritual and mental faculties for getting real results. For over 30 years, the REVELATION TAROT system has been a proven mentoring technique for Personal Growth, Business, Relationships, Health and Sustainability.
YOUR  FORTUNE FORMULA
Using your natural gifts and powers, Revelation Readings give you the magical way of accessing the Magician within you to manifest and realize your visions and dreams.
INSPIRATION: You are uplifted by positive and heartfelt passion for your potential and opportunities.
SELF-KNOWING: Jahne determines your Life Cards, your Life Mission and Purpose, and turns your past life and setbacks into stepping stones for growth and self-realization.
EMPOWERMENT AND TRANSFORMATION: With the inspired Revelation Deck (SOUL TAROT) , you are infused in your mind's eye with symbols and imagery from the richly symbolized Cards that give you the power and passion to live your dream.
BALANCE:  Jahne helps you structure your life so that your heart-mind-body and spirit are aligned and energised so that you have the understanding within to succeed.
I LOOK FORWARD TO SEEING YOU ON ZOOM, or on email (yogafirst@netcon.net.au) or in the Studio ON THE MAT..
NAMASTE.  JAHNE