Dear Yoga "babies",
SCHEDULE:  
ZOOM:  As flagged in previous newsletters….No zoom until after Christmas (Most of you are wandering off to your social life).  This break will allow you to do your modules. Tuesday CCP Information at 7.30……if you are interested please email me. yogafirst@netcon.net.au
STUDIO: Monday 1pm, Wednesday 5.30, Friday 5.30 until the 20th January.
WHAT IS HAPPENING.
You think the weather is lovely, the covid virus has gone off (to re-think), and everything in the garden is rosy.  THINK AGAIN.  I have been talking and writing about food shortages, weather, discomfort, but none of you are listening – well, hardly anyone.  Sit up and pay attention!! This email came from a yogi in Canada.  I have a son in Canada, so I listen…..
"I live in BC, Canada. November brought unprecedented rains, flooding, mudslides, and highway closures to our province.  Several towns remain evacuated two weeks later.  We are under the THIRD state of emergency this year.  I thought I was well prepared with food from the garden and herbs preserved for winter, but nothing prepared me for walking into the grocery store in my rural community and seeing empty shelves.


Just 48 hours after heavy rains washed away bridges, roads, and railways,  there was nothing left in the stores — no milk, eggs, cheese, no fresh or frozen produce.  Bread and meat were also low.  Trucks are getting through again on some roads and the store shelves are restocking more or less, but I won't forget the "gut-punch" feeling I had when I saw the shelves empty.  The vulnerability of our entire supply system was laid bare.

My middle son is in the middle of the area that was impacted by the flooding.  There is only one detour road in and out of his town, and its only for emergency use. He called to tell me he was fine, but he asked for a dehydrator for Christmas.  He said it's time to teach his daughters how to preserve food. 
If you are ever in this same situation, the farm stores might still have food even though the grocery stores run out.  That was the case for us, and that was also what my son found, at ground zero.  The farm stores aren't dependent on the supply chain"
I understand that Australia is on the opposite of the world to Canada, but it is still part of the world.  What happens to them eventually happens to us… maybe not to the same extent, (we are getting heatwaves rather than freezes), but we will still be impacted in ways we are not prepared for.  PLEASE PREPARE.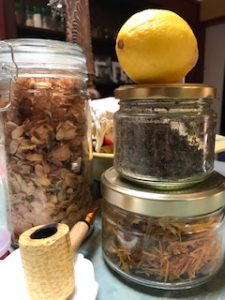 I have a dehydrator (bought 20 years ago), I dehydrate mushrooms herbs, fruits…its easy.  I don't have my bees so sweetness would be hard to find, but, other than that I could manage.  I am also purchasing a small generator, and a power bank for my electronics.  Even if we have only one repeat of a four day electricity outage, or another hard lockdown, or a weather event, I want to be prepared.  Are you?
Where are you spending your money?  On a new electronic game – or a small generator.  On a new dress, or a dehydrator…  Do you have a stock of pasta, powdered milk, tinned and dried groceries… a herb cupboard.  Do you know where to forage?  I even make my own smoking herbs and pipes (although the one in the picture is a genuine corn cob pipe)..  When the power went out earlier in the year, and I was candle powered it was lovely to have a relaxing pipe – although I don't do it as a matter of course.  I made being alone in the storm a special time… The cat and I relaxed.  I remember being unable to draw because the table was trembling with the force of the wind shaking the house. As the Buddha said 'Do what you can with what you have where you are".  Make sure you have the ingredients to "do" something with.  Thanks to lockdowns you have had the time.
It is not about being depressed, worried, it is about being prepared for whatever is thrown at you.  Communities have been dealing with such things for ever, but now thanks to the web, we know they are coming and we can get ready – our parents and grandparents could not.  The world is changing.
TRUST
We are so lucky to be alive, here, now, on this beautiful planet with all its dangers and fears.  Here we are, surrounded by awesome visions, greatness, beauty… it is a wonderful time to be on the earth. As it says in the Bible, "….be not afraid – If God is with you, who can be against you?"
AS RILKE SAID "The purpose of life is to be defeated by greater and greater things"
I will see you on the mat.
NAMASTE – JAHNE