Dear Yogis, 
A very short newsletter today (maybe you can read the last one again – it was long).
SCHEDULE: NO ZOOM UNTIL THE NEW YEAR.
STUDIO: Yoga Monday 1pm, Wednesday 5.30 and Friday at 5.30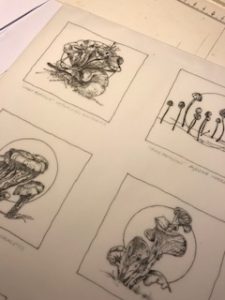 ART WORK:
I am busy with the Fungi Print I am drawing..A collection of unusual fungi of Central Victoria. I think it will be ready before Christmas, but as it is not a download, postage will be an issue for some.
This has not been an easy project, although an enthralling one.
I have long been a fan of Paul Stament the "father" of fungi in the USA (especially his mother's cancer journey and the role of Turkey Tail mushroom).  He started like me, drawn in by the medicinal and practical nature of fungi not addressed in today's world.  Out of this enthusiasm and dedication,  he has created umpteen patents around his fungal discoveries (everything from cancer "cures", to fungal remediation dealing with oil spills and rubbish d) which you will see if you watch FANTASTIC FUNGI on Netflix.  I think he was the first person to make fabric out of mushrooms – he made his hat. This breakthrough has been taken up by major designers including Stella McCartney.
Your next step in your fungal journey (apart from ordering my great poster)  would be reading Alison Pouliot's wonderful guide to the fungi of Central Victoria, and FUNGI IN AUSTRALIA by J. Hubregtse, published by the Field Naturalists Club of Victoria Inc. They have both inspired this work, and future work now on the drawing board.
COVID NOTE:  I guess not many of you watch CCTV and certainly not DayStar which is one of the radical fringe.  Marcus Lamb       -the now LATE Marcus Lamb who was the founder and president of DayStar a Christian Broadcasting company, has used the last couple of years focussing on the value of hyroxychloroquine, dexamethasone etc.  He donated valuable hours of television time telling his large flock to not get vaccinated, that covid was a hoax, that it was a conspiracy.  In spite of his alternative medication, he contracted covid recently and died last week.  Four other leading lights of the CCTV anti-vax brigade have also died in the last week or so.  Hardly surprising when you see that in their churches few wear masks or social distance.
I PROBABLY WON'T SEE YOU ON THE MAT…BUT I WILL BE THINKING OF YOU.  Namaste – Jahne.